Network:

HBO

Series Premiere Date:

Nov 18, 2018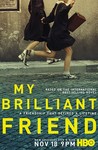 Summary:

The Italian-language adaptation of Elena Ferrante's novels begins a coming-of-age story about childhood friends Elena (Elisa Del Genio) and Lila (Ludovica Nasti) in 1950s Naples.

Genre(s):

Drama
Season 1 premiere date:

Nov 18, 2018

Episode Length:

60
My Brilliant Friend is presented in Italian with subtitles. Don't let that scare you off. Take the journey. Amid the brutality, an intimacy and honesty unlike any other flourishes.

The casting is exceptional. Every face and body is credible as one that might actually have lived in that period. The performances are alert and sensitive without seeming studied. ... This is a late-breaking candidate for show of the year, a drama about the place where aspiration and reality intersect.

Around the lead characters, we start to see a whole generation come of age. I mean it as a compliment when I say that My Brilliant Friend is the year's best teen drama, drawing you into the lives, loves, and struggles of a group of children cusping on adulthood.

Throughout, we see the world the way the girls see it, knowing what they know. The world seems bigger to them, and thus their emotions always feel bigger, in ways that can make My Brilliant Friend acutely thrilling or devastating. ... This is a great show with a huge heart. Just be prepared for it to break yours every now and then.

The story is easy to get swept up into, in regards to the rhythms of its language and the cyclical nature of its challenges. Their struggles feel both relatable and totally foreign all at once.

The adaptation has a sharp sense of time and place without nostalgia or sentimentality. Costanzo's attention to period detail helps; it can feel as if you're watching a lost postwar Italian film about postwar Italy.

So many individual pieces are intriguing, and some even prove rewarding over hours of consideration. Still, even the most introspective series doesn't need to be such a slog.
Style: 5/5, Music 5/5, Story 5/5, Characters 5/5 Don't shy away from the fact that you have to read subtitles. Engage in listening to Italian

Style: 5/5, Music 5/5, Story 5/5, Characters 5/5 Don't shy away from the fact that you have to read subtitles. Engage in listening to Italian spoken with a southern accent. (i don't understand it myself but it sounds beautiful, more beautiful than the Italian i was used to)

…

Expand

the innocence, the rawness, the passion, the despair... everything feels honest and yet marvelous, as if we were watching not a TV series, but

the innocence, the rawness, the passion, the despair... everything feels honest and yet marvelous, as if we were watching not a TV series, but a pièce (the debt towards the beloved De Filippo is huge).
the beauty isn't much in the dialogues (and the voice-over is often irritating, but for a RAI series, hélas, necessary) but in the silences, and the looks of the characters-- in their souls.
my brilliant friend has some flaws, of course, but it's TV poetry at its best

…

Expand

What an incredible beginning to a series.... it just feels incredibly authentic. It's remarkable that 2 of my 3 or 4 favorite shows are

What an incredible beginning to a series.... it just feels incredibly authentic. It's remarkable that 2 of my 3 or 4 favorite shows are Italian (this and Gomorrah).

…

Expand

pengambilan gambarnya sungguh mengesankan, dengan akting yang sangat brilliant.

The little girls are the real diamonds of this show, they are perfection. That's what true talent and chemistry combined mean. Unfortunately

The little girls are the real diamonds of this show, they are perfection. That's what true talent and chemistry combined mean. Unfortunately that only lasts for two episodes, as they are replaced by two boring teenagers and the show takes a nosedive. I understand it follows the book and thus not possible, but I wanted a whole series with those two little actresses because it was fantastic television.

…

Expand

Not sure what all the hype is about. Not nearly as exciting as Gomorrah, the only other Italian-language series I've watched. Overall, the

Not sure what all the hype is about. Not nearly as exciting as Gomorrah, the only other Italian-language series I've watched. Overall, the first two episodes were slightly boring but watchable.

…

Expand

very disappointed. What's all the hype about? I expected a superior refined cinematography, opulent as some of the recent Italian series or at

very disappointed. What's all the hype about? I expected a superior refined cinematography, opulent as some of the recent Italian series or at least an intricate character development.
This is just a very linear story, lined with tropes, passing as realistic art....devoid of any charm and poetry with very simplistic one-sided characters. I can only imagine how distraught the original writer must feel of this adaptation.
If you want Italian realism of the post-world area, better rewatch Rocco and his brothers or any other Visconti or De Sica or Rosselini. There, you can find the poignancy of the Italian working class of the time.
O tempora, o mores!

…

Expand