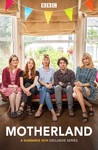 Summary:

Julia (Anna Maxwell Martin) struggles with balancing life as a mother without the help of her own mother when she meets Type A mom, Amanda (Lucy Punch); single mom, Liz (Diane Morgan); and stay-at-home-dad, Kevin (Paul Ready Utopia) in this British comedy from Sharon Horgan, Graham Linehan,

Julia (Anna Maxwell Martin) struggles with balancing life as a mother without the help of her own mother when she meets Type A mom, Amanda (Lucy Punch); single mom, Liz (Diane Morgan); and stay-at-home-dad, Kevin (Paul Ready Utopia) in this British comedy from Sharon Horgan, Graham Linehan, Helen Linehan, and Holly Walsh.

…

Expand

Genre(s):

Comedy
Season 1 premiere date:

May 10, 2018

Episode Length:

30
This is rich terrain that has been insufficiently explored by a comic mind as fearlessly audacious as Horgan's. Motherland plants a flag there in its very first scene and commences building a legacy. This is an impressive series, and lots of fun, if you don't mind revisiting or envisioning everyday, low-level trauma.

Well-intentioned and with strong ideas worth supporting--seriously, people, help out your spouses--the Sundance Now comedy (that originally aired overseas on BBC Two) can't balance the chaos it creates with the chaos it instills in viewers. Cringe comedy can provide an outlet to pent-up frustrations, but Motherland mainly builds more of them.

Sight but sprightly. ... Motherland 's jokes about competitive parenting are safe and tepid, but they establish the context of Julia's exertions.

Motherland has too many parenting cliches to overcome, despite some funny parts. Nearly all of it is too forced, too set up, too predictable. Parents or not, your time is better spent on Catastrophe.