Network:

TBS

Series Premiere Date:

Feb 12, 2019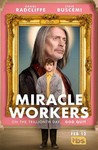 Summary:

While God (Steve Buscemi) is busy with his hobbies, it's up to low-level angel Craig (Daniel Radcliffe) and his fellow angels in the Department of Prayer Response to deal with all of humanity's prayers in this comedy series from Simon Rich and based on his book, What in God's Name.

Genre(s):

Comedy
Season 1 premiere date:

Feb 12, 2019

Episode Length:

30
Rich's roundabout way with dark punchlines, catching you on the way out the funeral home door, are just as weird and delicious as ever.

Its short run makes Workers not a particularly Earth-shattering series. But it's a charming, chipper story that suggests humans are inevitably good.

There are enough sharp details drawn in the margins of the factory (where Angela Kinsey from The Office runs HR) to suggest a more promising second season.

The laughs aren't plentiful enough, the ideas aren't exciting enough, and the story isn't gripping enough.

Rich and company show the gears, the ingredients and the packaging. More mystery, as Radcliffe knows, is always a good thing.

Buscemi is wasted on subpar material. So is Radcliffe for that matter. Perky side characters played by Geraldine Viswanathan and Karan Soni have potential, but again, the mediocre material holds them back and lets the mind wander to better shows, particularly one less interested in heaven and more interested in earth (and aliens).
The first episode started off slow but still had charm to it. Now on the third episode I am finding myself really enjoying it. It has an

The first episode started off slow but still had charm to it. Now on the third episode I am finding myself really enjoying it. It has an excellent cast and Steve Buscemi honestly fits the role of god surprisingly well. Theres an outward niceness and innocence about his character but then also undertones of insanity/anger almost like he shows people his new testament persona but the wrathful old testament is still there underneath. I am not sure if that is intentional or if I am seeing themes were the are none but none the less, I like it. I also like the way they breakdown the workings of the universe into a mundane corporate job, like the workers assigned to make unique snowflakes or the department of reproductive organs. All in all I am looking forward to seeing where this show go's, definitely recommend giving it a try and at least watch until episode 3 before deciding to pass on it.

…

Expand

This new TBS show takes place in where heaven is a factory. God (played by Steve Buscemi) has grown tired of Earth and plans to blow it up.

This new TBS show takes place in where heaven is a factory. God (played by Steve Buscemi) has grown tired of Earth and plans to blow it up. Two angels (Daniel Radcliffe and Blockers' Geraldine Viswanathan) make a bet with God that if they get two people to fall in love and kiss, a prayer that is considered impossible to answer due to all the logistical issues, the Earth will be spared. What results is a fairly entertaining comedy whose short season length makes it a nice quick binge.

Although this is kind of a dark comedy, Heaven is a poorly run workplace and many attempts to affect events on Earth cause death, it never goes uber nihilistic, as the show is filled with lively characters and wacky situations.

It is frustrating that they don't explain very well how Heaven and the universe works. There is a particular detail it turned out several episodes in that I'd completely misinterpreted.

Radcliffe does great as the introverted and anxious Craig, a run longing employee of the prayer department. Buscemi does a good job as God, seamlessly shifting from easy-going to angry in seconds. However, the God parts are never as interesting as the rest of the story. They often pull focus from the more interesting main plots and are semi-predictable clueless boss tropes.

Overall, I found this to be a fun little experience and a bit different.

…

Expand

Starts off in a mixed bag but hopefully will go into the right direction. Very interesting plot, so hoping it doesn't go south.

I cannot believe "people of earth" was killed to make room for this schlock. Trying to capitalize on the success of "the good place", it

I cannot believe "people of earth" was killed to make room for this schlock. Trying to capitalize on the success of "the good place", it misses the mark on every level. I fell asleep during a commercial break, tried re-watching on a second broadcast time, and nodded off again. Good cast, worthless scripting.

…

Expand

Danielle Radcliffe was great in another dark comedy on netflix, A Young Doctor's Notebook. PLEASE see THAT instead of this. Truly

Danielle Radcliffe was great in another dark comedy on netflix, A Young Doctor's Notebook. PLEASE see THAT instead of this. Truly disturbing in its depiction of a Higher Power that just doesn't care; nor do his associates in carrying out his orders. I get the political and philosophical satire, but it's deeply disturbing instead of funny. Eg the "joke" about knocking off Bill Maher is really NOT amusing these days. A bad show for a too-troubling time. If you want to feel misery and hilarity at the same time about current events, watch the Late Show with Seth Myers.

…

Expand