Network:

Freeform

Series Premiere Date:

Jun 7, 2018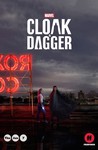 Summary:

In New Orleans, despite coming from different backgrounds, Tandy Bowen (Olivia Holt) and Tyrone Johnson (Aubrey Joseph) meet and discover their superpowers are linked together. Their lives are complicated even more as their feelings grow for each other in this coming-of-age drama based on

In New Orleans, despite coming from different backgrounds, Tandy Bowen (Olivia Holt) and Tyrone Johnson (Aubrey Joseph) meet and discover their superpowers are linked together. Their lives are complicated even more as their feelings grow for each other in this coming-of-age drama based on the comic book series.

…

Expand

Genre(s):

Drama

,

Action & Adventure
Season 1 premiere date:

Jun 7, 2018

Episode Length:

60
Please enter your birth date to watch this video:
You are not allowed to view this material at this time.
Marvel's Cloak And Dagger
Its great strengths are its restraint and simplicity. The show unfolds slowly and delicately, with greater initial focus on its enchanting young leads than their newfound superpowers

Ty and Tandy have real depth. Throw in an evil corporation, an air of mystery and surprisingly dark content on a network that used to be called ABC Family, and you have a fascinating show that focuses on story, not special effects.

A refreshingly unpredictable and smart take on the usual caped-crusader fare.

Some of the larger narrative elements of season 1's big mystery feel familiar (with a parent-killing Big Evil Company at the center of it all). But Cloak & Dagger finds a new groove when Tyrone and Tandy start talking. ... So there's real potential here. Joseph and Holt have a nice rhythm, when the show lets them hang out.

Through its initial four episodes, the real star of Cloak & Dagger is the structure and editing and overall environment more than any individual actor. Every role has considerable potential, as does the show's superhero setup. Might I have liked to see more of that potential advanced and realized? Yes. But there's plenty to keep me watching with some enthusiasm.

While the show's first hour doesn't inspire much confidence in the series, save for a poignant scene between Tyrone and his mother (Gloria Reuben), the second episode gives the characters more depth and allows for a little more light to sneak into the generally dark (tonally and visually) proceedings.

The series never feels fully comfortable being either teen-oriented or more adult. It never really seems comfortable anywhere, really, as it skims through its scenes without investigating its surroundings, including the feelings or motivations of its characters.
I think this is better than almost all the series of superheroes Netflix Marvel. The main characters are interesting. I was also pleased with

I think this is better than almost all the series of superheroes Netflix Marvel. The main characters are interesting. I was also pleased with episode 8 and episode 10, they are the best this season. Waiting for season 2!

…

Expand

Episode 8 so far and the series is amazing, really original, not so focus on the superhero theme but their characters, great soundtrack. Very

Episode 8 so far and the series is amazing, really original, not so focus on the superhero theme but their characters, great soundtrack. Very unique way to develop the story.

…

Expand

the cinematography and soundtrack feels so relaxing, while the story is really gripping. i fell in love just in the first five minute of the pilot.

I like the Runaways vibe it has, but it's a bit better, because it focuses on two characters. It drags a bit, but it's something i come to

I like the Runaways vibe it has, but it's a bit better, because it focuses on two characters. It drags a bit, but it's something i come to expect from origin stories.

But the most surprising things was the acting, i did not expect it to be good, Aubrey Joseph really surprised me, his scenes always felt genuine.

I liked how they worked the cinematography around their powers, Tandy's scenes always having more light, while Tyrone's are always a bit dark.

It's nothing extraordinary, but it's very promising

…

Expand

Good show, but there's an overuse of shop-worn musical montages and a horribly sentimental soundtrack. I skipped minutes and still got the

Good show, but there's an overuse of shop-worn musical montages and a horribly sentimental soundtrack. I skipped minutes and still got the picture (clearly not much happens during these sequences). Are the showrunners telling us a story, or trying to impress us with their playlists? If you try and have it both ways it doesn't usually work. There are exceptions, but this series isn't one of them.

…

Expand

Very subpar for Marvel. The acting and the writing were both just plain bad. Overall, the show just did not do anything to excite me, and I

Very subpar for Marvel. The acting and the writing were both just plain bad. Overall, the show just did not do anything to excite me, and I doubt I will be watching anymore of the show.

…

Expand

This review contains spoilers

, click expand to view

. Check your privilege!

If you want a show chock full of "edgy" liberal issues thrown into the plot regardless of if it fits with the story, then look no further. Otherwise, keep walking, because this show tries to make you believe that if you are white, no matter how bad your life is or what trauma you have been through, even if you were almost raped, somehow you are still better off (more privileged as they put it) than ANY african american, no matter what, and have no room to complain. I personally feel that we shouldn't judge people purely based on stereotypes and racism, and that goes for both sides of the fence. I don't really understand why it's all of the sudden perfectly acceptable to be racist against white people now. Racism is wrong, period, and this show promotes it.

…

Expand