Network:

Netflix

Series Premiere Date:

Sep 21, 2018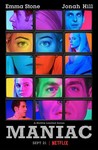 Summary:

Jonah Hill and Emma Stone undergo a drug trial that goes awry in this adaptation of a Norwegian comedy series of the same name.

Genre(s):

Comedy
Season 1 premiere date:

Sep 21, 2018

Episode Length:

30
Netflix's Maniac is a fascinating, brilliant show, and one of my favorites of 2018. We should expect no less from the creative voices behind "The Leftovers" and "True Detective," but this show still found a way to surprise me episode after episode. ... Maniac plays with genre and dramatic expectations to gain insight into the human condition in ways that other programs can't touch.

Maniac is a crescendo across genres that doesn't stop building. ... Its power comes, in part, from its refusal to sprawl. As a trial of something new, Maniac passes every test, and ascends instantly to take its place among the very best TV of the year. Its eagerness to expose unexpected angles is its great gift.

Maniac, for its part, throws down a tale that swerves to the left and swerves to the right without ever losing velocity. But seeing is believing while not believing what you're seeing is also part of the experience.

There's a fusion here between modern melancholia and those romps where potential lovers keep encountering one another in skips through time, which sounds tedious but works somewhat splendidly, once the series gets going. ... Hill and Stone are both terrifically capable at conveying the series's many moods, while Theroux looks especially grateful to be hamming it up after so much deeply-furrowed frowning in "The Leftovers."

Few shows are laid out this intricately or methodically, and the callbacks as the series progresses are gratifying and worth the effort of paying attention. This goes for Fukunaga's winking, sumptuous direction; Stone and Hill's challenging, ultimately miraculous performances; and Somerville's tangled scripts. The process of uncoiling the knots might piss you off, but achieving it in the end feels like an accomplishment. Even if the achievement ends up being not as profound as you thought it might be.

The audacity and eccentricity of the thing comes as a welcome jolt to a Peak TV universe where too many shows are capable but familiar, coherent but dull. Is it real? Hell if I know. Is it entertaining? Absolutely.

Promising themes dissolve, episode by episode, into something more like forced quirkiness, revealing a buried conventionality, the curse of way too much cool-looking TV. ... Even an unreal world needs characters who make sense, particularly in a series that is as gooily devoted to exploring those characters' inner lives as Maniac turns out to be. On this level, the show is half-baked and inconsistent.
It is amazing and so well-done. The cast is also perfect. It gets more and more exciting every episode. Iconic!!!!

The Show was wonderful, Emma Stone stole the whole scene, she looks fantastic.

From the three episodes I watched I get a really well made tv show with amazing acting. I like how surreal it gets and I just want to see

From the three episodes I watched I get a really well made tv show with amazing acting. I like how surreal it gets and I just want to see more. Emma stone stands out. The direction and soundtrack is top notch.I am probably gonna finish it today cuz it is really addictive.

…

Expand

I could not stop watching. Every episode is exciting and there are no fillers. Especially the last episodes towards the climax I became very

I could not stop watching. Every episode is exciting and there are no fillers. Especially the last episodes towards the climax I became very emotional and experienced all kinds of feelings. The cast did a great job and acting wise there is nothing to complain about either in the dramatic or the comedic scenes. The visuals and the 80s/new tech mixture was refreshing to watch, overall I think this mini series is a very fine and carefully created piece of art!

…

Expand

Wanted to love this so much because of the original. But the performances just did not hit home at all. Jonah Hill in particular was not in

Wanted to love this so much because of the original. But the performances just did not hit home at all. Jonah Hill in particular was not in the same realm as any of his cast, and it was difficult to watch. No chemistry with Emma (whose performance was fairly solid). If you want to beat the original version (which was phenomenal), it had better be insanely good. And it doesn't come close at all. Disappointed.

…

Expand

Pretentious. Boring. Yawn. Goodbye. Pretentious. Boring. Yawn. Goodbye. Pretentious. Boring. Yawn. Goodbye. Pretentious. Boring. Yawn.

Pretentious. Boring. Yawn. Goodbye. Pretentious. Boring. Yawn. Goodbye. Pretentious. Boring. Yawn. Goodbye. Pretentious. Boring. Yawn. Goodbye. Pretentious. Boring. Yawn. Goodbye. Pretentious. Boring. Yawn. Goodbye.

…

Expand

I was excited about this due to the casting but...it's a huge miss. Emma Stone is fine in it. But Jonah Hill is NOT a serious dramatic actor.

I was excited about this due to the casting but...it's a huge miss. Emma Stone is fine in it. But Jonah Hill is NOT a serious dramatic actor. He sucks the life out of the whole series. If they would have went with someone more dramatically inclined, the show could have been easier to get through. Overall, a muddled, slow moving and sadly, pointless, series. I got through the whole thing and wasn't sure what it was supposed to be about. Skip this one!

…

Expand