Network:

NBC

Series Premiere Date:

Jul 31, 2018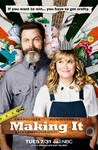 Summary:

Each week eight contestants will create unique crafts that will be judged by Simon Doonan and Dayna Isom Johnson as well as series executive producers Amy Poehler and Nick Offerman.

Genre(s):

Reality

,

Arts
Season 1 premiere date:

Jul 31, 2018
Poehler and Offerman's off-screen friendship translates to a wonderful on-screen dynamic that lends itself well to the sort of off-the-cuff riffing that speaks to both a deep bond and strong improvisational skills. As hosts, they bring an irreverence that keeps the tone light, positive, and natural.

It brims with nice, talented people making impossibly crazy beautiful things. It's charming and sweet and might just inspire you to make something.

A drama-free competition that's nonetheless suspenseful, Making It is the bear hug of a TV show we need right now. Offerman and Poehler have really put their stamp on the genre (pun obviously intended).

Both [Amy Poehler and Nick Offerman] are upbeat and encouraging, and episodes include the two having dumb, wonderful pun-offs. ... A weekly dose of glitter and whimsy and some words of inspiration from Ms. Poehler and Mr. Offerman are completely and totally refreshing.

As promised, they've made a show that makes you feel good. If for some reason you're still not sure whether to watch or not, I'll leave you with a final piece of Parks and Recreation–style advice: Go ahead, treat yo self.

The pacing is brisk (there's tension-building soundtrack music that sounds a lot like a Muzak version of Elvis Costello's "Pump It Up") and the cutaway segments with Poehler and Offerman are used to full advantage. ... Making It should strike a chord for viewers who love to work with their hands--or wish they possessed that talent.

The show itself is a charmer--full of color and vitality, while the craftsmen and women clearly have the talent and skills to make something worth looking at. The actual crafts part, however, is rushed. You hardly ever see the detailed process of making something but instead the finished product.
Crafts and laughs galore!! If you find your self getting sucked in when you pass by the diy channel or hgtv then you should definitely give

Crafts and laughs galore!! If you find your self getting sucked in when you pass by the diy channel or hgtv then you should definitely give this one a look.

…

Expand