Network:

CBS

Series Premiere Date:

Sep 24, 2018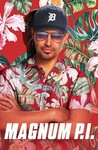 Summary:

The reboot of the 1980s series finds ex-Navy SEAL Thomas Magnum (Jay Hernandez) using the skills he used in Afghanistan to become a private investigator in Hawaii with the help of ex-Marine helicopter pilot Theodore "TC" Calvin (Stephen Hill) and ex-marine-now-nightclub-owner Orville "Rick"

The reboot of the 1980s series finds ex-Navy SEAL Thomas Magnum (Jay Hernandez) using the skills he used in Afghanistan to become a private investigator in Hawaii with the help of ex-Marine helicopter pilot Theodore "TC" Calvin (Stephen Hill) and ex-marine-now-nightclub-owner Orville "Rick" Wright (Zachary Knighton), as well as dealing with his guesthouse landlord, estate caretaker Juliet Higgins (Perdita Weeks).

…

Expand

Genre(s):

Drama

,

Action & Adventure
Season 1 premiere date:

Sep 24, 2018

Episode Length:

60
Hernandez is fine as Magnum: He pulls off the character's essential charm as a man of action who'd prefer to come across as a good-natured beach bum. Assiduous fans of the original will note other careful details carried over here. ... The new Magnum P.I. is perfectly fine, but in an era when so much television is first-rate, is "perfectly fine" enough to keep a show on the air?

[The death of someone close to Magnum is] a decent enough mystery to keep your action sweet tooth satisfied. Advances in special effects and stunt work since the 1980s are on display, and at least in this first episode, CBS spares no expense at highlighting them, from a HALO (high altitude) jump that opens the episode to the explosions that end it. The show's biggest weakness lies in its woefully surface-level characters, especially (and crucially) Magnum and Higgins. Hernandez is charming but bland, and the writers give him few other identifiers.

It's fine, escapist fare but lacking in much imagination.

So much less fun than than the original. ... Hernandez gives off the natural charisma needed to carry a procedural, and his cohorts (including "Happy Endings'" Zachary Knighton) are given brief moments to shine (albeit less brightly than the central star). The action scenes are fine, even if their special effects leave a lot to be desired, and the pilot is perfectly serviceable.

The pilot script's banter is, at the very least, better than the pervasive voiceover. That's more product of very solid supporting casting than writing, as Hill and Knighton slide easily into TC and Rick's shoes and will probably make a strong case for this becoming more of a true ensemble than a star vehicle. ... Hernandez isn't bad. At all. He just isn't Tom Selleck.

The premiere hour includes heavy lay-of-the-land narration by Magnum, perhaps in part because the character dialogue can be pretty clunky at times. ... The Hawaiian scenery remains gorgeous and crossover episodes with the Hawaii Five-0 guys are inevitable. This time around, the new Magnum also will have romantic possibilities with Higgins, who's already sending some signals.

The pilot for the new Magnum, full of explosions, car chases and frivolous relationships, is kitsch designed for mass appeal. It shares nothing with its predecessor because it has no heart. This show is "Magnum P.I." in name only, which is a shame.
as long as the show stays clean without that LGBT propaganda cram down your throat which has nothing to do with good television. If they keep

as long as the show stays clean without that LGBT propaganda cram down your throat which has nothing to do with good television. If they keep it clean from what I've seen so far it will be a huge hit!

Magnum is cool, Higgins is really wonderful Rick and TC excellent support. The filming and the wit in the writing is already coming through. I'm talking 10 out of 10 just don't blow it whoever is making the show. Please everybody give it good ratings because television is so dark these days. It's so corrupted please allow the show to make it. That's of course if they don't do anything stupid.

I love the show it must succeed. Were running out of decent television and were sick of it
so there. Dragon 444 in full support so far

…

Expand

I seriously don't get what people are smoking when they watch this show I love it yet it gets so many terrible reviews one of the good action

I seriously don't get what people are smoking when they watch this show I love it yet it gets so many terrible reviews one of the good action series this fall while not the absolute best it still is not as bad as people say it's one of the best of the fall I love magnum

…

Expand

I look forward to this show every week. It is definitely different from 80s, but, that's ok. Just mindless story lines with likeable

I look forward to this show every week. It is definitely different from 80s, but, that's ok. Just mindless story lines with likeable characters, no agenda being crammed down my throat for once. I like the additional flashbacks to military days. Love Perdita Weeks' personality, hair style, and quite fit. Maybe this should be the Higgin's show.. :)

…

Expand

one can't bring back a show that such as success. Them guys flashing back to Nam. Lost interest in first episode, haven't watch since.

We tried really hard but i fell asleep during the first one, found myself doing other things during the second. It's forced, no chemistry,

We tried really hard but i fell asleep during the first one, found myself doing other things during the second. It's forced, no chemistry, too pat, just not at all interesting. I'm sure it will go away all by itself.

…

Expand

How on earth did someone get paid to make this rubbish and tarnish the real Magnum PI. The show is beyond pathetic.

Horrible this is hawaii 5 o on steroids .Plot moved way to fast to follow,way to many explosions for belief destroyed 2 cars in 60 minutes.

Horrible this is hawaii 5 o on steroids .Plot moved way to fast to follow,way to many explosions for belief destroyed 2 cars in 60 minutes. THIS Show will be crap

…

Expand