Network:

Syfy

Series Premiere Date:

Mar 21, 2018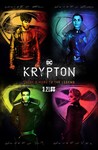 Starring:

Colin Salmon

,

Shaun Sipos

,

Rasmus Hardiker

Summary:

The fate of the planet Krypton is in the hands of Superman's grandfather Seg-El (Cameron Cuffe) in this sci-fi series from David S. Goyer and Ian Goldberg also features Brainiac (Blake Ritson) and Adam Strange (Shaun Sipos).

Genre(s):

Drama

,

Action & Adventure

,

Science Fiction
Season 1 premiere date:

Mar 21, 2018

Episode Length:

60
Syfy, Warner Bros., and DC took a big swing with this project, but it seems like the time and money were good investments. This Superman fan is happy with how it's starting, at the very least, and there's a lot of potential here.

Krypton is a show split between two different concepts, and that lack of commitment shows in the first five episodes. But those unfamiliar with the comics will find plenty to enjoy, as the plot gets twistier and twistier.

Krypton is nowhere nearly as nuanced--"Battlestar" frequently wasn't either, for that matter--and in its opening hour trains much of its focus on building a soap opera bridge to the ancestral history of Earth's greatest champion. But it is heartening to see a Syfy series take advantage of our ongoing fascination with the DC Universe, and other comic book properties, to attempt to make a statement about where we are and the possible dangers that lie ahead.

The series eventually begins to click but the pacing is slow, the action is sporadic and the special effects are, well, not all that special. ... Campbell and Ogbomo, and the battle of wills between daughter and mom, are consistently more interesting than Seg-El's machinations to restore his family honor.

There's a compelling narrative here, but the drama lacks the fireworks and color to keep things engaging.

The idea of focusing on Supeman's grandfather, instead of his father, Jor-El, might mean there is a lot of room for story with this series and its lineage. But the show's first few episodes have a nagging inconsequential air to them, as I wonder might be the overall case if Krypton doesn't start putting its good intent toward a more innovative cause.

Krypton is the kind of series where you wonder what direction is being given to, well, everyone. Any series that looks and feels, at least 50 percent of the time, like a spoof is already in a pretty bad spot. But if that series gives off the vibe that the characters inside it look completely uninspired, then you have a whopper of a problem.
A treat for all supes fans! They had a great look to Krypton, believable slums, and that look for Brainiac was PERFECT! I can't wait to see

A treat for all supes fans! They had a great look to Krypton, believable slums, and that look for Brainiac was PERFECT! I can't wait to see whats ahead!

…

Expand

Earthman Adam Strange travels to the past and to Krypton to warn Seg-El that his grandson, the great savior named Superman, is in danger of

Earthman Adam Strange travels to the past and to Krypton to warn Seg-El that his grandson, the great savior named Superman, is in danger of disappearing. Seg-El, like any person, does not believe Adam, until he realizes that a great threat looms that could take Kandor forever: Brainiac. As soon as Adam Strange warns Seg-El of a threat that will arrive in Krypton and that would affect the birth of Superman, the problems begin to increase. Without entering much into spoilers, the mere presence of Adam and the threat of the series is the engine of much of the plot and the future second season. On the other hand, the family is also a recurring theme, both in the relationship of Nyssa-Vex and his father, and in the hidden project of Daron-Vex, which is also related to a certain political plot. Then, love is rather secondary in this series, showing us a loving trio that surely has a predictable ending. Finally, one of the big issues is social inequality, because in Kandor the Sin Rango are treated as potential terrorists, due to the threat of Black Zero, in addition to being treated as if they were animals. About the characters, I must highlight the great evolution that Nyssa-Vex has shown, a character that shows great charisma and a certain empowerment. On the other hand, Daron-Vex is shown to us from the beginning as someone desperately seeking power, although he does not hesitate to back down and duck his head, if the situation requires it. On the other hand, Seg-El's character stands out for his imprudence, rebellion and trust in those who should not. Then we have Adam Strange, who seeks to be a hero and help as much as he can Superman, the Justice League and the universe. Going to describe the members of the house Zod, Jayna-Zod is a strong character and a rigid code, but is willing to sacrifice everything for what he wants most; However, Lyta-Zod is shown as a character who wants to meet certain expectations and choose his own path, even if he has to betray his own family. In general, all the characters comply, although some stand out more than others.

…

Expand

The show definitely has potential. It gives an interesting look into the caste system used on Krypton and introduces the potential for

The show definitely has potential. It gives an interesting look into the caste system used on Krypton and introduces the potential for alternate time lines through the meddling of Adam Strange. The show could quickly fall back to formulaic angst filled drama with no direction or it could become a masterpiece. At this stage it's too early to tell but I like what I've experienced so far.

…

Expand

Looks/feels like every other teen-angst show on CW though this is a now emo SyFy production. Plus you're a captive audience for Hollywood's

Looks/feels like every other teen-angst show on CW though this is a now emo SyFy production. Plus you're a captive audience for Hollywood's continuing liberal indoctrination that mixing races is soooo progressive. This series had so much potential but it looks to play out like every other I-must-avenge-my-family's-honor story ever written, ugh. Nothing new here except the set pieces and mostly unknown cast. PS: watch out for a slew of 9/10 ratings from the shill squad. At my most optimistic, this show rates no more than a seven.

…

Expand

disappointing, more trash written for teenagers that need stories spoonfed to them. Cliched, poorly scripted and average acting, barely made

disappointing, more trash written for teenagers that need stories spoonfed to them. Cliched, poorly scripted and average acting, barely made it through the second episode, certainly won't be watching a 3rd.

…

Expand

Aliens that doesn't look, feel or act too alien. Young people doing young people stuff in the yet another teenage oriented tv series with zero

Aliens that doesn't look, feel or act too alien. Young people doing young people stuff in the yet another teenage oriented tv series with zero innovation. Endless cheap and dull dialogue. There is nothing to hold anyone here be it a fan or not. Recommendation: SKIP

…

Expand

I've stuck through to episode 9. Honestly, I wanted to love this show as a Superman fan, but it's just really bad and it all comes from

I've stuck through to episode 9. Honestly, I wanted to love this show as a Superman fan, but it's just really bad and it all comes from creative decisions made around the mythology the show is choosing to cover and subsequent poor writing.

The cast is charming and they perform well given their material but fans will be turned off by iconic roles being miscast. In fairness the show is trying to be inclusive by having as much diversity as possible, but race and gender swapping iconic characters is not the solution and it turned me off and will likely put off many other fans. With a whole world being built, it would have been wiser to represent in these new characters and write them well enough for people to get invested in them as much as characters they may be more familiar with. The implementation resulted in casting a black guy as a villain... but at least he wasn't made an alien monster using prosthetics and makeup like usual?

The dialogue frequently references earth culture on an alien world. In jokes and references that don't make sense in an alien culture at all and ultimately break immersion in this world. It seems like a small thing to mention but they pop up just when you're getting into the world and they snap you right out of it. Characters are often written out of character too. For example a Hologram character has discussions as if it wasn't a hologram and the dialogue treats the audience as if it doesn't know what a hologram is at times too.

The most recent episodes are resorting to long lost family members showing up, turning it into a soap opera and a recent climatic scene with the antagonist took liberties with the character's abilities pushing the direction of the narrative and outcome of the scene into absurdity and alienating fans of the source material in the process.

Ultimately, the show suffers from the exact same problems the movie universe does. The writers are not familiar enough or do not respect the source material enough. Or they just don't believe in its value and make shallow attempts to make it cooler, edgier, modernized and appeal to a demographic outside of the core demographic. Which in turn alienates the core fans who would provide a base and positive word of mouth. Forest for the trees as they say.

The costumes are notably good. Sets are well done also. That's all the show has going for it otherwise.

…

Expand