Network:

HBO

Series Premiere Date:

May 28, 2018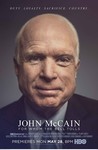 Summary:

The Peter Kunhardt documentary about Senator John McCain's life and career features interviews, archival newsreel, home movies and personal photos.

Genre(s):

Movie/Mini-Series

,

News/Documentary

,

Documentary
Show Type:

TV Movie

Season 1 premiere date:

May 28, 2018

Episode Length:

104
Some might find For Whom the Bell Tolls to be too easy on, if not downright deferential, to McCain. But this last testament in many ways also underscores the respect and admiration he has won from those he's battled fiercely.

For Whom the Bell Tolls covers the things you'd expect, including his years as a prisoner of war in Vietnam. But it acknowledges his flaws, including a powerful temper. And it doesn't skip past some painful bumps in his biography.

A slightly less-than-worshipful tribute to Sen. McCain, who is dying of brain cancer yet agreed to cooperate with what is essentially a warts-and-all portrait.

Offers a definitive portrait of an extraordinary life, boasting extensive access to its subject as well practically as every political luminary to pass through his orbit, including three former presidents.

The film has been referred to as a pre-obituary and its title called ghoulish. But McCain's frank discussions about his limited time left on Earth and the end of a mission of "serving something more important than myself" are profound and moving.

First and foremost, this documentary is as a moving farewell to a flawed, but still admirable, man. But it also comes across as another type of good-bye, one to the basic civility Americans once were able to take for granted in the political realm. John McCain: For Whom the Bell Toll is another reminder that this, too, is dying.

In this deferential retelling, McCain is a lifelong public servant who only erred when he wasn't true to himself, with no ideological bent in his mission to make America exceptional again. It's certainly an inspirational portrait; it's also a blatant exercise in legacy management.
McCain is a patriot who puts country before self and always has. He puts country before party and always has. He is not afraid to stand up

McCain is a patriot who puts country before self and always has. He puts country before party and always has. He is not afraid to stand up to outside pressure and go against the grain when needed. Politics has become far too partisan -- we need more McCain's in congress, not fewer. Maybe then we would see progress instead of gridlock. And, no, this is not a problem that started in Jan 2017 -- it has been a problem for many, many years and begs for a solution. Perhaps this documentary will inspire a new generation of common-sense legislators... but I'm not holding my breath.

…

Expand

A beautiful last moment shared with a man a big enough to admit his mistakes and who served his country with joy and humility. I don't agree

A beautiful last moment shared with a man a big enough to admit his mistakes and who served his country with joy and humility. I don't agree with a lot of his politics, but I admire the hero. I appreciate that the film addresses several of his controversies head on and shows his friends, republican and democrat, and the respect they have for him even when they are on opposite sides of the argument.

…

Expand