Network:

NBC

Series Premiere Date:

Apr 1, 2018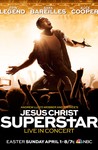 Summary:

NBC's latest live musical will be a concert staging of Tim Rice and Andrew Lloyd Webber's rock opera at Brooklyn's Marcy Armory with John Legend as Jesus, Sara Bareilles as Mary Magdalene, Brandon Victor Dixon as Judas, Alice Cooper as King Herod, Ben Daniels as Pontius Pilate, Norm Lewis as

NBC's latest live musical will be a concert staging of Tim Rice and Andrew Lloyd Webber's rock opera at Brooklyn's Marcy Armory with John Legend as Jesus, Sara Bareilles as Mary Magdalene, Brandon Victor Dixon as Judas, Alice Cooper as King Herod, Ben Daniels as Pontius Pilate, Norm Lewis as Caiaphas, Jin Ha as Annas, Jason Tam as Peter and Erik Gronwall as Simon Zealotes.

…

Expand

Genre(s):

Music
Show Type:

Special

Season 1 premiere date:

Apr 1, 2018
An exhilarating production that once again revolutionized the still-evolving live musical format. Yes, the sound mix wasn't as clean as it should be and not all the lighting design read as well on TV as well as it should have. But the final sequence of Jesus' crucifix rising into the air to be surrounded by a larger crucifix of light was a breathtaking bit of stagecraft that blended the theater and concert aspects of the show perfectly.

A conceptual and artistic triumph. ... Some technical flubs and one mixed-bag lead performance aside, the production was genuinely thrilling, taking chances with the staging of a classic but controversial Broadway show, much more daring than previous live musical broadcasts like "The Sound of Music" or "Peter Pan."

It was an overwhelming original, complete with inspired casting and staging choices.

This version of Jesus Christ Superstar was a pulsing adrenaline rush that felt like a fizzed-up energy drink to the face.

Despite the quibbles, which included some spotty sound mixing, Jesus Christ Superstar Live in Concert was a pleasure throughout. The show both respected the original score while adding a present-day spin and a sense of controlled chaos that kept it all fresh.

The show was a collision of religion and theater and pop culture that could have been one holy mess. But by the grace of God, or maybe a great cast and lots and lots of expert staging, a great musical became a great TV production.

This musical threw together glitter, sequins, leather, writhing hotties, a few big performances pitched to the last row, and camerawork that often felt as though it was hopped up on too many lattes. Actually, the ragged edges of a unifying concept did emerge over the course of the NBC musical's two-hour-and-20-minute running time: If its philosophy could be summed up in one word, "excess" would just about cover it. That's not necessarily a bad thing. But this live show was a lot.
I was worried about this after the debacles that were Sound of Music Live and Christmas Story Live but boy was I wrong. This surpassed my

I was worried about this after the debacles that were Sound of Music Live and Christmas Story Live but boy was I wrong. This surpassed my love for the original 70s movie by a mile. Brilliant production design, costuming and casting made this enthralling. Legend's voice at times seemed not to be strong enough, and Alice Cooper seemed too exhausted to perform as Herod. Judas, Mary, Pilate and the Pharisees were amazing. I never wanted Judas to leave the stage. Mesmerizing

…

Expand

The best live TV musical that has been broadcast so far. All of the headliners, supporting cast and chorus were brilliant. Stunning direction,

The best live TV musical that has been broadcast so far. All of the headliners, supporting cast and chorus were brilliant. Stunning direction, stage design, sound and camera work. An EPIC production! I believe that if you didn't like this show then you probably don't like musical theatre.

…

Expand

I have loved JCS since I was a kid. It is subversive, with Jesus as a conflicted hero half in love with the adulation of his followers and

I have loved JCS since I was a kid. It is subversive, with Jesus as a conflicted hero half in love with the adulation of his followers and Judas as the level headed voice of reason, yet respectful of the holy week story - those who call it blasphemous take themselves too seriously. This ranks up there with the original album and the movie soundtrack as among the best performances ever. The stage set couldn't have been cooler and the leads, from Aaron Burr to Judas, School's Out Herod, Brave Mary were perfectly cast. i can't get over how strong the secondary cast is so strong from the Scandinavian Axl Rose as Simon to the heavyweight diversity casting for the high-priests. This is JCS as it's meant to be.

…

Expand

I was expecting JCS to be good, but I was blown away. The music, the depth, the raw emotion - it was something incredible to experience. In

I was expecting JCS to be good, but I was blown away. The music, the depth, the raw emotion - it was something incredible to experience. In some ways I feel like it was the renewal many of us needed during this dark point in Christianity. There are negative people who frown on anything other than their own limited view of the bible and they made up their minds before the show aired. Please ignore them and give it a chance. The actors had a wonderful energy. The cast that was chosen was spot-on. Very moving.

…

Expand

I was around when this first came out in 1970 - it was beyond subversive. I had to hide the record in my home playing it only when the

I was around when this first came out in 1970 - it was beyond subversive. I had to hide the record in my home playing it only when the parents were away. Yet the incredible melodies and lyrics, and the completely fresh take on a Passion, was at heart remarkably reverent.

As was NBC's live version. Beautifully staged, almost perfectly sung and still as compelling as ever. John Legend was at the same time fantastic and a little in over his head. He simply couldn't get the rock-opera screams and angst that originated the role, but everything else was perfection. The other parts of the role were brought out more than I had ever seen before, So, while I would have loved the frosting of getting the screams as well, it was still magnificent. Brandon Dixon was remarkable as was Judas as was Sara Bareilles as Mary M. Alice Cooper just was so-so. I needed something more comically and sinisterly evil, it just didn't work that well.

The hidden standout that make this near perfection were the staging, the chorus and the band/orchestra. Ben Daniels was amazing, as were Jin-Ha and Norm Lewis.

But the final staging is what drives this over the top. The original album left no doubt that the decision if there was a resurrection was entirely a personal one. It ended at John 19:41 - the description of Jesus' tomb, but before John chapter 20 - Mary's first encounter by the risen Jesus. Webber's Passion is a purely human one - with the doubt, fear and recriminations of Judas left bare for each of us to internalize and consider the true meaning of faith in our own salvation.

The staging however made this a Passion proper. There is no doubt that Jesus was transformed and raised from the dead. I think this is the proper end for Webber's Passion - while leaving the doubts intact, it clearly allowed, and almost demanded, that belief and faith are accepting the unknown as factual.

This was an excellent production and even more amazing that it was a live, one-time gambit. Well done to all, even Alice.

…

Expand

An overly faithful rendition of the 1973 movie with surprisingly good production values for the live staging. I missed Carl Anderson as Judas,

An overly faithful rendition of the 1973 movie with surprisingly good production values for the live staging. I missed Carl Anderson as Judas, but found myself warming to Legend especially towards the end of the play.

I would have liked more updates to the times we live in now, but I suppose they thought it was best to stick to the 70s lyrics and let the audience sing along.

…

Expand

Horrible mockery of both jesus christ superstar's previous renditions and of the story around jesus in general. the outfits looked like start

Horrible mockery of both jesus christ superstar's previous renditions and of the story around jesus in general. the outfits looked like start trek crap and the audio was horrible and the talent was low and the cast looked like a buch of losers from a hot topic store.

…

Expand