Network:

Netflix

Series Premiere Date:

Aug 10, 2018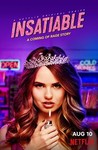 Summary:

Disgraced-lawyer-turned-beauty-pageant-coach Bob Armstrong (Dallas Roberts) helps the bullied (and full of hidden rage) Patty (Debby Ryan) become a pageant queen in the dark comedy that was originally developed for The CW.

Genre(s):

Comedy

,

Drama
Season 1 premiere date:

Aug 10, 2018

Episode Length:

60
Insatiable is excitingly preposterous. ... That there is a high degree of difficulty to the comic twistedness of such developments goes toward the nerve of the series' creator, Lauren Gussis, whose confidence seems winning as long as the pace keeps up (and misplaced when episodes grow slack with meandering scenarios and repetitious dialogue).

Patty is important--but she's not Insatiable's main dish. Strangely and crucially, her viewpoint often gets lost, ignored or brushed aside, at least in the early episodes. The focus of this dark comedy is Bob Armstrong (Dallas Roberts).

The controversial new Netflix comedy is filled with giant themes about radical weight loss, the superficiality of appearances, identity, parenting, and revenge, but they don't nearly add up to a coherent message, never mind an affirming message. There's no there there, when it comes to the show's broad intentions. It's just a jumble of provocations, half-baked jokes, random cultural satire, farce, bad puns, and attempted campiness that ultimately doesn't make a unified point.

Insatiable is a harsh example of the best intentions yielding the worst results. ... Insatiable is unforgivably inelegant as satire. It fails not only to land its purportedly progressive message about body image and weight, but also its storylines tackling sexuality, sexual agency, classism, race, and transgender acceptance.

So many problems plague Netflix's original series it's only option is the scrap heap, where a few spare parts can be salvaged to sustain other functioning vehicles.

I know that there is a human creator behind Netflix's Insatiable. But this would-be binge-watch—so sloppy that it borders on inadvertent brilliance—is the exact sort of muddled glop that Netflix's algorithm might come up with on its own.

The show specializes in the easiest forms of scripted cruelty and snark. The fat-shaming, such that it even exists, is brief and nowhere nearly as harmful as the middling idiocy of the entire effort. That's my review and also a scolding: If you're watching this, you really need better things to do.
People don't like this show because the don't want to face the truth of this society

Once you actually watch the show you'll realize how good it actually is. The show is funny, entertaining and is at the same time important. It

Once you actually watch the show you'll realize how good it actually is. The show is funny, entertaining and is at the same time important. It spreads an important message and is definitely worth watching.

…

Expand

This is the reality. The teenagers mind. The perfect netflix show that shows how teens and other people don't think good at all and don't

This is the reality. The teenagers mind. The perfect netflix show that shows how teens and other people don't think good at all and don't understand themselves.

…

Expand

This is an amazing look at popular culture in 2018 and well worth the watch, it's funny and has the balls to make light of serious situations.

This is an amazing look at popular culture in 2018 and well worth the watch, it's funny and has the balls to make light of serious situations. It's not perfect and lags in the middle but not since South Park and Family guy have we seen a show willing to address these topics in pop culture. There are people who seem to hate this show, the show will ask you if can you take solace in their seething hatred. Like Patty (show protagonist), I feel better knowing these people feel punished because of the existence of this show, as after all their the bullies in life!

…

Expand

This show is unique. People don't wanna face the truth. I disagree with many comedies. This one hits close to home. This isn't fat shamming.

I watched this because of the overwhelming negative reviews to see if I agreed. It is pretty sad how bandwagon critics will trash a show so

I watched this because of the overwhelming negative reviews to see if I agreed. It is pretty sad how bandwagon critics will trash a show so that everyone knows how politically correct they are. The show is obvious satire and I found nothing offensive while watching it. Topics of race, homosexuality, and body image are all areas this show explores; if you are too sensitive for jokes about these topics, this probably isn't for you. I honestly have to wonder if the majority of these critics even bothered to watch the show before writing their self righteous reviews. It does not "glorify" being skinny in any way, in fact quite the opposite as the main character is shown to become skinny but remains a pretty terrible person. In this way it reminds me of Its Always Sunny in Philadelphia, but I would say a more apt comparison for the overall tone of this show would be The Unbreakable Kimmy Schmidt or Don't Trust the B in Apt 23. Check it out if you are looking for a dark, off-beat comedy that does not take itself too seriously.

…

Expand

This review contains spoilers

, click expand to view

. Everyone wants to excuse this pathetic show with "this is satirical, you don't understand this type of comedy" but this is just TRASH. There are a lot of points that doesn't make make sense.

Netflix sold us on the trailer that this show was about a fat girl who became skinny and started to have revenge against the people who bullied her when this show is truly about an ex fat girl who has the biggest dream of becoming beauty queen, becomes best friends with Magnolia (yes, before they fought about that golden boy, Patty was so desperate to fit in with Magnolia and friends) and becomes girlfriend with the dude that rejected her in a very humiliating way.

This show isn't funny, is ridiculous. And trust me, I had high expectations but this is just BAD.

Your sense of humor has to be very basic to give this show a 10, and if you do trust me, you need more world.

This show is not

…

Expand