Network:

Netflix

Series Premiere Date:

Aug 10, 2018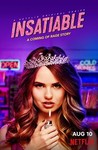 Summary:

Disgraced-lawyer-turned-beauty-pageant-coach Bob Armstrong (Dallas Roberts) helps the bullied (and full of hidden rage) Patty (Debby Ryan) become a pageant queen in the dark comedy that was originally developed for The CW.

Genre(s):

Comedy

,

Drama
Season 1 premiere date:

Aug 10, 2018

Episode Length:

60
Here's what Insatiable is not: an exercise in fat-shaming or any other teenage caste cruelty. Sure, Patty gets mocked and abused, but the kids who engage in that behavior are unambiguously treated as villains, and they don't fare well. And Patty's acts of vengeance mostly seem heroic, even when they are patently misanthropic. Everybody who ever suffered shunning or scorn at the hands of a high-school social overlord will be raising a fist in solidarity.

Insatiable is excitingly preposterous. ... That there is a high degree of difficulty to the comic twistedness of such developments goes toward the nerve of the series' creator, Lauren Gussis, whose confidence seems winning as long as the pace keeps up (and misplaced when episodes grow slack with meandering scenarios and repetitious dialogue).

Patty is important--but she's not Insatiable's main dish. Strangely and crucially, her viewpoint often gets lost, ignored or brushed aside, at least in the early episodes. The focus of this dark comedy is Bob Armstrong (Dallas Roberts).

Insatiable is a harsh example of the best intentions yielding the worst results. ... Insatiable is unforgivably inelegant as satire. It fails not only to land its purportedly progressive message about body image and weight, but also its storylines tackling sexuality, sexual agency, classism, race, and transgender acceptance.

Insatiable is trite, way over the top (even for a series that appears to be trying to go there for comedic effect), unfunny and, running at 40-plus minutes per episode, a bloated mess that's labor-intensive to get through.

So many problems plague Netflix's original series it's only option is the scrap heap, where a few spare parts can be salvaged to sustain other functioning vehicles.

The show specializes in the easiest forms of scripted cruelty and snark. The fat-shaming, such that it even exists, is brief and nowhere nearly as harmful as the middling idiocy of the entire effort. That's my review and also a scolding: If you're watching this, you really need better things to do.
People don't like this show because the don't want to face the truth of this society

I don't know what everyone else's problem is but I think its very clever. People need to realise it is a dark comedy and not meant to be

I don't know what everyone else's problem is but I think its very clever. People need to realise it is a dark comedy and not meant to be teaching values, it is just a show and if people expect shows to do their parenting then that's their problem. Its not poking fun at issues, its addressing them in a comedic way! I love the movie Mean Girls and this show parallels pretty close to it, Mean Girls wasn't being called to be banned, no it was one of the most successful teen movies around.
People have become too sensitive and too easily triggered over nothing these days.
Get over it people!
I read an article from Mamamia that apparently it brought the reporter "to tears". She was referring to Patty eating her emotions and the outside people telling her she doesn't need food to feel better. This somehow transferred to "fat shaming" to this woman. I'm sorry.. but if your friends don't stop you from falling in to a pile of cake when you're feeling down then they aren't you friends! It's not fat shaming, it is emotional eating which is dangerous and NO friends should support that.

…

Expand

Its a different show, and its good. Starts with a saga to revenge, then, its shows that every character has his own saga to to care about. Its

Its a different show, and its good. Starts with a saga to revenge, then, its shows that every character has his own saga to to care about. Its a very good show with a very good plot.

…

Expand

Its a strage mix of black humor, trash and a critic to society.
Deseves to be watch. Deserves to be understood.

Hilarious. As a Southerner, I have to praise Dallas Roberts on edging Zach Galifinakis' Marty Huggins as GREATEST SOUTHERN EFFEMINATE of all

Hilarious. As a Southerner, I have to praise Dallas Roberts on edging Zach Galifinakis' Marty Huggins as GREATEST SOUTHERN EFFEMINATE of all time (SE GOAT). There's nothing in this series that would offend anyone with an actual sense of humor. Enjoy it for what it is, a unique, ballsy satire of an overlooked subculture.

…

Expand

If you have huge distance for serious topics you should definitely watch this TV show. It's a comedy with dose of black humor. I can

If you have huge distance for serious topics you should definitely watch this TV show. It's a comedy with dose of black humor. I can understand bad press because some scenes are a bit intrusive. Hope that we will get season two.

…

Expand

It's simply terrible.

Lets forget about all the hate during the whole show (fat shaming etc), the main character is first portrayed as aIt's simply terrible.

Lets forget about all the hate during the whole show (fat shaming etc), the main character is first portrayed as a sweet girl and then she suddenly becomes a raging **** The first episode was decent but then it all turned to sh*t.

…

Expand