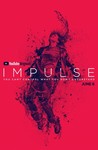 Summary:

16-year-old Henrietta "Henry" Coles (Maddie Hasson) has always felt different and wishes to leave her small town. She soon realizes she can teleport in this Doug Liman sci-fi series based on one of Steven Gould's Jumper novels.

Genre(s):

Drama

,

Science Fiction
Season 1 premiere date:

Jun 6, 2018

Episode Length:

60
While the production values may be loose, Impulse's entertainment value runs strong.

Impulse doesn't take the conventional route for a show with immense powers. In uncharted territory, it's a show that's finding its way.

It's often quite solid and Maddie Hasson effectively leads a fine ensemble, but Impulse really isn't the show you might be expecting.
Great series based on the tv series jumper, if you are into teleporting powers (like in the movie heroes) and similarly a secret

Great series based on the tv series jumper, if you are into teleporting powers (like in the movie heroes) and similarly a secret government/society experimenting/capturing people with powers (Kyle XY? Stranger Things) you will like this!

…

Expand

Wow. I love this show! It reminds me of some of the super-heroes tv shows except maybe a bit darker and more serious. The acting is solid

Wow. I love this show! It reminds me of some of the super-heroes tv shows except maybe a bit darker and more serious. The acting is solid all-around, the story is interesting, the cinematography is beautiful, and locations are amazingly Americana.

…

Expand

Highly recommend. Honestly, this might be the best hour I spent watching something lately. It's not changing my life, but it sucked me in

Highly recommend. Honestly, this might be the best hour I spent watching something lately. It's not changing my life, but it sucked me in completely. Henry (played brilliantly by Maddie Hasson) captures the amazing dichotomy of victim/survivor trauma. She flits between imagining herself as the victim, aggressor, and then how it might have been if nothing had happened. To me, the teleportation is almost a side thing right now, (except for the other thread of that guy saving his family and Keegan-Michael Key's abandonment on an iceberg), but as a writer I think the story so far has been delivered with the right pacing, mystery, and style that makes me want more.

Is it a CW superhero story? No... CW has rules you have to follow for conduct amongst heroes in primetime tv. Is it less funny than primetime? YES, thankfully! Why would you ruin this script with unnecessary humor and blatantly forced humor? Nothing in the first two episodes that happens to Henry is funny. Whatever humor might manifest itself will be best served if under a gallows noose.

Let it be dark, as befits the theme. This girl's origin story is triggered by assault, and I admire that though her step-sister 'arch-enemy' also portrayed amazingly by Sarah Desjardins, starts out as a complaining 'she's not my real sister' **** the assault that brings them together quickly strips away the stupidity of teenage angst (which we've all seen and experienced) to show us what most teenagers are about: mostly nothing until something happens that they care about... then nothing will stop them. She becomes this stalwart friend and confidant of a step-sister she definitely didn't want, but now sisterhood binds them. I think their growth feels more real than most things I've seen portrayed lately.

Finally, I'm intrigued by Enuka Okuma, playing Deputy Anna Hulce. She's new to the department and confronted by a sheriff she clearly has doubts about. She's sharp, but so far has been stymied in her attempt to dig deeper, mainly through bureaucracy. Will she find a way to figure out what's going on?

I'd urge anyone reading this to give the first episode a chance. It starts out slow. I'd agree with other comments that the pace could be sped up, but it's also nice to see a supernatural / hero story take its time. We (hopefully) have seasons ahead, so I'm in no rush... just like Breaking Bad or Better Call Saul. Good characters need time to develop and I hope this doesn't fall into a CW style YA hero cliche. Given the quality of its writing and acting, there's no indication it will.

Highly recommend. 5/5 stars.

…

Expand

Sci-fi that in season 1 focuses more on slow character and relationship development a la The Americans. A nicely done origin story in which a

Sci-fi that in season 1 focuses more on slow character and relationship development a la The Americans. A nicely done origin story in which a teen (and those around her) grapples with how she can come to terms w/an abusive encounter with a classmate while at the same time trying to understand and control a newly discovered superpower. Generally well-written and acted. I suspect season 2 will give us more of the sci fi elements.

…

Expand

Just like 'Cloak & Dagger', I didn't think I'd like it, but I did.

Again, like the mentioned show, it doesn't feel padded or stretched out.Just like 'Cloak & Dagger', I didn't think I'd like it, but I did.

Again, like the mentioned show, it doesn't feel padded or stretched out.
No excessive flashbacks, good supporting cast. Story is good.
Getting to know her powers, not a classic villain at first, but interesting plot.

The motivation of the 'jumper-hunter' remains unclear, but the finale is interesting.
If there is a second season...

All in all, if you're into that kind of show, it's a good pick.

…

Expand

A tough series to rate. What's great: production values and overall story. Not so great: particulars of the story, mostly evil/bad

A tough series to rate. What's great: production values and overall story. Not so great: particulars of the story, mostly evil/bad characterizations of boys and men, mostly angelic characterizations of girls/women, dwelling too long on the petite-rape (this is not a full rape incident, it's basically the guy forcing a "3rd base" move.) Henry - short for Henrietta and spelled like a boy's name so that you don't think she's a delicate flower, yes, they said that - exhibits Hulk-like power without transforming into a Hulk because that wouldn't be lady-like, so you get the damage with a side of teleportation, so a little "Jumper" thrown in. This story is largely for rebellious teens whose single parent(s) don't understand them and perpetuate lies to get them back, etc. There's scene-setting contemporary ballads for the teens too. Of course these teens are all caricatures of stereotypes, no set of teens would ever act in this manner over a period of time, so there's that. One of the key girls flippantly decides to forgo her virginity for no good reason and keeps it to herself for the most part, weirdly gratuitous. The final episode of season 1 had some decent scenes but others that make you groan. It's definitely set up for a second season which I want to be excited for for the underlying mystery but I'm over the principle characters, so I'm kind of torn. But since it's a YT Premium series, a second season won't happen for another year or two so maybe my issues will have subsided.

…

Expand

A rape story thinly disguised as part of the Jumper franchise. Seriously... if you want a downer show that revolves around being a loner who

A rape story thinly disguised as part of the Jumper franchise. Seriously... if you want a downer show that revolves around being a loner who was raped... Then this is for you. As for me... there's one too many shows with evil rapey men at the moment... I'm out.

…

Expand