Network:

TNT

Series Premiere Date:

Jan 28, 2019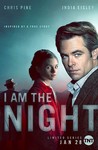 until day of season premiere
Summary:

Directed by Patty Jenkins, Fauna Hodel (India Eisley) seeks information about her birth mother with the help of reporter Jay Singletary (Chris Pine) and finds it connecting to Black Dahlia suspect Dr. George Hodel (Jefferson Mays).

Genre(s):

Drama

,

Movie/Mini-Series

,

Suspense
Season 1 premiere date:

Jan 28, 2019

Episode Length:

60
There's a fearful intelligence and stubborn innocence in Eisley's portrayal of the Fauna. She knows something is wrong with her mother, but she can't take warning about her grandfather to heart. Pine's good reporter turned into a hack by addiction is a gleefully dissolute character filled with sweaty desperation.

The writing can lay the nihilism on a bit thick. ... And yet there's no denying the spellblindingly ominous mood cast over six episodes. [21 Jan - 3 Feb 2019, p.12]

I Am the Night may be a little too formulaic to be TV's next limited series with maximum impact--a la "Sharp Objects," or what TNT really wants, another "True Detective"--but it's well positioned to deliver the kind of entertainment that overly serious fare often overlooks.

Fauna, portrayed by India Eisley with wide-eyed naiveté that occasionally crystallizes into a flinty determination to get to the bottom of her complicated origin story. ... Pine throws himself into the part with his usual gusto, giving Jay a manic edge that keeps him from floating too far into cliché. That does not, unfortunately, hold true for the rest of the series, which proves to be the kind of drama wherein a revelation drops and a dramatic peal of thunder isn't far behind.

Eisley is lovely, but placid and reactive. Even when Fauna's playing detective, there's nothing inquisitive in the character, no intensity in the performance and none of the writers nor directors--Victoria Mahoney and Carl Franklin follow Jenkins---quite knows what to do with her. ... Pine is exceptional--raw, broken and yet very funny. Whether he forces the story to become his by virtue of his A-list status and charisma, because Eisley is too meek to command the frame or because the writers' interest in Fauna is fickle, remains open to debate.

The important racial component of this story is shallow and stereotyped, and the connections to the crimes of George Hodel are faintly rendered. I Am the Night paints a decent portrait of mid-century L.A. noir, but it mistakes darkness with depth, treating anything real or substantive with coy hesitation.