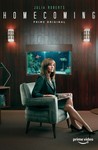 Summary:

Caseworker Heidi Bergman (Julia Roberts) worked at a secret government facility to help returning soldiers like Walter Cruz (Stephan James) transition back to civilian life. Four years later, a DoD auditor (Shea Whigham) questions Heidi on why she left in this psychological thriller based on

Caseworker Heidi Bergman (Julia Roberts) worked at a secret government facility to help returning soldiers like Walter Cruz (Stephan James) transition back to civilian life. Four years later, a DoD auditor (Shea Whigham) questions Heidi on why she left in this psychological thriller based on a fictional podcast.

…

Expand

Genre(s):

Drama

,

Suspense
Season 1 premiere date:

Nov 2, 2018

Episode Length:

30
Each episode of Homecoming is about a half-hour, leaving no room for placeholder sequences or needlessly distracting subplots. Every scene, every character, every development is a key component of a jigsaw puzzle that admittedly takes quite some time to develop into something we can truly see for what it is.

Whigham delivers one of the year's best TV performances. ... Esmail has worked with the creators to reconceive their audio adventure as a visual delight, full of smart performances and lingering unease. For all its Hitchcock-y camera angles and Lost-y double-reverse plot twists, Homecoming is an all-too human freakout.

Visually and thematically, it plays like a lean, focused distillation of Esmail's other series. It has the cool tone, the paranoia, the visual flourishes, the mind-bending revelations. But these effects are concentrated on a single, intricate story, laid out in 10 swift and magnetic episodes. In this case, less is very much more.

Roberts and James have abundant chemistry, which is crucial for a thriller built so much on two people just talking. The plot is intentionally slow to start, so the early episodes lean heavily on atmosphere and on how likable Heidi and Walter are together. Roberts and James more than deliver the latter, while Esmail is all over the former.

The result is a television series that's frequently breathtaking. Each frame of Homecoming feels meaningful, and most feel at least vaguely familiar. ... As Homecoming unfurls its mystery through 10 half-hour installments, the stylistic choices can seem more like aesthetic overdecoration than vital components of something fully cohesive. ... It has the potential to expand its story in a way that melds the narrative organically with Esmail's stylistic flourishes, rather than layering one on top of the other.

The pace is deliberate in "Homecoming," but the show is rarely boring thanks to the visuals and an investment in the characters. (After episode eight, when a major reveal happens, "Homecoming" gets a little draggy, but by then invested viewers will carry through to the end.)

Though the episodes only run a half-hour each, Homecoming moves at a glacial pace. It finds its groove about four episodes in, and then loses it again.
If you exclusively enjoy Marvel action movies or the like of Tom Cruise Reacher films, this superbly intelligent and judiciously tempered

If you exclusively enjoy Marvel action movies or the like of Tom Cruise Reacher films, this superbly intelligent and judiciously tempered drama isn't for you. It is beautifully filmed, directed, acted, paced and structured. A measured drama with a sparse deck of actors that delights with the layered but surprisingly neat story line. Julia Roberts is a revelation but some of the shots you will want to freeze frame or replay just for the visual feast that is Esmail's direction. Lots of delicious hidden motives and cross referencing. Enjoy and relish.

…

Expand

This review contains spoilers

, click expand to view

. I cannot lie: I started this, like many did, because of Julia. Often when I do the same with other series, I end up with a let down. This is not what happened with this artwork: after a challenging pilot (even if the episodes are short, the pace is not very fast, not slow either) I looked up on line the rest of the cast and is filled with stars, starting from the director himself, Sam Esmail a.k.a. the creator of Mr. Robot: everybody has a chance to shine in the little time they are given and overall the perfomance is very well blended.
The entire series is very pleasant to the eye, I found myself rewatching many shots.
One con I found is the soundtrack, which I didn't find very appalling, but I get that it is not the point of a phycological thriller in itself.
The story unravels slowly, as I said, but the rhythm is constantly flowing: there are not many scenes that you can find irrelevant by the time you reach the end.
Also the characterization of the lead, Heidi Bergman, which one of the few characters we really see through, is very interesting and goes really deep even if the series is very short.
Many aspects of Heidi make sense all at once, end maybe this is the best surprise, given that the end is not something shocking or groundbreaking, à la Girl On the Train.

…

Expand

Homecoming is for grownups. It has no explosions. It requires attention and thought. It is not tidy. That said, for people willing to invest

Homecoming is for grownups. It has no explosions. It requires attention and thought. It is not tidy. That said, for people willing to invest some thought into their entertainment, it is profound and emotionally wrenching. I always expect great performance by Spacek and Roberts. Robert's performance in intentionally somewhat flat but you will see the reason for that. The most standout performances come from Stephen James, a wonderfully smarmy Bobby Cannavale, and Shea Whigham. I had not seen Whigham before but his performance as a DOD Inspector General's Office inspector is underplayed and ego-less. As I said at the outset, it's not tidy and ends ambiguously...like life.

…

Expand

Interesting plot but it runs at a slow pace and pretty boring development of the overall story line. Julia Roberts is the best thing about

Interesting plot but it runs at a slow pace and pretty boring development of the overall story line. Julia Roberts is the best thing about this show, the rest is pretty forgettable.

…

Expand

While Julia Roberts is good, as usual, and the visuals are as well, this series is painfully boring and I bailed after the third episode, as

While Julia Roberts is good, as usual, and the visuals are as well, this series is painfully boring and I bailed after the third episode, as it was like a Chinese water torture.

…

Expand

The others reviews of a sloooow show are spot-on and I did not listen to them to my own detriment. I never knew 30-minutes could feel so long.

The others reviews of a sloooow show are spot-on and I did not listen to them to my own detriment. I never knew 30-minutes could feel so long. The "mystery" in the show is puddle deep, but is dragged on and on and on. There is decent acting, but the people they portray don't act like real humans. If this was a 2hr movie, it would still have thin plot and not much else going for it. If you want entertainment or a thinker, look elsewhere.

…

Expand

The acting is good and that's the one and only positive element of this painfully boring show. No episode was worth the half hour of my time.

The acting is good and that's the one and only positive element of this painfully boring show. No episode was worth the half hour of my time. I kept expecting that something would happen in the next episode, but nope. Another unoriginal clue would be dropped (Oh, she doesn't REMEMBER? Was she DRUGGED then? Yes. Mystery solved. )The premise is ridiculous and the lack of cohesion and credibility make me think of a lazy production staff; there is nothing deep or complex here. I won't be back for season 2. If it takes that long to develop a story, there's something very wrong.

…

Expand