Network:

HBO

Series Premiere Date:

Sep 16, 2016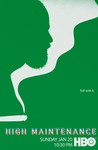 Summary:

The Katja Blichfeld and Ben Sinclair comedy about a New York City marijuana dealer returns for a third season.

Genre(s):

Comedy
Season 3 premiere date:

Jan 20, 2019

Episode Length:

30
This approbation [moving to Sunday-nights after Crashing] only confirms what fans have known since its Vimeo days: High Maintenance is a brilliant show, even when its risks don't highlight the show's strengths.

[The season premiere] is one of the more quiet and soulful High Maintenance episodes to date. But once the Guy is back in New York City for Episode 2, the show's mischievous comic energy returns with two stories that dovetail alarmingly well with recent controversies about the potential mental harm of marijuana use.

The show combines a winning slacker charm with a detail-perfect sense of life as lived, right now, in its slice of the city. It is particularly sharp on how the app economy has brought Airbnbs to every corner of the boroughs and flooded the streets with Lyfts.