Network:

Hulu

Series Premiere Date:

Mar 7, 2018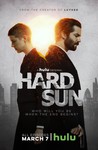 Summary:

While investigating the death of a hacker in London, Detective Chief Inspector Robert Hicks (Jim Sturgess) and Detective Inspector Elaine Renko (Agyness Deyn) discover proof the world has five years before an apocalyptic event destroys the planet in this BBC co-produced drama from Neil Cross.

Genre(s):

Drama
Season 1 premiere date:

Mar 7, 2018

Episode Length:

60
Cross brings to this six-episode season all the intensity of "Luther" with some deeper questions about personal responsibility in the face of overwhelming disaster.

High-intensity fun. [5 Mar - 18 Mar 2018, p.13]

It is as stylish as it is unpleasant, and there are some well-staged action scenes, but overall, the series is loud and tiring, like spending an hour in an MRI machine.

Hard Sun is an ultra-violent, not very believable and mostly unlikeable hot mess that has bits and pieces that would, separately, make for more interesting series.

Soon enough, you get the disquieting sense that Cross and company don't have the faintest clue of what to do with their premise, and have only deployed it to freshen up a substandard, ultraviolent cop show that would otherwise be unremarkable.

A drama shot through with pessimism and concerned a with quest for survival can be exhilarating and worthwhile. But Hard Sun contains so many contrivances and overwrought moments that the commitment of its cast and the potential of its premise are largely squandered.

To say it's too much to take in is to underplay the actual insanity of the show as a viewing experience, as batty, grim, and ferociously violent it is.
Part X-Files, part police procedural, part Silence of the Lambs, part Chinatown ... Hard Sun is Dark Mirror slick, but often times contrived.

Part X-Files, part police procedural, part Silence of the Lambs, part Chinatown ... Hard Sun is Dark Mirror slick, but often times contrived. This isn't your average Apocalypse porn and worth a casual view. If you need your entertainment tidily arranged and wrapped in a bow like a bento box, this show isn't for you. Warts and all, this show has merit. If the BBC / Amazon decide not to renew, the show's Season 1 finale ends nicely and anyone familiar with astrophysics will realize that the ending isn't ambiguous. It rings clear as a bell.

…

Expand

With obvious plot holes and incoherent stories at times, Hard Sun is somehow bizarrely engaging in terms of pacing.

I've found the acting to be strong. Several overlapping story lines. Good visuals. It has promise going forward.

This was by far one of the worst, biggest, waste of time shows I have ever seen in my life. I gave up half way through episode 2. From the

This was by far one of the worst, biggest, waste of time shows I have ever seen in my life. I gave up half way through episode 2. From the opening shot you can tell its a total stinker. Really TOP SECRET written in some budget typography over a shot of the sun!? Jim Sturgess' acting is just, well I can' t think of the exact word AWFUL.

There are some great shows on Hulu, this is not one of them. Do yourself a favour don't ignore this review and don't watch this show!

…

Expand