Network:

CBS

Series Premiere Date:

Oct 1, 2018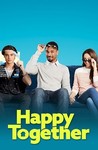 Summary:

Jake (Damon Wayans Jr.) and Claire (Amber Stevens West) lives are changed when Jake's client, a 20-something You-Tube-celebrity-turned-pop-star named Cooper (Felix Mallard) moves in with them to avoid the paparazzi in this comedy from Austen Earl and Tim McAuliffe.

Genre(s):

Comedy
Season 1 premiere date:

Oct 1, 2018

Episode Length:

30
The producers are excited to create more absurd fun for their comic duo, and the audience should be happy in the long run, admiring a knowing farce at a time where the world's dark buffoonery needs to be ignored. Happy Together may not become an iconic sitcom, but it's already a pretty good source for happiness.

The jokes could use some polishing, and the concept could easily grow old in a hurry, but the trio of Wayans, Stevens West and Mallard nudge this one a solid notch above your average network sitcom.

The premise of Happy Together could get stale quickly, or worse, start resembling the absurd and corny "Montana." But the cast is so delightful and the jokes come so easily that maybe Styles' 20 months can be stretched into many years of television.

It fundamentally lacks a point-of-view or anything that help it break free from the generic--even as its stars struggle against a tide bearing them back to the bygone era where this show's jokes seem to have originated. ... Stevens West and Wayans are both young and fun-to-watch, and do their oddball-couple routine without Cooper better than they do the script's overwrought dithering over whether or not they're washed-up.

Tthe season's slightest new sitcom on a network that has done much better by this genre in recent seasons with the likes of Young Sheldon, Mom and Life In Pieces. In this case, the premise simply has no foreseeable promise.

Given the opportunity to sing, dance and flail around ridiculously in the pilot, Wayans and West try hard and I smiled frequently at their effort. In the one episode I've seen, Mallard is only asked to be perplexed by a couple talking only about their scheduled sex nights and need for 10+ hours of sleep and yet looking TV pretty, rested and fit at all times. He's convincing at not understanding what's going on or why. Whether that's acting remains to be seen.

To the extent that there's a coherent thought in Happy Together's empty head, it is that 35 is the new 50. That sedate married couple is played by Daman Wayans Jr. and Amber Dawn Stevens (The Carmichael Show), ages 36 and 32, respectively. As for the pop-idol interloper, he's played by Felix Mallard, a giant soap star in Australia, where charisma is apparently measured much differently.
We're really enjoying this show. Unlike so many others today, it's not one continuous dirty joke, so far. Hope it stays that way.

It's surprisingly good. I haven't watched a show with piped in applause like this in a LONG time, but the two lead actors are perfect for it.

It's surprisingly good. I haven't watched a show with piped in applause like this in a LONG time, but the two lead actors are perfect for it. She's amazing! (Loved her in Greek.)

…

Expand

Very nice show which can easily be concluded in pure happiness in 30 minutes. I love the actors who play the couple. They are very talented.

It has it's moments of slapstick, however it seems forced, over rehearsed and too meticulously timed. It really throws me off how Amber West

It has it's moments of slapstick, however it seems forced, over rehearsed and too meticulously timed. It really throws me off how Amber West and Damon Wayans Jr.'s characters are suppose to be so much older than this young rock star's character, which would insinuate that they've been married for a long time, yet in every episode, they're acting all giddy and giggly with one another as if they're still on their honeymoon! They're acting too phony and overly dramatic... especially Wayans. It doesn't look believable. And another thing: They've got this cute little so-called rock star living with them for FREE!? So this kid is making some big time Hollywood money, and he's not giving Jake and Claire a cent for his rent or food all because he had a little emotional breakdown at the beginning of the series and they're okay with that!!?? I don't think so! AGAIN...not believable! Then there's the intrusive, alcoholic parents. Thank God the writers threw THAT in there because it's not like we haven't been seeing THAT in every other comedy sitcom for the last 50 years!! AGAIN!!... not believable. I gave Happy Together a generous 5 because despite it's many flaws, it is great to see Stephanie Weir and Victor Williams again. I can see there was some attempt to make this show entertaining, and it does have it's funny moments, but overall, this show makes NO attempt to show us something new and refreshing - something we haven't seen before. It's just not happening here.

…

Expand

When I saw Damon Wayans Jr was getting his own show I was super excited as I am a big fan of the Wayans and company so I for sure tuned into

When I saw Damon Wayans Jr was getting his own show I was super excited as I am a big fan of the Wayans and company so I for sure tuned into this one. I didn't laugh once! I never try to be harsh on a show but this just wasn't funny. I believe the show has promise it just needs a little more development. I like all the cast it just didn't work for me! It felt like they were trying so hard to make the audience laugh that it hurt. I don't think it will make it past one season but if they can pick up the humor and invest into character development than it has a shot!

…

Expand

I watched the first 6 or so, but lacked anything to bring me back, so i deleted from watch list.

Probably the dumbest, cringest **** i've ever seen for a while. The resemblances between the "girlfriend" character and Taylor Swift in a

Probably the dumbest, cringest **** i've ever seen for a while. The resemblances between the "girlfriend" character and Taylor Swift in a desperate use to catfish viewers was pathetic

…

Expand