Network:

Freeform

Series Premiere Date:

Jan 8, 2019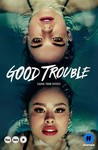 Summary:

Callie (Maia Mitchell) and Mariana (Cierra Ramirez) have moved to Los Angeles and face the challenges of new neighbors, new jobs, and new relationships in this spinoff of The Fosters.

Genre(s):

Drama
Season 1 premiere date:

Jan 8, 2019
Aside from that one stylistic note [flashbacks], Good Trouble is what all spin-offs should be. It's the continuation of a story we love, but from a new angle, and is entirely capable of standing on its own.

The series deftly captures what it's like when you're in your early 20s and just starting out, navigating a new career, new living situation, and new relationships. Good Trouble is well worth your trouble.

Good Trouble strikes me almost as TV's first good Gen Z drama. It's forthright and earnest, and it wears its politics on its sleeve. It understands that the world is filled with junk, but sometimes you can make something beautiful out of that junk. And it knows that even if the end is near, it's not quite here yet. There's still time.

Good Trouble is what happens when a teen drama transmogrifies into a workplace dramedy--moments of youthful levity between friends become bogged down by triggeringly realistic scenes of professional peril. ... When the show allows these young folks to just live in their uncertainty without artificially dangling them into sociopolitical relevancy, it shines.
The spin off of The Foster's starring Maia Mitchell and Cierra Ramirez. is off to a great start. While still blending the past to their

The spin off of The Foster's starring Maia Mitchell and Cierra Ramirez. is off to a great start. While still blending the past to their uncertain future of adulthood is captured beautifully. The cast and writers are doing a wonderful job of showing the struggles that face young adults in a future that starts with so much uncertainty. I feel this series has a potential to grow for a very long time.

…

Expand

okay so i never was a huge fan of the fosters but this on the other hand is fantastic it made me smile laugh feel things and the ladies are

okay so i never was a huge fan of the fosters but this on the other hand is fantastic it made me smile laugh feel things and the ladies are very beautiful the plot moves very fast and you just cant wait for more so much fun and heart here this gave what the fosters couldnt

…

Expand