Network:

CBS

Series Premiere Date:

Sep 30, 2018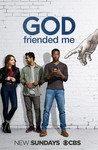 Summary:

Vocal atheist Miles Finer (Brandon Micheal Hall) receives a friend request from God on his Facebook account. Curiosity piqued, he accepts and soon joins online journalist Cara Bloom (Violett Beane) to investigate God's friend suggestions in this dramedy created by Steven Lilien and Bryan Wynbrandt.

Genre(s):

Comedy

,

Drama
Season 1 premiere date:

Sep 30, 2018

Episode Length:

60
A sweet, surprisingly watchable series that essentially gives "Joan of Arcadia" a Silicon Valley tuneup.

God has historically been good to CBS, in the form of faith-oriented series like "Touched by an Angel" and "Joan of Arcadia." The network returns to those roots with God Friended Me, an appealing show that weaves religion into its premise, while owing at least as much to the since-departed "Person of Interest" as those aforementioned dramas.

Hall is charismatic and likable enough to ground the show's fantastical premise in something semi-real, or at least real enough to make the series palatable. God Friended Me also has a sense of humor and a sense of plot-driven momentum.

Yes, it's all hokey, and yet the premiere holds some promise as a thoughtful feel-good drama.

It's sweet, loaded with a talented cast (Morton is particularly authentic), but it could use a bit more of the devil to it, if you know what I mean.

Like the show's interludes of theological discourse, its moments of regret and redemption are made to be easy to grasp and digest in the context of a Sunday night, broadcast network, mostly-family-friendly comic drama. For those less invested in the God question, or less attracted to sentiment, the show will run mostly on the substantial charm and chemistry of its young stars and the Hardy Boys/Nancy Drew sleuthing they do together.

The construction of the God Friended Me pilot is simply an ungodly mess. ... Every beat is so rushed that the pilot feels like a series finale in which all the stories have to be tied up neatly and it reaches an end that doesn't set up a series at all.
When my wife first suggested I watch this show, I cringed. the last thing I wanted to watch was another show about God and religion. Well was

When my wife first suggested I watch this show, I cringed. the last thing I wanted to watch was another show about God and religion. Well was I pleasantly surprised. This show is about people interacting with and helping other people with God and religion kind of in the background.This is not a plug for religion or a shot at atheists. The show is refreshing and very clever. This is a show about us examining our beliefs and life in general with no one saying what is right or wrong and trying to make sense of it all. The only real morality message is about being nice to one another, something this world is badly in need of right now. I love the characters and the actors who play them. This is my favorite new show of the season and one of my few "must watch every week" shows this year.

…

Expand

One of the best new shows that tackle the issues from both sides to come up with a fell good show that gives you hope that you're not alone out there.

Love this show. I need something to take me away with what is currently going on. Found myself watching this show and truly enjoying it.

Love this show. I need something to take me away with what is currently going on. Found myself watching this show and truly enjoying it. Will recommended to my sister and mom. I love the main character, he's charming, engaging and shows a lot of talent. Looking forward to more episodes.

…

Expand

Surprisingly believable. Rather predictable, but I like the idea of diverse people working together to help the world.

Interesting premise, but settled into formula scripts pretty quickly. We can already see the main character struggling with his

Interesting premise, but settled into formula scripts pretty quickly. We can already see the main character struggling with his agnostic/atheist slant. We already see the romantic subplot heating up. Predictable and fairly shallow. Predict a fairly short run for this show. Maybe 2 or 3 seasons.

Normally I'd be saying this show only deserves a single season, but considering all the duds CBS has this year, plus losing TBBT, this one just might get renewed.

…

Expand

Horrible acting and an already been done premise (see the far superior Joan of Arcadia, also from CBS) make this show, the pilot episode

Horrible acting and an already been done premise (see the far superior Joan of Arcadia, also from CBS) make this show, the pilot episode anyway, a chore to watch. Divine intervention is about the only thing that'll keep God Friended Me on the air. Skip it! Amen.

…

Expand

Look at all these fake reviews!

This show is cringy garbage. The acting is awful, the premise is awful. The dialogue is awful. There areLook at all these fake reviews!

This show is cringy garbage. The acting is awful, the premise is awful. The dialogue is awful. There are too many good shows on TV to waste your time with this garbage.

…

Expand