Network:

Prime Video

Series Premiere Date:

Sep 14, 2018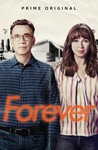 Summary:

June (Maya Rudolph) and Oscar (Fred Armisen) have been married for 12 years in Riverside, California, but a ski trip leads to a life-changing development that has them questioning love and marriage in this comedy created by Alan Yang and Matt Hubbard.

Genre(s):

Comedy
Season 1 premiere date:

Sep 14, 2018

Episode Length:

30
Forever is a wonderful, truly special show. ... Few have made us stop completely, let alone deeply reconsider our thoughts about, well... life. It was a thrilling experience, which is strange for a show this quiet and meditative.

Exquisite. ... Not only is Forever one of the best shows of the year, I'd make it mandatory viewing for couples considering marriage.

The writing is elegant and spare, the direction (with episodes helmed by Yang, Janicza Bravo, and Miguel Arteta) deft and subtle. Whether you pace out the episodes or binge in one sitting, there's much to appreciate.

It's a narratively nimble show that's thematically about routine, emotional fidelity and the possibility, or impossibility, of reinvention.

While Forever brings Oscar and June's meandering story to a relatively satisfying conclusion, it's Sarah and Andre's heartbreaking tale that will stay with me.

Ultimately, Yang and Hubbard saturate Forever with a distinctive style and a mood that papers over some of its weaknesses, if not all of them. Beyond the surprises, it's not quite the institutional marital autopsy of Madame Bovary or A Doll's House, and it isn't always quirkily diverting enough to fill in the gaps. Its ending, though--perhaps the most unexpected thing of all--makes up for a lot. For eight episodes, Forever has felt cynical about love, ungrateful even, but in its conclusion it shows a glimpse of its beating heart.

Despite Rudolph and Armisen's tremendous comic talents, their characters aren't even particularly funny. Indeed, there's something false about Oscar and June's dynamic, the love story at the very center of the show. They fill hours debating questions like, What's the all-time best way to sit? It's supposed to be cute, a kind of laborious in-joke, but it's mannered, like the behavior of people in a new, fragile relationship.
My wife and I really enjoy Portlandia, so this looked to be promising. It truly was! Great characters and story! Truly enjoyable and

My wife and I really enjoy Portlandia, so this looked to be promising. It truly was! Great characters and story! Truly enjoyable and finished the season wanting more. Please let there be a second season!

…

Expand

This was one of the most delightful and thought provoking shows I watched in 2018. It was a pleasant surprise that finds a great balance of

This was one of the most delightful and thought provoking shows I watched in 2018. It was a pleasant surprise that finds a great balance of humor and sincere exploration. It's the type of magic realism show that I couldn't turn away from. While the concepts are abstract, the themes of how we navigate through relationships with others and ourselves are grounded and relatable. The show keeps you interested because you are always trying to figure out where they are, or who this is, or where they are going, which is a parallel for its philosophical themes. The writing doesn't fall into typical linear narrative that reduces the complexity of human nature like many shows that explore marriage. It's a sensitive show. Fred and Maya are fantastic in bringing those nuances to life. This is the best work I've ever seen Maya do.

I'm baffled by reading some of the user reviews like EludiumQ36 saying this is a "chick show?" I couldn't disagree more, and find that comment to be ridiculous. I'm a man, and was able to project many of my own feelings and thoughts into the show because it allows for such reflection, as great art should.
Others mention the slow pace, but I think that's a lazy way to critique a show. They take time developing the story, but you are rewarded moment to moment in the discovery of what is happening. Answers aren't given to you quickly, people aren't 2 dimensional, and that's beyond refreshing.

…

Expand

This was one of the most interesting shows that I've seen over the past few years. Many of the episodes took the show in entirely new

This was one of the most interesting shows that I've seen over the past few years. Many of the episodes took the show in entirely new directions very effectively. I didn't find it slow as some have said-- there are only 8 half hour episodes and my husband and I binged it in a weekend. We were both very engaged with the characters and really cared what happened to them, especially Maya Rudolph and the ones in one of the later episodes. HIghly recommended if you are looking for something a little different.

…

Expand

I have to say that many of the user reviews I've read have been spot on. The consensus opinion is that the show is slow. And it is. But I

I have to say that many of the user reviews I've read have been spot on. The consensus opinion is that the show is slow. And it is. But I still like it. I'm only five shows in and I like the show. For me the star of the show is Maya Rudolph. I've thought that if she could a vehicle that displays her comedic talent, her career would take off. Unfortunately she's not funny in this show. But she still crushes it. Her character, June, is a woman who loves her man, but is tired of doing the same thing. She wants more. Her husband, Oscar, played by Fred Armisen, is a nice guy, but he's happy doing the same thing day after day. I like Fred in most other things he does. But I feel he just brought one of his Portlandia characters to this show. He's fine, but I'm waiting for him to show me a new Fred Armisen. Something different.
Anyway, like I said I'm five episodes in and I've actually liked them. Each show has brought a quirky theme. Not everyone is going to like this show. As I said the pacing is slow. But stick around, there might be a surprise at the end of the rainbow.

…

Expand

I think a 6/10 is kind of generous for this show. It's a totally forgettable experience, but it has some good moments (mostly scenes with

I think a 6/10 is kind of generous for this show. It's a totally forgettable experience, but it has some good moments (mostly scenes with Armisen) and it doesn't drag on too much... I hope season 2 doesn't continue with all of the characters from season 1. I don't care about Catherine Keener's character or the people at Oceanside. And I don't care about the 60 year-old kid in Riverside.

Sometimes Maya Rudolf is annoying (like the majority of SNL graduates) but I liked her in this show... And it's nice to see Peter Weller again.

Giving this show a 10 or a 2 is insane.
It's not mind-blowing and it's not terrible.

…

Expand

This short, 8-ep series is about the "tyranny of the routine", the rut, and feeling trapped or locked into it, especially vis-a-vis married

This short, 8-ep series is about the "tyranny of the routine", the rut, and feeling trapped or locked into it, especially vis-a-vis married life. Fred and Maya plays these roles so naturally. However, it's really focused on the women of the series, the men are secondary, so chick-series - I'm grading as a dude, so it'll be low, but chicks would likely grade higher. It's very difficult to review this with any substance without some spoilers. The spoilers I'm describing happen in the first two eps so you're going to find out quickly anyway.
*** Light Spoilers follow***
By ep's two end they're both dead, but they're not in heaven or hell, still here on earth though out of phase. And inconsistent with being dead, they still hunger, thirst, emote, curse alot, sex it up, cook, walk everywhere, but they apparently don't drive, have tv or radio - weirdly incongruent. You've seen this done before - it's lazy storytelling but costs nothing financially to make - there's very little VFX. Though it makes no sense, yet it's a recurring Hollywood trope, our dead protagonists ("formers") can see "currents" but not vice versa. They have juvenile fun "haunting" them and parasitizing energy from them but all that's a dumb distraction from its love story. Remember, chick-series. The final scene provides a very weak hook for a second season unlikely as that is. Just for fun, be sure to count the number of times someone mentions "forever", I counted only three, two were in the season finale.

…

Expand

The premise, in paper, is rather good. But the writing, the direction and everything else is soooooo slow that it really becomes a chore. In

The premise, in paper, is rather good. But the writing, the direction and everything else is soooooo slow that it really becomes a chore. In the end, it's just a missed opportunity and not worth your time.

…

Expand