Network:

CBS

Series Premiere Date:

Jan 10, 2019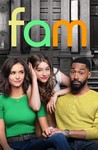 Summary:

Clem (Nina Dobrev) and her fiancé Jay's (Tone Bell) new life together is disrupted when Clem's half-sister Shannon (Odessa Adlon) arrives seeking escape from their father (who Clem claimed had died).

Genre(s):

Comedy
Season 1 premiere date:

Jan 10, 2019

Episode Length:

30
CBS for the most part still clings to over-active laugh tracks and broadly played scenes and situations. Still, this is a nicely clicking ensemble that gets sharper as the show goes on.

It's all pretty predictable--isn't that why you're here?--and, again, the cast is good. It works often enough; a beachhead has been established.

Fam is a largely witless family comedy with one bright spot. Gary Cole shines as Freddy Banks, a homicide detective who's fond of playing the horses.

The show feels like it cobbled together pieces of other shows--especially The WB's "What I Like About You"--to become its own perfectly pleasant sitcom Frankenstein. Even when it doesn't do much to distinguish itself, it's just fine, and maybe that's enough.

It's a technically proficient, otherwise promising sitcom that wastes these merits on the disastrous decision to let trauma become the driving force of its comedy.

There is a great comedy that could be made with this cast and, despite the game efforts of said cast through the first three episodes, Fam is not that comedy.
Fam is a good, likeable sitcom with strong cast and well-writed. Glad I stick with it after the pilot.

This show looked good in the promos, but the editor of the promos seem to use all the quality clips and the rest of the show is pretty bad.

This show looked good in the promos, but the editor of the promos seem to use all the quality clips and the rest of the show is pretty bad.

Characters are stereotypical at best and racist at worst. I have yet to decide if the scripts or the acting are the main problem- or both. CBS is trying to take away the worst collection of sitcoms title from ABC and almost pulling it off.

Everything is played with too much intensity. Too naive, too clueless, too don't give a damn. Ends up being too fake. Some better scripts, better acting and direction would go a long way to help this premise become something more watchable.

There's an occasional laugh or two, which gave this attempt a 2 instead of 0.

…

Expand

This comedy series is nothing short of an unmitigated disaster. The show is dull, boring, and remarkably unfunny with simplistic storylines.

This comedy series is nothing short of an unmitigated disaster. The show is dull, boring, and remarkably unfunny with simplistic storylines. Calling this series as "cookie cutter" or "derivative" would be an understatement. CBS needs to pick up their game if they want to remain relevant in the comedy department

…

Expand