Network:

Showtime

Series Premiere Date:

Nov 18, 2018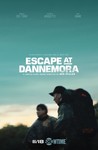 until day of season premiere
Summary:

The Ben Stiller-directed eight-part limited series dramatizes the 2015 Dannemora prison break in upstate New York, where convicted murderer Richard Matt (Benicio del Toro) plans an escape with fellow inmate David Sweat (Paul Daon) with the help of Tilly Mitchell (Patricia Arquette), the

The Ben Stiller-directed eight-part limited series dramatizes the 2015 Dannemora prison break in upstate New York, where convicted murderer Richard Matt (Benicio del Toro) plans an escape with fellow inmate David Sweat (Paul Daon) with the help of Tilly Mitchell (Patricia Arquette), the married prison shop supervisor who had become involved with both of them.

…

Expand

Genre(s):

Drama

,

Movie/Mini-Series
Show Type:

Mini-Series

Season 1 premiere date:

Nov 18, 2018

Episode Length:

60
Though there are moments throughout Dannemora where Stiller shows off his talent for creating thrilling, tense sequences regarding the machinations leading up to the escape, the series is perhaps even more dynamic in its quiet character moments. It's an acting showcase for the leads.

Riveting and superbly acted seven-part true-crime docudrama. [12-25 Nov 2018, p.11]

It's a thrilling tale of institutional corruption and moral rot. It proves that Ben Stiller is the serious director he always knew he could be. It just took a return to TV to make it possible.

It's to the credit of everyone involved (especially director of photography Jessica Lee Gagné and her love of humble Kelly Reichardt grays) that they stick to the story, tell it with not an ounce of bombast and leave this post-Altman purgatory the way they found it. Some stones unturned, but otherwise a hollow, puttering husk of existence is left thoroughly gleaned.

When [Patricia Arquette] is on-screen, the show becomes about a woman denied the opportunity to live fully and freely, someone who's never had the pleasure of being understood and so cannot understand herself. The story falls short of urgent relevance, and it didn't need to be told over seven hours. But Arquette will keep you rapt.

Unfortunately, all the top-notch acting can't quite overcome the pacing problems of Escape at Dannemora. It takes five episodes to get out of the prison and even Stiller's most impressive and creative efforts at illuminating all the discovery, digging and sweat it took to get there can't make it more exciting.