Network:

HBO

Series Premiere Date:

Apr 14, 2018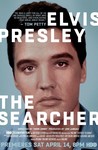 Summary:

The two-part three-hour film directed by Thom Zimny takes a look at the pop legend's life up until the 1976 Jungle Room recording sessions with new interviews, never-before seen pictures and video.

Genre(s):

Movie/Mini-Series

,

News/Documentary

,

Documentary

,

Music
Show Type:

TV Movie

Season 1 premiere date:

Apr 14, 2018

Episode Length:

207
The Searcher is a spellbinding and grippingly revealing documentary. On the plus side, it eschews the tiresome talking-head structure, but doesn't always identify who is speaking, which only occasionally makes you wonder who's speaking.

Elvis' personal life is present, but not foregrounded. "Elvis Presley: The Searcher" feels like a long overdue act of artistic redress.

The Searcher is filled with photos, home movies, and audio recordings that haven't seen the light of day before. To make the most of what sets The Searcher apart, Zimny eschews talking-head interviews. ... It's more of a down-to-earth appreciation of Elvis Presley's unique gifts, and a clear-eyed explication of why and how he so often squandered them. The documentary isn't a simplistic "rise and fall" cautionary tale, either.

The central argument in Zimny's loving, but unflinching documentary "Elvis Presley: The Searcher" is that his openness and inquisitive nature is what made him the King.

HBO's three-and-a-half hour Elvis Presley: The Searcher is an evocative documentary without malice.

The voice-over commentary that's most valuable comes from musicians such as Bruce Springsteen and Tom Petty, who deeply understand Presley's music and motivations, and critics who've thought long and hard about Elvis, like Nik Cohn and writer turned producer Jon Landau. ... You'll have your own moments of discovery. Elvis works his way on everyone individually.

Elvis Presley: The Searcher is an art documentary, one supposes, and such things [the Beatles, uderaged Priscilla Presley and the affair with Ann-Margret) might be considered immaterial, if only the film weren't so selective otherwise in integrating the personal with the musical.
I suppose there will always be reasons to talk about Elvis, he's that kind of icon. This documentary is a very good example and one quite well

I suppose there will always be reasons to talk about Elvis, he's that kind of icon. This documentary is a very good example and one quite well done for that matter. Maybe somewhat excessive in duration but it's worth it.

…

Expand