Network:

Netflix

Series Premiere Date:

Dec 18, 2018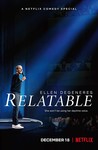 Summary:

Filmed in Seattle's Benaroya Hall, Ellen DeGeneres reflects on her life and career in her first stand-up special since 2003.

Genre(s):

Comedy

,

Events & Specials
Show Type:

Special

Season 1 premiere date:

Dec 18, 2018

Episode Length:

80
Relatable fulfills a number of missions within its hour-plus running time. It is smart, genuinely funny and true to the comedian's brand, and it reminds us that DeGeneres, the daytime figure synonymous with kindness and incredible gift-giveaways, also is entitled to her darkness.

Not all of Ellen DeGeneres: Relatable is that sharp, carefully crafted, or, frankly, as interesting [as her opening gambit]. As she moves into the middle of the hour, DeGeneres uses a few bits that feel directly imported from a monologue on Ellen. ... The sharpest, most deeply felt material comes when DeGeneres instead grapples with her feelings about her celebrity status, and the simultaneous gift and burden of her role as a daytime talk show host.

As refreshing as it is to hear DeGeneres open up in a more nakedly honest way than we are used to seeing, she's at her purest comedically in the special when she returns to the type of observational humor that made her famous in the first place.
We stumbled on this the other night. I'm an Ellen fan, but watching this really reminded me why. We laughed about every 15 seconds at her

We stumbled on this the other night. I'm an Ellen fan, but watching this really reminded me why. We laughed about every 15 seconds at her material. There's just no one like her. She's smart in that easy relaxed way. She really connects to her audience. Her juxtaposition of laughs around her extreme wealth and privilege against her (lesbian) girl next door demeanor was surprisingly funny. I was also reminded of her being blackballed in Hollywood for 3 years after publicly coming out--and her success is her revenge. Not the edgiest material, but classic Ellen. I'll watch it again when I feel a need to lighten up and hang with my old friend Ellen.

…

Expand

Ellen is back and her material is as good as ever. I really hope she continues to release new stand-up I have always loved her style.

I love Ellen, but this was soooo boring. I had like 3 laughs and I DON'T actually mean laughs but like "HA, THAT'S FUNNY!" And that is it... I

I love Ellen, but this was soooo boring. I had like 3 laughs and I DON'T actually mean laughs but like "HA, THAT'S FUNNY!" And that is it... I like her talkshow better, she should stick to that.

…

Expand

Her observations about flying, restaurants, etc. seemed very unoriginal. Talking about how coming out and being yourself is important may have

Her observations about flying, restaurants, etc. seemed very unoriginal. Talking about how coming out and being yourself is important may have been radical in the 90s but now it's almost painfully trite. The best comedians combine (more interesting) observations about life with political messages into longer bits. Ultimately, my disappointment in this special highlighted how far standup comedy has come in the 15 years since Ellen last performed. That said, I love Ellen and she's charming so it was worth watching just for an hour of Ellen time.

…

Expand

It's OK - I don't know how else to describe this standup. Ellen doesn't seem like she ever settles in to a groove and the jokes aren't all

It's OK - I don't know how else to describe this standup. Ellen doesn't seem like she ever settles in to a groove and the jokes aren't all that great but at the same time the show is still watchable because Ellen is a master at relating to crowds. Too bad the jokes aren't consistently better.

…

Expand

Quite funny but a bad case of humblebragging surely? "Past my People Awards..." What is her point exactly? No one has said she is rubbish so

Quite funny but a bad case of humblebragging surely? "Past my People Awards..." What is her point exactly? No one has said she is rubbish so why show off. And why are those women whooping all the time every time she makes one of these self-glorifying remarks? It's yet another case of the Curse of the Netflix Special. It takes a long time to get enough good material to fill an hour... there's no shortcut.

…

Expand

Ellen is messed up ..... it's horrible .... I've never seen such a weak stand up