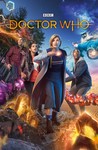 Starring:

Bradley Walsh

,

Jodie Whittaker

,

Tosin Cole

Summary:

Jodie Whittaker begins her journey as the 13th Doctor with three new companions (Tosin Cole, Mandip Gill and Bradley Walsh) as Chris Chibnall takes over as showrunner from Steven Moffat.

Genre(s):

Drama

,

Action & Adventure

,

Science Fiction
Season 11 premiere date:

Oct 7, 2018

Episode Length:

45
The premiere episode here, "The Woman Who Fell to Earth," reminded me, more than anything, of "The X-Files," when it was really good. It takes you back to the days when Doctor Who was a fun sci-fi procedural. ... [The alien] resembles some gleaming villain out of a Marvel movie, which makes his blokey name, Tim Shaw, even more incongruously funny. This is Doctor Who at its best--nerdy and chilling and quick with a joke. And, most significantly of all, generous of spirit, a quality that simply shimmers off Whittaker.

As the first in what one hopes will be a long line of female doctors, Whittaker is funny, energetic and full of joy. Whovians should be pleased.

Whittaker beams with joy and confidence and a smattering of comic derring-do reminiscent of past interpretations of the intergalactic hero's personality.

The virtues of "The Woman Who Fell to Earth" go well beyond Whittaker's performance and Chibnall's confident, thoughtful writing of the character. Gill, Cole, and Walsh make excellent additions to the cast, and while each character still wants development (unsurprising, this early on), each also has a moment, or more than one, to shine.

All in all, "The Woman Who Fell To Earth" succeeds as a statement of intent for this brand new era of Doctor Who, telling us that it's going to be easily accessible, gorgeous to look at and listen to, all about the character drama and brought to life with a lead actress who has a lot of energy. In terms of comparing it to past Who, it's not a flawless season opener, but it does a terrific job of making us excited for the rest of Doctor No. 13's tenure.

We get a sense of this reboot's concept, but not its tone. Chibnall may be responding to fans' hopes for less timey-wimey jibber-jabber, offering more plot simplicity. Will a female Doctor Who be enough to revitalize the series? The development is certainly enticing, but a series has nothing without compelling storylines.

This Doctor Who feels like a lot of other TV shows, not just in its writing but in its pacing, its cinematography, its use of music. When the scary monsters appear, you could be watching any other well-made but conventional science-fiction or horror show. Or a police procedural, for that matter. Everything about the show is more ordinary, which may have to do with levels of inventiveness but also feels like a choice. ... Ms. Whittaker performs gamely, if not yet distinctively, as the 2,000-year-old Time Lord. It's far too early to tell what kind of stamp she might put on the character.
Jodie Whitaker is wonderfully funny and emotive. Yorkshire accents, like bow ties, are cool. The alien creature reminded me of a terminator

Jodie Whitaker is wonderfully funny and emotive. Yorkshire accents, like bow ties, are cool. The alien creature reminded me of a terminator / predator. It was fun to watch make her own Sonic Screwdriver. The companions provide a good dramatic compliment.

…

Expand

Unfortunately, the first episode played like a police procedural where a detective and a team of misfits have to stop a deranged serial

Unfortunately, the first episode played like a police procedural where a detective and a team of misfits have to stop a deranged serial killer. Jodie Whittaker is spry and energetic, but only time will tell if she will be able to fully create her own stamp on the doctor's indelible quirkiness. The bigger problem with the episode is the overall direction - the cast tries hard but the material is a rehash of earlier episodes. Not terrible, but nothing special or magical either. Doctor Who has always been hit or miss, but if the first episode is the format for the new season, expect Whittaker's tenure to be a short one.

…

Expand

11 season the most awkard season of doctor who since 1 season. And the deal is not in women the deal is in worst scenario and stupid "science"

Season 11 of Doctor Who is a prime example of what happens when Leftists with a social/political agenda get a hold of an iconic franchise and

Season 11 of Doctor Who is a prime example of what happens when Leftists with a social/political agenda get a hold of an iconic franchise and use it as a soapbox delivery system for everything they believe to be correct. What could have been an opportunity to capitalize on an amazing new shakeup in the form of a female Doctor has descended into SJW madness of the highest caliber, with every single episode acting as a wagging finger in the faces of viewers, reminding them of their personal accountability for everything wrong with society. Doctor Who has descended from a bright, quirky and imaginative science fiction series to a propaganda machine. Pointing this out leads to the obvious retaliatory tactic from folks on the Left: claims of bigotry, racism, misogyny, rinse/repeat. Ironically, the show itself promotes most of these negative labels.

The massive decline in ratings throughout the season (with no bounce-back, I might add) means that viewer curiosity about the potential for the new Doctor started very strong and optimistic, with hopes quickly dashed throughout the series run. The season began with almost 11 million viewers, indicating that audiences were indeed receptive to seeing a female Doctor in the lead role. Now, that number has plunged to nearly 6 million through the course of less than a dozen episodes. The claim is that ratings are actually up for the first time since Matt Smith's departure as the Doctor, and that's very correct. However, the show has been in a continuous downward slide ever since, which doesn't exactly say much for Season 11's progress.

The truth is far more simple. The episodes are boring, the characters are flat, the messages are preachy and tiresome, and Jodie Whittaker hasn't made the role her own. A fine actress in her own right, Whittaker is hopelessly out of her element with Doctor Who, taking bits and pieces of previous Doctors (most notably David Tennant) and attempting to craft a familiar motif. That's not how the Doctor works, unfortunately. Each Doctor is absolutely different from the last, which is what made Tom Baker an iconic fan favorite to this very day. Baker once famously stated that netting the role of Doctor Who meant that he could play Tom Baker all day long, and he was 100% right. Whittaker has failed to do this. The blame isn't all on her. Series showrunner Chris Chibnall has done a horrible job of taking the series over from predecessor Steven Moffatt, and used Doctor Who as a propaganda vehicle for the increasingly radicalized-Left BBC, of whom he shares the same ideology. The result are some downright ill-advised episodes such as Rosa, which have undoubtedly alienated a large chunk of U.S. audiences who don't take too kindly to being reminded of past transgressions that they had no part of, to begin with. Every episode is littered with an SJW propaganda message. Suddenly, white males are more villainous than Daleks. White people in general are seemingly all racist. Single white fathers should be shamed, ridiculed and attacked. America is racist. Men should be emasculated at every turn. Male companions are cowardly, dense or incapable, while female companions leap into danger without a thought, and are always the smart leaders.

This is what Chris Chibnall is trying to tell you.

Audiences watch Doctor Who for escapism, not to be preached to by radical Leftists who think they are better than everyone else, and openly proclaim it whenever someone points out this uncomfortable truth. As the SJW/P.C. landscape continues to cave in on itself and lose support day after day, it's astonishing to see these outlets double down on truly bad ideas, to the ruin of all. Had Chibnall and the BBC learned a valuable lesson from the destruction of the Star Wars franchise at the hands of Kathleen Kennedy and Rian Johnson, this crisis could have been avoided. We could have had a dynamic, diverse cast of characters following a female Doctor through amazing and fun romps throughout the galaxy. Instead we have an obviously designed cast where all the men are either dimwits, cowards or villains (save one), and all the women are leaping into the fray like superheroes. I've yet to see both happening at once, this Season.

Recent comments by Jodie Whittaker have done nothing to help matters, either. Instead of using her position to effect some change on the show, she followed suit and directly criticized viewers who are seeing the show for what it has really become. She even remarked that Doctor Who's 50 year history was viewed entirely through the "white male gaze," an astonishingly awful and ignorant thing to say, by any measure! Not a great way to win them over! There's lots of talk of Chibnall and Whittaker leaving the show after either this Season or next, and unless both mend their ways and change their attitudes (unlikely), this will continue to send Doctor Who into a downward spiral, circa 1989 all over again. We all know what will happen then.

…

Expand

I would give a 1 for the cinematic image of this 11th season, but no, it doesn't even deserve it.

Im severe but i still love the show and iI would give a 1 for the cinematic image of this 11th season, but no, it doesn't even deserve it.

Im severe but i still love the show and i know this is just a bad moment, it will be good again someday, maybe after a second cancellation and a couple of decades, like they did the first time, because, lucky us, the Doctor is virtually immortal, yay !

…

Expand

I don't know what this is, but it's not Dr. Who. :(
i hope this trend of destroying franchises with ideology stops soon. Not holding myI don't know what this is, but it's not Dr. Who. :(
i hope this trend of destroying franchises with ideology stops soon. Not holding my breath though.

The sad fact is that the negative response to this series will be merely dismissed as misogyny and largely ignored.

…

Expand

Chris Chibnall has completely destroyed Doctor Who!!
I personally think that making him the show runner was a very big mistake on the BBC'sChris Chibnall has completely destroyed Doctor Who!!
I personally think that making him the show runner was a very big mistake on the BBC's behalf, in my opinion he is a B Grade writer to say the least, and he doesn't seem to have the ability to write a good story.

If it was my choice I'd sack Chris Chibnall, Cancel the season and go back to the drawing board.

…

Expand