Network:

Netflix

Series Premiere Date:

Aug 17, 2018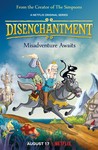 Summary:

The Matt Groening animated comedy follows the adventures of hard-drinking Princess Bean (voiced by Abbi Jacobson), her elf Elfo (voiced by Nat Faxon), and her personal demon Luci (voiced by Eric Andre).

Genre(s):

Comedy

,

Animation

,

Action & Adventure
Season 1 premiere date:

Aug 17, 2018

Episode Length:

30
As far as early efforts go, Groening's third small-screen endeavor, whose debut ten-episode run arrives on Netflix August 17, is routinely entertaining. ... And fortunately, it gets funnier as it goes along. Led by a terrific vocal cast that includes many Groening favorites.

Playing against the seriousness and self-glorification of so much sword-clanging fantasy, it makes the most of slapstick pestilence and the absurdist misery of peasants, revisiting history as farce. The scenes are quick and punchy, yet the episodes, unfolding serially, are long and sometimes sluggish. ... The season is perhaps most satisfying if consumed in a binge, so that its questing convolutions feel like the motions of a languorous epic.

The visual and verbal gags still come fast, but now they're in the context of a more earnest and straightforward style of storytelling. They feel more illustrative than essential.

It's somewhat entertaining, but you may feel as though you've seen it all done before, and better.

Disenchantment just feels full of potential that it hasn't yet figured out. That's maybe because it stays very much in safe territory.

Disenchanted doesn't seem interested in wrestling with tropes or, for that matter, anything too deep. It's more focused on finding easy comedy in the pockets of the universe it's invented, which, to the credit of Rough Draft, the animation studio that brings the show to life, has an impressive, cinematic quality that outshines previous Groening projects. It's just a shame that it doesn't match that ambition in other areas.

Disenchantment was billed as "an adult animated comedy fantasy series" but misses its mark, since it's neither "adult" nor is there much comedy. The 10-episode series will appeal more to a preteen sensibility than to anyone over 14 and it's got plenty of, well, cartoonish violence a la "Itchy and Scratchy" from "The Simpsons." What it doesn't have is the charm or wit of that series--either in its storyline or its characters--and mostly plods along with only the occasional throwaway line eliciting a smile.
This review contains spoilers

, click expand to view

.

This show is very entertaining to me as a fan of dark fantasy and rick and Morty. This show cheerfully takes fantasy tropes and corrupts them. For example the elves are happy and singy . And they stay happy and singy as they are lynching and stabbing people, which got really disturbing fast. The giant in the show (middle of the run) is not a stomping evil monster it's a really annoyed person who's being used for a lie. The princess is not a generic princess she's a violent murderous alcoholic. It's wonderful.

…

Expand

Great show, Eric Andre kills it as Luci. Can't wait for more. (This is as a fan of Futurama, but not The Simpsons).

Love it. It instantly felt familiar. and it's funny. can't wait for this series to grow. give it a break. every one is so harsh. Geez!

I must admit, the first few episodes didn't really grab me. It all felt...rushed, even though the first episode was nearly 40 minutes long.

I must admit, the first few episodes didn't really grab me. It all felt...rushed, even though the first episode was nearly 40 minutes long.

The characters flew at you and seemed to come out with their back stories and motivations immediately. Which honestly made me feel as if there was nothing new we could learn about them.

Comedy was also a bit hit and miss for me, though I remember laughing more in the later half of the season than in the first half.

Where it really became interesting for me was in the last two or three episodes where more of the ongoing plot, which continues to play out in the background over the course of the season, became more apparent. And we do learn some new things about Bean and Elfo...right before it ends on a big cliffhanger!

Overall, Disenchantment is a good, but not great, show that took too long to get me hooked. It'll give you a few laughs, especially if you liked Futurama and The Simpsons, but like I said it took me a few episodes to genuinely start enjoying it and actually get interested in it. I remember that it took me some time with Futurama before I really loved it too, but generally saying "It's not great, but give it a few episodes and you might like it." isn't high praise.

Still...give it a few episodes, and you might like it. For now, I'd say Disenchantment is a solid 7 for me and I am curious about Season 2.

…

Expand

I'm very in the middle on this. I've seen quite a bit of Futurama, and a few episodes here and there of the Simpsons, and I liked them both,

I'm very in the middle on this. I've seen quite a bit of Futurama, and a few episodes here and there of the Simpsons, and I liked them both, though I was never a hardcore fan, and I hadn't even heard of Disenchantment until the day it came out and I saw it at the top of the Netflix homescreen banner, so it's not like I was looking forward to this for long enough to be particularly disappointed by it, so to me so far, it's a rather "meh" series.

There's at least a few witty moments per episode, it's just that the pacing is bizarre, and jokes that rely upon precisely timed edits fall flat, because there's something bizarre about the editing here. It feels as though edits happen just a few counts late, and jokes that might have been very funny don't exactly stick, because they don't feel timed properly.

I also don't like how safe this all feels. I know The Simpsons was highly regarded, because, during at least its first ten years on the air, it was always pissing off the right groups, such as various religious groups and all the mom groups, etc. So I would expect a new series from the creator of The Simpsons to have a little more edge to it than this. Sure, there's some more jokes poking fun at religious people and at sexual politics, but it's all fairly toothless stuff.

I'll stick around for a few episodes when season 2 comes out, but if it doesn't get any better than this, I'll mark this off as a simple misfire. Groening caught lightning in a bottle twice already, everything he does doesn't have to be a modern classic.

…

Expand

I REALLY wanted to love this show. Considering my childhood in the early 90's consisted of watching the clock, waiting for the next simpsons

I REALLY wanted to love this show. Considering my childhood in the early 90's consisted of watching the clock, waiting for the next simpsons episodes to air I was hoping to get that same sense of excitement from Disenchantment. Especially considering Groening wouldn't be bound by the same ridiculous network guidelines on Netflix. Instead what I got was a humorless slog of a show. After season 1 I honestly can't remember any time that I legitimately laughed if I did at all. Most of the funny punchlines come from characters you only see in opening scenes, or from background characters that have nothing to do with anything. The main cast of characters is the worst part about the show. Bean is the Princess, and supposedly this alcoholic problem child, Elfo is the happy go lucky elf who just wants to be miserable away from his happy village of elves, and the Demon (I can't even remember his name or if he has one at all) who plays devil's advocate in Bean's rational. All in all Disenchantment for me is a forgettable show with an even more forgettable cast, where the good jokes are few and far between. I'm just going to watch re-runs of Rick and Morty. Maybe one day Matt Groening will return as a television sitcom legend, but Disenchantment won't help him fulfill that role this time.

…

Expand

The same joke, over and over and over again. Had it been funny, ok maybe I could have enjoyed an episode, but the execution of the "humor"

The same joke, over and over and over again. Had it been funny, ok maybe I could have enjoyed an episode, but the execution of the "humor" reminded me of Michael Scott in the office. It was like "Simpsons for Dummies".

Oh what, you really loved this show and wanted to read a positive review about it? Well here's one for you... this is a negative review! hahahahaha. Ooh, you just got burnt. [repeat x 100]

…

Expand