Network:

Netflix

Series Premiere Date:

Aug 17, 2018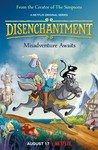 Summary:

The Matt Groening animated comedy follows the adventures of hard-drinking Princess Bean (voiced by Abbi Jacobson), her elf Elfo (voiced by Nat Faxon), and her personal demon Luci (voiced by Eric Andre).

Genre(s):

Comedy

,

Animation

,

Action & Adventure
Season 1 premiere date:

Aug 17, 2018

Episode Length:

30
As far as early efforts go, Groening's third small-screen endeavor, whose debut ten-episode run arrives on Netflix August 17, is routinely entertaining. ... And fortunately, it gets funnier as it goes along. Led by a terrific vocal cast that includes many Groening favorites.

The series premiere is the least funny episode, too reliant on setting up its characters and its world. Be patient. Once those are in place, and the writers and talent are allowed to have some fun, it works much better, and it's the kind of show that gets more enjoyable as it goes along, revealing character through repeated jokes and just having more of a good time.

The episodes work better when they focus on action and spectacle (like a slasher movie climax inside the gingerbread house from the story of Hansel and Gretel) than when they're going directly for big laughs.

Wielding a satiric sword badly in need of sharpening, Disenchantment meanders along a medieval middle ground, often fun but rarely funny.

What Disenchantment should have done is taken advantage of being on Netflix and gone for a more serialized story, which would help it distinguish itself from Futurama and also help bring it into this century of binge TV.

It's a by-the-numbers affair -- the equivalent of a joke that begins "A princess, an elf and a demon walk into a bar...."

Disenchantment was billed as "an adult animated comedy fantasy series" but misses its mark, since it's neither "adult" nor is there much comedy. The 10-episode series will appeal more to a preteen sensibility than to anyone over 14 and it's got plenty of, well, cartoonish violence a la "Itchy and Scratchy" from "The Simpsons." What it doesn't have is the charm or wit of that series--either in its storyline or its characters--and mostly plods along with only the occasional throwaway line eliciting a smile.