Network:

AMC

Series Premiere Date:

Jun 4, 2018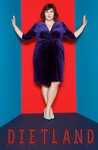 Summary:

Plum Kettle (Joy Nash), a ghost writer for a fashion magazine editor (Julianna Margulies), plans for losing weight leads her to become involved with a feminist group in this Marti Noxon dark comedy based on Sarai Walker's book of the same name.

Genre(s):

Comedy

,

Drama
Season 1 premiere date:

Jun 4, 2018
The smartly written dark dramedy, created by Marti Noxon (UnREAL), is a delectable expression of feminist anger, a parable that eviscerates the patriarchy.

Dietland is a wonderfully absurd exaggeration of the rage that's driving sea change like the #MeToo movement. The Harvey Weinstein effect is satirized here, his depravity and the victim's fury filtered through dark humor, and that dark humor woven into a quirky yet compelling drama.

Dietland may not single-handedly dismantle the beauty magazines, cosmetics corporations, impractical diets, and male gazes that place so many barriers in front of women achieving self-confidence, but it's taking aim at those subjects with enough verve and freaky flair to make it impossible to ignore.

Getting hooked on Dietland will take patience that viewers may not have. As it stands now, the drama is like a diet itself--easy to start, and even easier to abandon.

What if that view was expanded past a size 4? Like Plum says, it would indeed take a revolution for that to happen. Dietland tries hard to pull that revolution off, and may actually get there eventually. But viewers will have to wade through a number of conflicting conspiracies to get there.

Dietland's biggest problem isn't its tonal shifts; it's the show's structure, which is surprisingly haphazard for a drama so thematically complicated.

For every moment that strikes just close enough to reality to make a pointed mark, there are about five more that feel far more scattered to the winds. Dietland wants to be a satire and a drama and all that lies between depending on its mood, and that determination to be everything often has it feeling more like nothing.
This show starts off fun and different, but goes off the rails after the third or fourth episode. The story lines which felt intertwined go

This show starts off fun and different, but goes off the rails after the third or fourth episode. The story lines which felt intertwined go in so many different directions that it feels like they cobbled together three or four different shows. The tonal shifts are abrupt and make for an overall uneven show. Plus the fact that Plum is incredibly unstable and goes from a sympathetic character to not makes it hard to watch. The author of the book says it's Fight Club for women and you can see where they're trying to do that in the show, but it just doesn't work.

…

Expand