Network:

Epix

Series Premiere Date:

Jun 17, 2018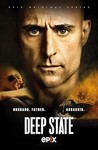 Summary:

Former spy Max Easton (Mark Strong) is persuaded by ex-MI6 operative George White (Alistair Petrie) to lead The Section, a covert CIA/MI6 team, only to learn he has entered in the middle of an conspiracy to cause havoc in the Middle East.

Genre(s):

Drama

,

Action & Adventure

,

Suspense
Season 1 premiere date:

Jun 17, 2018

Episode Length:

60
"Deep State" and "Next of Kin" both offer mystery and suspense, and you could be drawn to either out of a taste for international intrigue tied to current events. For gunfire, cynicism and a constant build toward world-shaking revelations, go with "Deep State." ... You can't go wrong with Mr. Strong.

The production has an appealing natural finish to it, enhanced by scenes that play largely or wholly in French or Arabic. ... There are enough action sequences, realistically staged, to maintain the genre cred--a fight here, a rooftop chase there--but for the most part the show runs efficiently, and not hastily, on suspense and character.

Cynical shows can be fun; Deep State is undercut by some atrocious acting. One character seems to be the love child of Larry Hagman's J.R. Ewing and about 180 pounds of ham. The faux Texas accent might cause your eyes to sting.

Deep State lards its story up with new faces, names, and conspiratorial connections without ever giving us a glimpse at the man at its center. The action is great fun and the show looks good, but there's little to grab onto even as one knows the show ought to be getting incrementally more "tense."

Too much of Deep State is bogged down in shallow family characterization, and very few of the assortment of bureaucrats, field agents and generic Middle Easterners register as distinctive either. The only reason to watch the show is Strong.
I was hooked from the first ep. It's pacey but somehow I've also fallen for the main characters. I love Mark Strong and am so happy to see him

I was hooked from the first ep. It's pacey but somehow I've also fallen for the main characters. I love Mark Strong and am so happy to see him in a quality TV series. The Leyla character is also a powerful, interesting woman - happy to have found this one on Epix.

…

Expand

A very bland, cheap British copy of Homeland and other Middle Eastern spy shows. Nothing new under the sun. Can be watched when you have

A very bland, cheap British copy of Homeland and other Middle Eastern spy shows. Nothing new under the sun. Can be watched when you have exhausted any other option and/or drunk.
PS: Annoying to have fake French, fake Persian and even, lol, fake Texan accents in this day and age. Hence the need for alcohol.

…

Expand

My opinion/perspective is coming from being an aficionado of this genre, hence, this series rates as juvie, not fully baked. Its problems are

My opinion/perspective is coming from being an aficionado of this genre, hence, this series rates as juvie, not fully baked. Its problems are in plausibility which is essential to hit the mark with a spy show. The cast is decent enough but their acting (and/or their direction) shows immaturity and that just spoils it. I endured through the fourth episode at which point I had enough, that episode was most egregious regarding plausibility and I was just taken out of the story. I really wanted to like this, I was biased to like it, but it just doesn't cut it. But for those new to the genre it might be alright, you'll be more forgiving till you've seen enough of them.

…

Expand