Network:

ABC

Series Premiere Date:

Mar 11, 2018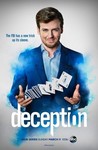 Starring:

Lenora Crichlow

,

Amaury Nolasco

,

Justin Chon

Summary:

After his illusionist career is ruined, Cameron Black (Jack Cutmore-Scott) finds himself working with FBI agent Kay Daniels (Ilfenesh Hadera) and her partner Special Agent Mike Alvarez (Amaury Nolasco).

Genre(s):

Drama
Season 1 premiere date:

Mar 11, 2018

Episode Length:

60
Please enter your birth date to watch this video:
You are not allowed to view this material at this time.
It's all pretty absurd, but the show is too light on its feet to begrudge for long.

Deception isn't likely to win any awards, except perhaps from the Society of American Magicians. As escapist fare, though, it turns the trick, plays its cards well, pulls a rabbit from the hat, etc. Or as ABC might say, "Abracadabra, here's to another Castle."

Platinum-plated nonsense--but also self-aware enough to know just how nonsensical. Deception is mostly just a lot of fun.

Deception is fairly charming in spite of its blah procedural trappings thanks to Mr. Cutmore-Scott and his character's bag of tricks and magic team.

There's no snap in the storytelling or the filmmaking, just scenes of people talking, talking, talking while the camera sometimes cuts to whatever they're talking about. Cameron never stops explaining things to other characters, most of whom seem to be there to argue with him or ask follow-up questions so that he has an excuse to explain things some more.

Never rising above its hokey premise, the procedural is further sunk by transparent mysteries, hollow supporting characters, and a fatal lack of surprises. Ironically, it feels like the exact opposite of a successful trick: Nearly every turn is telegraphed early and often.
It was a very amazing show!!! I love it. Associate magic and FBI was a really good idea. Hope to see another season. please continue season 2!!

This show was an amazing show. Me and my twin sister love it so much. The way that Jack Cutmore Scott plaid cam&Johnny was so amazing and so

This show was an amazing show. Me and my twin sister love it so much. The way that Jack Cutmore Scott plaid cam&Johnny was so amazing and so good, the story too wa so special and great :) please continue season 2!! please

…

Expand

The cancellation was so quick, it didn't even give Deception a chance to show all its potential - which is huge, because it has a great cast,

The cancellation was so quick, it didn't even give Deception a chance to show all its potential - which is huge, because it has a great cast, and a great story, and great character development and relationships.
Deception might sound silly, when first hearing about it (come on, a magician that helps solve crimes?), but it's incredibly good. It's filled with magic tricks, has twins (everything is better with twins), and fun. And it's a good humor, not a ridiculous, forced humor we find in so many series. It deserves more.

…

Expand

I read almost all critic reviews and they might me true, this show might not be as brilliant, as exciting as these magazines would like. But

I read almost all critic reviews and they might me true, this show might not be as brilliant, as exciting as these magazines would like. But it doesn't mean, that ordinary people like me won't like it. Because we do like and love "Deception". Myself, I suffer with depression and finding something to make me smile becomes more and more difficult. This show made me smile, made me interested. Little magic in my daily life is only for good. I don't care if critics don't find it as good as I think. I just think that it is very unfair to close this particular show and leave all other shows go on. There are many fans, there is even petition to make season 2 - people found time to organize this, to plan and to support. People do love it, "Deception" deserves a second chance

…

Expand

This show is just perfect. The story is great and not common. The characters are good. It's very funny : there's not a single episode where I

This show is just perfect. The story is great and not common. The characters are good. It's very funny : there's not a single episode where I didn't laugh. This show is a combination of fun, plot twist, drama. And there's also magic. They always tried to do it for real (the actor that plays the main character does magic in real life) and avoid adding special effects.
We never know what's gonna happen !
But it got cancelled. Because it was a really good show. Please #SaveDeception !
Go check the petition to renew Deception : https://change.org/p/abc-renew-deception

…

Expand

I really enjoy this new series. With a bit of magic tricks makes the vision pleasant and not boring at all. Love it.

More style than substance, and the style is just like every other modern TV show that uses incessant background music (like a Hallmark

More style than substance, and the style is just like every other modern TV show that uses incessant background music (like a Hallmark movie), flippant remarks from the jokey lead in serious situations, mysterious women who are too beautiful to have names, and pretty much everything you'd expect from a poor man's version of a Bond movie. It's just pure nonsense and fully removed from anything you'd experience in real life.

…

Expand