Network:

Syfy

Series Premiere Date:

Jan 16, 2019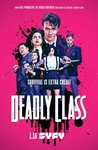 Summary:

Marcus (Benjamin Wadsworth) was living in the streets when he is selected to attend Kings Dominion, an elite private academy where crime families from around the world send their children to learn to become assassins in this Russo Brothers executive produced-series based on the Image Comics

Marcus (Benjamin Wadsworth) was living in the streets when he is selected to attend Kings Dominion, an elite private academy where crime families from around the world send their children to learn to become assassins in this Russo Brothers executive produced-series based on the Image Comics graphic novel by Rick Remender and Wes Craig.

…

Expand

Genre(s):

Drama

,

Action & Adventure
Season 1 premiere date:

Jan 16, 2019

Episode Length:

60
You'll like Deadly Class from the beginning, but it takes a beat for you to actually fall in love. There is one exception to that statement. Lana Condor, who became an internet sensation last summer as Lara-Jean Covey in Netflix's To All the Boys I've Loved Before, is an immediate stand-out from this remarkable cast.

Deadly Class takes a beloved genre and offers a new take. With touches of humor, layered characters and creativity to spare, this is a series that resonates.

There's certainly a spark from time to time. But for now, Deadly Class is failing to live up to its potential. It's messy and hollow.

Deadly Class doesn't make much sustained sense, either as practical reality or pointed satire. (It is, in any case, no way to run a school.) But it has rude energy (and many bad words) and a certain conviction, and possibly what seem like bugs in its system will prove to be features instead; the creators do not seem unaware of internal inconsistencies in their creation. And many viewers won't see a problem.

The pilot, which also introduces the animated flashback sequences that represent easily the series' best element, presents enough potential plot avenues and appropriately satirized '80s targets to offer hope that Deadly Class would turn out to be more than a bloody high-school goof with the profundity of a freshman's depressive diary scribblings. It mostly does not, though I wholly expect that to be more than enough for some viewers.

It's a frustrating run of intoxicating highs and off-putting lows, at least in the early going. ... As it stands, uncertainly, at the starting gate, it's poised somewhere between pass and fail.

The series repeatedly asks its audience to rationalize murder. It weighs the value of human life in summary judgments doled out by anyone willing to act. Episodes reframe those decisions, but without definitive emphasis. At best, it's a murky portrait of extreme ideas. At worst, it's irresponsible.
Great Show-will be a classic. Rick Remender is the best story teller from comics and now TV I can't wait to see the next episode

Do not listen to the critics! This show is a breath of fresh air, in a time of the same old drama teen angst trash getting critical acclaim.

Do not listen to the critics! This show is a breath of fresh air, in a time of the same old drama teen angst trash getting critical acclaim. Music, mood, and characters truly encapsulate the vibe of antiestablishment teens of the 80s. Don't sleep on this show, and please do not let it get canceled because of these mindless spineless critics, who spoon feed the public what they are told! Enjoy, you won't regret it!

…

Expand

It's awesome! The music, the scenography, acting, dialogues, problems that the show touches - it's all perfect. Technically (but just

It's awesome! The music, the scenography, acting, dialogues, problems that the show touches - it's all perfect. Technically (but just technically), I can't watch it though, because I live outside of UK/USA or whatever. Would love to see this on Netflix!

…

Expand

Interesting look at the 80's through a unique setting. I like the character development and mix of humor ,tension and coming of age themes.

a great story arc , good acting . nice to see a show that is reality based ( "they kill people" ) not like daredevil

The series tries to be serious, but it does not work. All problems arise out of nowhere and do not seem real. Look, just because of the sexy

The series tries to be serious, but it does not work. All problems arise out of nowhere and do not seem real. Look, just because of the sexy María Gabriela de Faría!

…

Expand

I think there were some good elements, but for the life of me I can't remember any. (Oh, wait, Henry Rollins FTW.)

I spent the episodeI think there were some good elements, but for the life of me I can't remember any. (Oh, wait, Henry Rollins FTW.)

I spent the episode alternately tense that they might kill off any given character, and then disappointed when they didn't because I realized I hated every single one of them and I want them all to die.
It is hard to decide if the young actors are incompetent or the terrible dialog is just impossible to deliver well. I suppose it could be both.

Stylistically it feels like a cross between a rip-off of Fight Club, The Warriors, and a roll in a dumpster. It's not a badly done period show so much as tired and dated. The biggest problem is the original comic is firmly rooted in the 80s and there is no way to update it without gutting it. Yet a good gutting is what is needed. I would have started with the narration which reaches David Lynch Dune levels of awful.

I will now bleach my eyeballs and take a shower.
To be fair about it, I'll still watch one more. Syfy has a proud tradition in recent years of soft rebooting new series between the pilot and episode two.

…

Expand