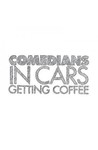 Summary:

Comedian Jerry Seinfeld shares coffee and car rides with Alec Baldwin, Neal Brennan, Dana Carvey, Dave Chappelle, Ellen DeGeneres, Zach Galifinakis, Jerry Lewis (posthumously), Kate McKinnon, Hasan Minhaj, Tracy Morgan and John Mulaney, and Brian Regan as the web series moves to Netflix for

Comedian Jerry Seinfeld shares coffee and car rides with Alec Baldwin, Neal Brennan, Dana Carvey, Dave Chappelle, Ellen DeGeneres, Zach Galifinakis, Jerry Lewis (posthumously), Kate McKinnon, Hasan Minhaj, Tracy Morgan and John Mulaney, and Brian Regan as the web series moves to Netflix for its 10th season.

…

Expand

Genre(s):

Talk & Interview
Season 10 premiere date:

Jul 6, 2018

Episode Length:

10
Mostly for the die-hard Seinfeld (and "Comedians") fan, these are more often about the guy who picks up the check than about his guests. But at their best, they're--what else?--funny.

The twelve new episodes are slightly snappier than earlier ones, which sometimes allowed silences to speak of easy companionship or productive awkwardness. But the fundamental structure abides: Jerry and his passenger drive around, hang out, grab a bite to eat, and enact a chummy discourse on topics ranging from the philosophy of humor to theories of everyday life. It's nonnutritive, but it has some pep.

Usually, the conversations are entertaining or substantive enough to distract from that fact. But it's harder this season--either because of Seinfeld himself, the times in which we are living, or some combination of the two--to overlook how out of touch the whole exercise, including Seinfeld, sometimes seems. No one would ever accuse Seinfeld of being woke, but there are times in Comedians in Cars Getting Coffee when he seems to be the anti-woke.
Nothing's really changed in this series. A few of the guests are kind of awkward as is Jerry occasionally. He's still aloof and thinks he

Nothing's really changed in this series. A few of the guests are kind of awkward as is Jerry occasionally. He's still aloof and thinks he knows everything about comedy and whatever else ends up being discussed. He's overall friendly and seems like he's easy to talk to though, so the show works despite that aspect of his personality. They often talk about their own insecurities and struggles. The Zach Galifianakis episode is the standout since he is really just being himself, which actually is noticeably different than what most people think of him as from his comedic persona.

As for negatives with the show, what is the deal with the over the top Lavazza product placement? It is really obvious and distracting and takes away some of the charm. The way the conversations are cut can be confusing as they'll suddenly be talking and you realize you have no idea what they are talking about or how they got there, then a minute later it happens again. Also, sometimes it's hard to hear what they're saying. I know that is more natural but perhaps they could improve that somehow. A few comments he made on the show make him sound out of date with social norms but I would not rush out to say he's intolerant or secretly right wing on social issues. I also think they should do better highlighting of the places they visit for their coffee unless that's intentional. There's a quick shot of the exterior as they're walking in and that's all you'll know about the place. To be honest, I think more of the show should be them driving around or even doing things. The coffee shop setting is kind of charming, but I enjoy the parts of the show where they're driving around more. Also, some of these user reviews are ridiculous. 0/10? Really?

…

Expand

It's not quite as engaging as previous seasons. One thing it is though is a lot more of a product placement whore. If I see one more Lavazza

It's not quite as engaging as previous seasons. One thing it is though is a lot more of a product placement whore. If I see one more Lavazza plug I think I'm going to puke!

…

Expand

nice 15 minutes, if you love classic cars and focus just on the guest, not considering jerry seinfed answers, which are, mostly, material. and

nice 15 minutes, if you love classic cars and focus just on the guest, not considering jerry seinfed answers, which are, mostly, material. and I mean it in a sense not true at all. everything he did, do and will do, it's about himself, the only gigantic art project he actually consider, and obviously, for 'da money'. the proof are the very, very annoying and distracting Lavazza product placement, really non needed at all, because both Mr. Seinfeld and Netflix have a lot of money. the only gigantic thing I see is the protagonist massive ego, not even far interested to other life experiences. Sadly, as the time goes by, my genuine attachment to the idea of Mr. Seinfeld as a great human being, very alive during the 90s, is, not so slowly, fading away, discovering, a very wrong side, an ugly side of his personality, almost like, I repeat, almost like, as a concept, not as the criminial acts, the horrific shadow who everyone discovered above Bill Cosby, a comedian I love but, like Stephen Colbert, I can't view or listen anymore.

…

Expand

There's a balancing act with Seinfeld. Being laid back because he has nothing to prove is refreshing. Being smug and telling people he has

There's a balancing act with Seinfeld. Being laid back because he has nothing to prove is refreshing. Being smug and telling people he has nothing to prove is infuriating. There are parts of the new series that are absolutely maddening and I say this as someone who has loved previous seasons.

Who asks Ellen if she likes penises? WHO DOES THAT? It was the most cringe-inducing piece of TV I have seen in a long time and it wasn't even the set up to a joke - just another Seinfeld observation that he really wanted to share at the expenses of hearing his guest speak.

Why did Seinfeld feel the need to continue to lecture Tracy Morgan on what he should be doing with his career? Who, apart from Jerry, made Jerry the King of Comedy. In 2018 if you ranked the best stand ups in America, Jerry wouldn't come close to the top 10.

What could have been a poignant, emotive moment of Chapelle going back to school was pretty much brushed over, in favour of yet more air time for Seinfeld's views. What awful editing. I'd have happily just watched an hour of Chapelle talking about his school life. It's like Seinfeld stands over the editor's shoulder demanding...more me...MORE ME!

Meanwhile with Hassan Minhaj, a masterful comic and storyteller, you just want more of everything other than Seinfeld. And that's broadly the problem with this series.

The worst of it peaked with Neal Brennan where you felt the whole theme was "ordinary people aren't smart like us" - if you could overhear them on the next table in a restaurant, you'd ask if you could move. It was hateful. After a while you begin to imagine that Jerry's wife thought up the premise for the show because she was so tired of him following her round the house force-feeding her his view on a world that he imagined was far less smart than him.

Seinfeld says he doesn't care about what people think. He doesn't care for modern comedians. He doesn't think what modern writers do works. He needs to start caring. This is all just so lazy and smug.

I watched his Jerry before Seinfeld special and expected something new in the accompanying stand up. The same jokes again. The same routines that he's been doing for literally decades. Meanwhile modern comics are coming up with new sets every single year. But Jerry still clearly thinks he's better than they are. Even the voice overs on CICGC sound like he's just churning again. That same flat tone of voice, that same slightly too fast delivery that makes his routine just seems not so much well-worn as worn out. He pretends he loves doing all this...but it comes across as if he just wants it done already.

In CICGC Jerry invented another hit show. And when that was proved beyond doubt when Netflix bought it - instead of turning up the effort and the funny, Seinfeld sat back and said...look at me, I did it again.

If Seinfeld is going to stay relavant, interesting and.... funny - it's time for some humility. I'm not sure these are the right times to make your thing being smug, rich and lazy.

…

Expand