Network:

The CW

Series Premiere Date:

Oct 14, 2018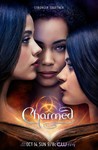 Summary:

Still reeling from their mother's death, Mel (Melonie Diaz) and her younger sister Madison (Sarah Jeffery) discover they have an older sister named Macy (Madeleine Mantock). Soon after, all three start manifesting powers and are told they are witches who must protect the world from demons in

Still reeling from their mother's death, Mel (Melonie Diaz) and her younger sister Madison (Sarah Jeffery) discover they have an older sister named Macy (Madeleine Mantock). Soon after, all three start manifesting powers and are told they are witches who must protect the world from demons in this reboot of the WB series from Jennie Snyder Urman, Amy Rardin and Jessica O'Toole.

…

Expand

Genre(s):

Drama

,

Fantasy
Season 1 premiere date:

Oct 14, 2018

Episode Length:

60
Charmed 2018 is good, offering up all one could want from a supernatural adventure series. It's well cast; witty and fun; a little satirical, a little more suspenseful, but with solid emotional grounding (and the promise of romance); a little physical but with nothing too explicit in the way of violence. That it doesn't take itself too seriously doesn't mean it won't make you jump.

The Charmed reboot is indeed funny and fierce, with a political edge that places the show firmly in 2018.

The power of three still packs an entertaining jolt in The CW's reboot. The characters are new, but the fundamentals remain intact. [12 Oct 2018, p.44]

Figuring out how to make Mel, Maggie and Macy more fully inhabited characters and tapping better into their witchy powers and their big, mythology-driven mission is the next step that made me wish I'd been able to watch a couple more episodes. It's rare to see a show of this type that puts so much effort into nailing down the subtext only to leave the text and its execution so frequently limp.

Despite the timeliness of this dialogue, Charmed plays like a throwback to the schlocky original, which aired in the 1990s and to which it is surprisingly faithful in spirit. ... Charmed is more supernatural procedural than serial drama.

The first episode of the new "Charmed" is clunkier than Rose McGowan's late-'90s shoe game. That said, a pilot's job is to clearly let viewers know what the series is going to be about.

The original show balanced horror with comedy and supernatural threats. The update feels like sociology homework.
I'm really disgusted with the negative OG fan bashing on this show and giving it zero reviews wanting it to fail out of some kind of avid

I'm really disgusted with the negative OG fan bashing on this show and giving it zero reviews wanting it to fail out of some kind of avid devotion to the original. These are not reviews of people, who have watched the show itself, maybe the pilot. The pilot for the OG charmed was not released officially, and those who have seen it would have to be very self-deceptive to not admit it didn't really run on all cylinders. It would be impossible for any self respecting semi-objective viewer to watch what's released in the reboot so far and not see some merit. The show has picked up substantially since the pilot. I'm a fan of the original show who's given the new version a proper chance and it stands on it's own and has me invested.

Objectively, I'd probably give what I've seen so far as a whole an 8/10, but I'm doing what's right and going 10/10 to try to slightly balance out the biased smear campaign from people I'm sure haven't really watched much of it and are just trying to run a negative fan campaign to badmouth the show, probably in hopes of it being cancelled. Totally despicable.....

…

Expand

Best show I ever watched. The demon battle scene was amazing. I liked Mel's freezing power it was so cool watching her freeze time. I hope

Best show I ever watched. The demon battle scene was amazing. I liked Mel's freezing power it was so cool watching her freeze time. I hope this show gets 10 seasons. It's so much better than the original show. please give it a chance.

…

Expand

First, let's start with the fact that there is no chemistry between the characters/actress, what made the original Charmed series so cool was

First, let's start with the fact that there is no chemistry between the characters/actress, what made the original Charmed series so cool was that we could see the connection (the vibe) between the 3 main chars, the passed the feeling that they where, indeed, sisters with all the affection, fights, arguments that comes with it.
---
Second, it was awesome to start discovering more of that universe, the history behind them, their family, heritage, the demons they discovered and confronted... bit by bit, every week there was something new, a new mystery, suspense, fear, that was snark, fun, but also fear and dread in each episode....
---
The new series, in just one episode, just destroyed all sense of wonder, mystery/suspense we could expect to have...
---
Third, Where is the storytelling??? Where is the originality??? Seems like they where reciting cake recipes...
---
The dialogue was all over the place, with hardly any dept, just trowing catchphrases all over the place and the characters (oh those pesky beings designed to make you want to watch the series/movies) had the emotional range of teaspoons, they hardly seemed affected by everything happening and took everything in stride....
---
I watched the 1st episode with a sense of sadness but, it is good to know already and leave it behind. I will just go back to watching the original Charmed series (s01, s02 and s03).

…

Expand

I was a die hard fan of the original charmed so much until I have all episodes on dvd and alway hoped they'd come back especially with Prue

I was a die hard fan of the original charmed so much until I have all episodes on dvd and alway hoped they'd come back especially with Prue being elevated to an elder as we all know that didn't happen. When I saw a reboot I was intrigued and super excited I very much like the reboot and would love to see the sisters come back as guiding elders and be tested/challegned the way they challegned the elders in the original. Heck I kinda would like to see Cole back in there and some how being the the grand father or cousin twice removed or something to Parker.

…

Expand

This reboot is such a waste!
The story is abysmal, even if the actors were trying their best, the show would be a total wreck. And they areThis reboot is such a waste!
The story is abysmal, even if the actors were trying their best, the show would be a total wreck. And they are not even trying ...

…

Expand

như lòn ấy hehe =))))))))))))))))))))))))))))))))))))))))))))))))))))))))))))))))))))))))))))

this just isnt charmed! the family relationship just seems forced and the the writing just lacks in every way.
the original charmed wasthis just isnt charmed! the family relationship just seems forced and the the writing just lacks in every way.
the original charmed was awesome and this just feels like a cheap dirty way to get money.
Remakes of great things are generally worse and this just shows why

…

Expand