Network:

NBC

Series Premiere Date:

Mar 8, 2018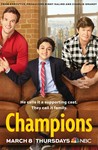 Summary:

Brooklyn gym owner Vince (Anders Holm) lives with his younger brother (Andy Favreau) and he was ready to sell his gym and move to Florida when Priya (Mindy Kaling), his old high school tryst, arrives with his 15-tear-old son (J.J. Totah) in this comedy from Charlie Grandy and Mindy Kaling.

Genre(s):

Comedy
Season 1 premiere date:

Mar 8, 2018

Episode Length:

30
Holm and Favreau banter like the best of them, and Totah devours the scenery while a deep bench of supporting characters (including Fortune Feimster) populate the show's titular gym. [9 Mar 2018, p.51]

Kaling and co-creator Grandy use plot as a display case for consistently funny writing, sweet and credible performances by the ensemble cast and most of all, the exceptional skills of J.J. Totah, who plays Priya and Vince's proudly out son, Michael.

Champions has a cast and comedic skill many wannabe successful sitcoms would envy, but while these surface elements are all in place, the show seems to have missed a bit at the base.

While Champions specializes in of-the-moment allusions, part of why it gels so quickly is that its character mix is borrowed from the sitcom bible: "Cheers." ... Champions is off to a promising start.

Mr. Totah steals the show with his witty retorts and Mr. Favreau makes Matthew likable despite his naiveté. The rest of the cast, consisting mostly of the gym family, have yet to come into focus through three episodes made available for review.

Totah is clearly talented in a variety of ways and he gets the best punchlines in the early episodes, though his extremely focused myopia doesn't always track believably and the show has yet to figure out how to make Michael's schooling a part of the show in any real way. ... The show's workplace zaniness is definitely where Champions is most a work-in-progress.

Some of the scenes play out OK, and Favreau has a marginally winning way with the doofus brother he plays. As the self-described scene-stealer, newcomer Totah also gets in a few good jabs. None of this seems nearly good enough, though, to make Champions more than a likely short-termer on the TV sitcom conveyor belt.
Based upon the pilot, I like this show.

The emotion is there to draw you in. The writers are building a foundation upon which to build aBased upon the pilot, I like this show.

The emotion is there to draw you in. The writers are building a foundation upon which to build a story.

It's early, but I like it.

It stays on my ToDo list. I want to see where the writers go with this.

…

Expand