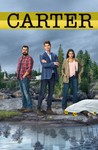 Summary:

Actor Harley Mackay (Jerry O'Connell) returns to his Canadian hometown after a public fight and helps solve crimes with his childhood friends: police detective Sam Shaw (Sydney Poitier Heartsong) and coffee truck owner Dave Leigh (Kristian Bruun).

Genre(s):

Comedy

,

Drama
Season 1 premiere date:

Aug 7, 2018

Episode Length:

60
The show's hour-long episodes are generally pretty entertaining, thanks to the charm and timing of O'Connell [as Harley Carter]. ... The strong chemistry between Harley and Sam is another draw here. They're fun to watch, as is their third childhood friend, Dave (Kristian Bruun).

Carter is 1996's most medium hit. It's longing for a simpler era. ... Carter works as the perfect palate cleanser, a spritely intermezzo in between your leaden sadcom and feminist torture porn drama.

As Harley Carter, Jerry O'Connell is likable and relatable, which makes him and his crew of odd friends and family members enjoyable to watch. Carter doesn't always make its intentions clear, and the show can be a bit formulaic, but it's certainly a series worth checking out.

Viewers choosing to go along for these rides won't encounter anything too penetrating. Carter goes no deeper than its title character acting rather pleased with himself.