Network:

HBO

Series Premiere Date:

Oct 14, 2018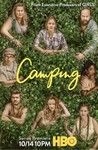 Summary:

The 45th birthday camping trip organized by the very controlling Kathryn McSorley-Jodell (Jennifer Garner) for her husband Walt (David Tennant) is filled with tension as relationships are tested including those of her sister Carleen (Ione Skye), their friends Nina-Joy (Janicza Bravo),

The 45th birthday camping trip organized by the very controlling Kathryn McSorley-Jodell (Jennifer Garner) for her husband Walt (David Tennant) is filled with tension as relationships are tested including those of her sister Carleen (Ione Skye), their friends Nina-Joy (Janicza Bravo), Nina-Joy's husband and Walt's best friend George (Brett Gelman), free-spirited Jandice (Juliette Lewis), recently separated Miguel (Arturo Del Puerto), and gun and women-loving Harry (Bridget Everett) in this comedy based on the British series of the same name.

…

Expand

Genre(s):

Comedy
Season 1 premiere date:

Oct 14, 2018

Episode Length:

30
A very funny, quasi-cringy series that takes the Sartre-esque point of view into the great outdoors.

When Camping allows itself to dial back the quirk, it delivers some laugh-out-loud moments and emotional observations about marriage and femininity. ... Camping is not perfect, but if it allows Jennifer Garner to explode with the white-hot rage of aggrieved womanhood, it will all be worth it.

There are moments when Camping feels a little pointlessly misanthropic, and others where it just feels random. In the middle are a few laughs, a few good performances and a little bit of that "Girls" sense of humor.

As a series, it's a chore to watch. There's nothing true or telling about the 40-something generation it casts in a ridiculously self-indulgent glow. If Camping serves any function, it's as a summit on human failure, so the viewers can feel a little better about their own flaws.

It's hard to discern the overall intent here. Most of the characters are either sad sacks or in Jandice's case, demonstrably unhinged. But whatever situations they're put in, Camping all in all is less fun than waves of dive-bombing mosquitoes.

For every glimmer of humanity or odd moment of self-recognition, there are 10 that bear no resemblance to reality without so much as a glimmer of the engagingly absurd. They are sketches, and they're not entertaining ones; they say things that might be funny, if a human being said them, but as lines delivered by the caricature of a really disagreeable person, they're just off-putting.

What is the point of this show? If it's not laughs or personal growth, is it just a slice-of-life comedy about unlikable people? That's not enough, especially in this overcrowded TV landscape. ... Despite high hopes for this combination of Dunham's writing talent and Garner's charisma, there just isn't enough over the first four episodes to really make this a comedy worth tuning into. You can skip this Camping trip.
A US remake of a British series (that I didn't watch so I can't compare). Great cast, and good script but it got a 8 from me as I think

A US remake of a British series (that I didn't watch so I can't compare). Great cast, and good script but it got a 8 from me as I think Jennifer Garner (so good in dramas) overacts a bit too much.

David Tennant and Juliette Lewis always perfect and a pleasure to watch

…

Expand

Not sure why all the negative reviews. I think the show's a bit inconsistent at time, but overall, pretty hilarious. I don't usually watch a

Not sure why all the negative reviews. I think the show's a bit inconsistent at time, but overall, pretty hilarious. I don't usually watch a lot of comedies, but this one was quirky enough with just the right mix of weird characters to make me like it. Of course, I'd probably like anything with Juliette Lewis so maybe that's part of it.

…

Expand

I have never felt compelled to write a review for any movie or TV show. After reading all of the negative reviews of Camping, which I almost

I have never felt compelled to write a review for any movie or TV show. After reading all of the negative reviews of Camping, which I almost didn't watch because it was panned so often, I must say something.

I thought to myself "Jennifer Garner, Juliette Lewis, Bridgette Everett, how bad could it be?" The answer is that it's pretty funny. Not great but I laughed at least three times during the first two episodes. That's way better than average for me.

Maybe Lena Dunham fans expected some more pretentious BS and this isn't hip enough for them. It has some good jokes, some really good comedic acting and it's better than most people are writing.

…

Expand

Considering Lena Dunham's involvement in this it's not as bad as I thought it would be. That said, the overacting is hard to take by Garner

Considering Lena Dunham's involvement in this it's not as bad as I thought it would be. That said, the overacting is hard to take by Garner and all the male friends (not to mention the camp owners). I watched the first one and none of the characters come off as real (or real funny). Maybe if Dunham let a funny writer take a shot instead of having to bring back jokes like "9-0-2-1-Pho" as if we missed it the first time and/or maybe would find it funny on second mention. It's not. I did like Walt and Juliette Lewis is competent.

…

Expand

This is probably the worst piece of garbage HBO has ever aired. This must have been a package production deal HBO made with Denham because I

This is probably the worst piece of garbage HBO has ever aired. This must have been a package production deal HBO made with Denham because I cannot come up with any other plausible explanation as to why this made it to post-production.

Anybody professionally tied to this production should be ashamed.

…

Expand

This is almost painful to watch. The characters, Garner and Juliette Lewis in particular, are way over the top - we get it, a helicopter mom /

This is almost painful to watch. The characters, Garner and Juliette Lewis in particular, are way over the top - we get it, a helicopter mom / wife / hypochondriac and a free spirited hippie healer to the max. The hammer-us-over-the-head approach to these two is mind-numbing. The other characters are swallowed up in this travesty of a program. Not unlike Roseanne Barr, it may be possible that Lena Dunham (and no she's not a racist) may be yet another one hit wonder unable to deliver when it's not 100% centered on her own story. Other than Lisa Kudrow's cringeworthy "The Comeback" the all time worst HBO show ever, this may be in the running for second worst..

…

Expand

I can safely say I will never watch this show after the 20 minutes I wasted on it ever again. I would rather get attacked by fire ants than be

I can safely say I will never watch this show after the 20 minutes I wasted on it ever again. I would rather get attacked by fire ants than be tortured by watching this show. Nothing good comes of it!

…

Expand