Network:

Netflix

Series Premiere Date:

Oct 24, 2018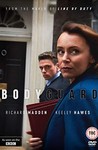 until day of season premiere
Summary:

War-veteran-turned-police Sergeant David Budd (Richard Madden) is promoted to the protection detail for controversial conservative Home Secretary Julia Montague (Keeley Hawes) in this drama series created by Jed Mercurio.

Genre(s):

Drama
Season 1 premiere date:

Oct 24, 2018

Episode Length:

60
Bodyguard might be [creator Jed Mercurio's] Homeland. ... From its opening sequence, a breathless 20-minute set piece on a passenger train, it's clear that no loyalty will go untested or plot untwisted. [19/26 Oct 2018, p.91]

This show excels at both the daring, gasp-inducing twist and the methodical construction of slower-burning thrills. The finale, for instance, features a lengthy sequence of almost physically painful tension, a bravura bit of television that could only exist on a show in which we've been primed to understand that truly anything can happen.

The story takes wild, violent leaps amid myriad conspiracies, leading to a crazy, nail-biting climax that is both preposterous and wholly satisfying. Some binges feel like a slog. Bodyguard is more of a race, well worth the run. [15-28 Oct 2018, p.9]

Some elements of the series struck me as odd, including what seems an endorsement of the surveillance state, and certain climactic revelations had me talking to the screen. But the action is well mounted and the tension tightly wound; it uncoils, when it does, with a satisfying snap.