Network:

Netflix

Series Premiere Date:

Jan 25, 2019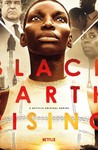 Summary:

A case against Rwandan General (Danny Sapani) who is accused of recruiting child soldiers in the Democratic Republic of the Congo, opens up secrets from the past of the Rwandan genocide including survivor Kate Ashby (Michaela Coel), her adoptive mother (and barrister) Eve Ashby (Harriet

A case against Rwandan General (Danny Sapani) who is accused of recruiting child soldiers in the Democratic Republic of the Congo, opens up secrets from the past of the Rwandan genocide including survivor Kate Ashby (Michaela Coel), her adoptive mother (and barrister) Eve Ashby (Harriet Walter) and her boss Michael Ennis (John Goodman) in this BBC2 thriller from Hugo Blick.

…

Expand

Genre(s):

Drama

,

Movie/Mini-Series

,

Suspense
Show Type:

Mini-Series

Season 1 premiere date:

Jan 25, 2019

Episode Length:

60
If you're hoping to be simultaneously challenged and made deeply anxious, look no further. And if the quest for rightness in a world that too often makes rightness impossible compels you, Black Earth Rising is well worth your time. Just give yourself something to grab, or touch, or press while you watch it. The steadiness will help.

Like David Simon, Blick is the kind of storyteller who's drawn to a form of bleak realism because that's where the tough stories that need to be told reside. In that sense, his work requires something of a commitment from viewers, but Black Earth Rising and Blick's previous work illustrate that it's one worth making.

A thriller of sorts, the series also manages a fair amount of suspense and can claim one of the better car chases in recent memory. ... The skillful cast carries the series, though John Goodman is wasted as an idealistic lawyer in the field of human rights.

Black Earth Rising is overly confident in all the wrong places and lacks trust in all the right ones. The legal thriller's frustrating bundle of potential never quite makes its case, despite the courage of its convictions.

Black Earth Rising's focus on moving outward, on widening the scope of the investigations and recriminations to put the whole system on trial, is admirable, but in so doing, the series loses sight of its lead character. The story starts and ends with Kate, but after eight hours, we still have little sense of how she's coping with survivor's guilt, mental illness, navigating two cultures, or any of the fallout from challenging rich white men who live on estates with driveways the size of football fields.

Blick is so unsubtle as a writer and, it appears, so unhelpful as a director that he torpedoes the fine actresses he casts. ... Along the way the series occasionally generates some suspense, and it's pretty to look at, thanks to the cinematographer Hubert Taczanowski. Despite its deficiencies as drama, it also deserves credit for tying its narrative to recent African history and giving serious consideration to shattering events outside the Western Hemisphere.

[Black Earth Rising] squanders the audience's goodwill with ill-conceived narrative turns, a reliance on cliché, and, worst, dialogue that defies belief. Its potential resonances as a story about how we metabolize, and prosecute, the worst of crimes ends up, soon enough, squandered as the audience loses faith in the story and its telling. ... Which raises questions about why Black Earth Rising exists at all, so inept is it at conveying the struggle at its center.