Network:

Starz

Series Premiere Date:

Aug 26, 2018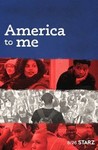 Summary:

The 10-part documentary series from Steve James takes a year-long look at Chicago's Oak Park and River Forest High School as students and staff deal with a variety of issues, including race, at one of the most diverse suburban public high schools in the U.S.

Genre(s):

News/Documentary

,

Documentary

,

Educational
Season 1 premiere date:

Aug 26, 2018

Episode Length:

60
His empathetic portraits of teenage students and their earnest educators creates an affecting, insightful, and vital piece of cultural commentary.

What may be one of the most important shows to debut this year, do not miss a moment of this 10-part documentary series. ... A compelling, potent education.

The show doesn't pretend teens today are growing up without full awareness of what reality TV looks like, and America to Me doesn't pretend not to be reality TV in its own way. It's reality TV in the best sense of the term, and I suspect that America to Me will end up being one of the year's best shows of any kind.

America to Me succeeds by taking a quieter, slyly bruising approach in order to match the timbre of its fraught subject material, portraying how intersections of race, class and privilege become grueling everyday realities. It's a slower burn, but it proves no less searing.

Expansive, nuanced documentary. ... It's an invaluable look at where inequity begins, as well as the difficulty of getting to the place where it ends.

Profound and thoughtful. ... The series takes the viewer on an insightful, engaging, and maddening trip back to school, which is enabled by the extraordinary access James and his segment directors were given to classrooms, board meetings, and people's homes.

America to Me features a winning mix of kids, running the gamut of emotions and experiences that high school entails.
Tests are biased. Tests are created by White males in charge who want everyone to think that they determine what smart and dumb is. Then you

Tests are biased. Tests are created by White males in charge who want everyone to think that they determine what smart and dumb is. Then you have a whole bunch of conformist ignorant toadies who listen and follow. Don't waste your time studying for these stupid tests. ELIMINATE standardized tests. They are dumb and only for dumb greedy dumb people.

…

Expand

Provides an insightful look into something so often depicted exclusively for exploitation, laughs, or entertainment: the lives of high

Provides an insightful look into something so often depicted exclusively for exploitation, laughs, or entertainment: the lives of high schoolers. The series is the best depiction I have ever seen of what it actually looks and feels like to be in high school, doing what Eighth Grade did for the middle school experience except with people's real lives. You get drawn into the kids lives and hooked on seeing how their choir audition is going to go or what's gonna happen at homecoming or are they going to pass this test or are they going to make weight for wrestling, etc. While simultaneously the series's portrayal of the complex inner lives of students who so often get glossed over in media representations is able to give a macroscopic portrait of the state of education in America specifically regarding what it is like to be a non-white student in a system built for white students, and it does so with absolute deft and never feeling heavy handed. Total must watch for any students, parents, teachers, coaches, administrators, and anyone around the world of education.

…

Expand

Looks like this show has baited out all the racists. I'm on the 8th episode (out of 10 I believe). It's a great documentary that really

Looks like this show has baited out all the racists. I'm on the 8th episode (out of 10 I believe). It's a great documentary that really highlights not only the racial divide still incredibly prevalent in schools, but also just what it's like to come of age as a millennial in this era. It's overall not quite as gripping as the desperate inner city struggle that Hoop Dreams presented (nor should anyone expect it to be, it's about high school in a near middle-income suburb), but I'm still loving it. Today's kids are amazing.

…

Expand

After the first two episodes it's pretty good but not as good as I had hoped after reading the reviews. It's Steve James so you can expect

After the first two episodes it's pretty good but not as good as I had hoped after reading the reviews. It's Steve James so you can expect quality film-making, but be prepared for an overbearing and somewhat self-serving racial theme. Those looking for a banger like Hoop Dreams will get some compelling stories, however you may feel smothered by an incredibly pessimistic and honestly anti-progressive message.

I may be naive, but focusing incessantly on what divides us is not a trend in the right direction. The addiction to racial differences I see as an American really bums me out sometimes. It is absolutely overwhelming on any side of the political spectrum. I wish film and television would present stories such as these differently as to let the next generation know they are more than just a color.

To those giving this series a zero: I empathize with (some of) your criticisms but please, don't trash something hundreds of people worked incredibly hard on because you can't see passed a political message. I am going to keep watching because I respect Steve James and think I could learn something from these kids. I hope you do too.

…

Expand

When we discuss class & related topics such as affirmative action we are really talking about intelligence. So let's discuss the elephant in

When we discuss class & related topics such as affirmative action we are really talking about intelligence. So let's discuss the elephant in the room, IQ. Consider Asians... Asians must score 450 points higher than African Americans & Hispanics//Latinos on most college entrance exams-especially ivy league. Asian work ethic is extremely high. In fact, Asians rank the highest on the world IQ map, yet we give their seats away to students with a faction of their IQ & work ethic. Then we give these students a pass into college & graduate. Bottom line, intelligence & work ethic are the great dividers, not race & certainly not opportunity. Study harder! Study longer.

…

Expand