Network:

Prime Video

Series Premiere Date:

Jun 29, 2018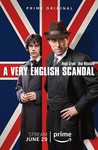 Summary:

The three-part BBC miniseries set in 1960-70s follows member of Parliament Jeremy Thorpe (Hugh Grant) as he seeks to permanently hide his affair with stableboy Norman Scott (Ben Whishaw) to protect his political career in Russell T Davies's adaptation of John Preston's book of the same name.

Genre(s):

Drama

,

Movie/Mini-Series
Show Type:

Mini-Series

Season 1 premiere date:

Jun 29, 2018

Episode Length:

60
[Stephen Frears] does his best work in over a decade. ... He brings the absolute best out of Hugh Grant and Ben Whishaw, who give riveting performances in the telling of one of the U.K.'s most shocking political scandals. This is a must-see.

One of the tightest and brightest and most sublime miniseries--running at a meager three hours, one hour per episode--that you're likely to see on television in 2018. ... Grant's performance is a tour-de-force. ... Whishaw is also fantastic in bringing multiple shades to his portrayal.

There's a light touch to the material, but a deceptive one, as the wit of the script and charm of the performances mask the real pain and trauma within lives ruined by deception and bigotry.

In an era of TV bloat, seeing "A Very English Scandal" choose zippiness over ponderousness is a blessing, but one that occasionally feels more like a compromise than a plan. Length aside, the rest of "English" is precise bordering on surgical.

While Dotrice and others add dimension to the story, the miniseries' success comes down to the two main characters. Grant is oily and confident; Whishaw is seductive and afraid. The combination is combustible and quite watchable when the two appear in court together.

Davies' script is light and witty, and Frears doubles down on jokes by often both showing and telling, to fantastic effect. ... Thorpe is thoughtful and careful, with Hugh Grant as inscrutably charming as ever.

[A Very English Scandal] never settles on a tone. One moment, it's delivering sly, savage moments worthy of Ricky Gervais' "The Office." Then it becomes earthquake serious as one heterosexual politician reveals why he wants to decriminalize homosexuality.
Hush money to quiet someone over sexual escapades, crooked politicians; this could be today (and American) rather than English from 50 years

Hush money to quiet someone over sexual escapades, crooked politicians; this could be today (and American) rather than English from 50 years ago. This is very well done, and very factual. Hugh Grant steals the show.

…

Expand

The title should read: "A very satirical English scandal." Choosing to slather on the satire changes the tone of the real story. It allows the

The title should read: "A very satirical English scandal." Choosing to slather on the satire changes the tone of the real story. It allows the viewer to enjoy what was a tragedy and thus miss the deeper message. Power corrupts. That should not be a laughing matter. From Jeremy Thorpe's seduction of a naive fan through his insistent demands that the fan be "silenced" and ending with the Judges extremely biased instructions to the jury (motivated I can only presume by the need to save the face of the governing class) the decks were stacked against the victim. The victim however gets no sympathy in the story. Without a victim the perpetrator gets off the hook as well. And we get entertained.

…

Expand

The first episode is excellent, but then the tone shifts dramatically in episode 2 and it loses its footing. Redeems itself a bit in the last

The first episode is excellent, but then the tone shifts dramatically in episode 2 and it loses its footing. Redeems itself a bit in the last episode but the slapstick and dumb-guy jokes suck the air out of the drama.

…

Expand

Cringeworthy, Kevin Spacian theater. Smart acting cannot numb me to the fact that that I am be asked to watch what I would immediately look

Cringeworthy, Kevin Spacian theater. Smart acting cannot numb me to the fact that that I am be asked to watch what I would immediately look away from in my day to day life.

…

Expand