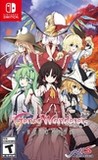 Summary:

Join the colorful cast of Touhou characters on an incredible journey through the Tower of Desire! Touhou Genso Wanderer Reloaded is the definitive edition of a roguelike masterpiece, filled with new dungeons to explore, new items to collect, and new faces to meet! Newcomers and veterans of

Join the colorful cast of Touhou characters on an incredible journey through the Tower of Desire! Touhou Genso Wanderer Reloaded is the definitive edition of a roguelike masterpiece, filled with new dungeons to explore, new items to collect, and new faces to meet! Newcomers and veterans of the Touhou series will love journeying through the land of Gensokyo with Reimu Hakurei, the shrine maiden of the Hakurei Shrine, as well as new faces such as the spunky magician Marisa Kirisame, and wind priestess Sanae Kochiya! And now, with a ton of new content, new and veteran players can experience the world of Touhou wherever they go.

…

Expand
Developer:

Mediascape

Genre(s):

Role-Playing

,

Roguelike

# of players:

No Online Multiplayer

Cheats:

On GameFAQs

Rating:

T
Please enter your birth date to watch this video:
You are not allowed to view this material at this time.
Genso Wanderer Reloaded - Official Launch Trailer
If you are a roguelike fan, then this is a lovely, charming, colourful and traditional take on the genre, and it's the first really good example of that on the Nintendo Switch to date. For that reason alone it's the superior version of one of the more fundamentally enjoyable roguelikes I've played in quite a few years now.

Touhou Genso Wanderer was a really good roguelike on the PS4 already and the added content and portability aspect of the Switch makes this the definitive version of Touhou Genso Wanderer by far. If you've been craving your Mystery Dungeon and Shiren fix on Switch, this is the game to get.

Touhou Genso Wanderer Reloaded is a fantastic interpretation of the Mystery Dungeon formula that genre fans are sure to love. However, if you already own the vanilla version and aren't a hardcore fan then you likely won't be impressed with this iteration.

It's an interesting and somewhat fun game. The story is good and it will please fans of the series and newcomers.

It's a Japanese roguelike influenced by Mystery Dungeon in the combats, but in the end falls short in meeting expectations.

Overwhelming for newcomers and probably too generic for genre aficionados, Touhou Gensou Wanderer Reloaded is difficult to recommend to all but die-hard series fans. The beautiful hand-drawn presentation and high production values are hindered severely by a contrived and intrusive interface, unimportant dialogue with very little character development and derivative mechanics. It certainly looks the part, but there are more fun and interesting adventure roguelikes such as Crypt Of The Necrodancer on the eShop right now.