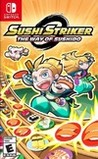 Summary:

Help Musashi end the Empire's tyrannical monopoly of the world's sushi supply by becoming a Sushi Striker! Devour conveyor-belt sushi, matching plates and sushi types to defeat any enemy or boss who stands between you and victory. Befriend Sushi Sprites and use their powerful skills in

Help Musashi end the Empire's tyrannical monopoly of the world's sushi supply by becoming a Sushi Striker! Devour conveyor-belt sushi, matching plates and sushi types to defeat any enemy or boss who stands between you and victory. Befriend Sushi Sprites and use their powerful skills in battle. Deliciously strategic action-RPG-puzzle battles await!

…

Expand
Developer:

Indies Zero

Genre(s):

Puzzle

,

Matching

# of players:

2

Cheats:

On GameFAQs

Rating:

E
Please enter your birth date to watch this video:
You are not allowed to view this material at this time.
Sushi Striker: The Way of Sushido - Launch Trailer
Sushi Striker is a diamond in the rough in Nintendo's Switch lineup. This offbeat and peculiar puzzle game takes a ridiculous concept and manages to shape it into a shockingly deep, balanced, and varied low-key masterpiece. I was looking forward to checking this game out since it was shown off, but I never expected it to be this good. Don't sleep on Sushi Striker, but be mindful that you'll probably really want to eat sushi after playing it for a while.

Sushi Striker is a surprising title, a striking example of Nintendo's virtuous politics.

Despite some wonky controls, Sushi Striker's insanely colorful presentation and stable of silly characters make it one of the strongest puzzle games currently available on the Nintendo Switch.

Sushi Strikers finds an original puzzle mechanic in a genre overpopulated by match-threes, but sometimes it's too dense for its own good.

This is a perfect, crazy game to play thanks to the short fights. The gameplay does offer a depth you would not expect and together with the funny story about sushi this is an excellent title to play on your commute.

Your first impressions of Sushi Striker probably won't do enough justice to the surprising depth hidden within. While it can feel derivative of the genre at times, there really is a great hook hidden in the core systems.

It almost works better in a straight TV show format than it does as a deep puzzler with RPG elements.
Sushi Striker: Way of Sushido is a creative and incredibly fun videogame. It's not a piece of art, although it has a fun, light-hearted and

Sushi Striker: Way of Sushido is a creative and incredibly fun videogame. It's not a piece of art, although it has a fun, light-hearted and creative plot, but that's okay: this game is not made to be taken seriously. It's not the big single-player epic, but it's a near flawless action-RPG-puzzler videogame, and it fits the switch fantastically. This game, whatsoever, is not for everyone, but for those who enjoy it, it's a masterpiece. Since there hasn't really been any game like this before, I recommend anyone interested to check the free demo in the Nintendo Switch EShop( although personally I think the 3DS version is superior in almost every way besides graphics). A common complaint among people who haven't played the game is the price, but this game is well worth 50 Dollars. I've played the game non-stop(14 hours), and I'm about 20% in the story mode. There is also online play, beautiful graphics and a concept never found in any game before. (It has nothing to do with bad Match-3 mobile games).

…

Expand

This review contains spoilers

, click expand to view

. I'm definitely liking this game. The only "rush" is the 7 seconds you get to link all the sushi you can to kick your opponents a$$ lol
The storyline is well thought out, dialog is hilarious, art style is perfect, and the voice acting fits. You can replay older levels to level up and there's no limit to how many times you can do so. If I could liken these to a game or two...I guess I'd say any match 3 or more with Pokémon (Sprites).

…

Expand

What a surprise! I picked this game up, taking a gamble, and I have been nothing less than impressed. The art style is crisp, the gameplay is

What a surprise! I picked this game up, taking a gamble, and I have been nothing less than impressed. The art style is crisp, the gameplay is fast and incredibly fun, and the music is appropriate. This is a perfect "pick up and play" puzzle game that is easy to start, with a lot of depth to discover. I truly believe this will be a hidden gem for the Switch, but hope that other players will give it a chance. There is a free demo on the eShop, I implore you....at least give the demo a try, it doesn't cost anything.

…

Expand