Publisher:

Nintendo

Release Date:

Oct 5, 2018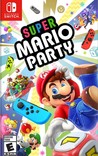 Summary:

The party comes to Nintendo Switch in this complete refresh of the Mario Party series. The Mario Party series is coming to the Nintendo Switch system with super-charged fun for everyone. The original board game style has been kicked up a notch with deeper strategic elements, like specifc

The party comes to Nintendo Switch in this complete refresh of the Mario Party series. The Mario Party series is coming to the Nintendo Switch system with super-charged fun for everyone. The original board game style has been kicked up a notch with deeper strategic elements, like specifc Dice Blocks for each character. The game also introduces all-new ways to play, including Joy-Con controller enabled minigames, and new modes to enjoy with family and friends. Board game play goes back to the four-player basics as you take turns and race across the board searching for Stars. You can also pair up two Nintendo Switch systems and delight in this dynamic play style, such as in the new Toad's Rec Room mode. With new modes and new minigames coupled with original board game play, the party starts anywhere, anytime, and with all kinds of players.

Features a variety of modes, including:
* Mario Party: Enjoy the original Mario Party board game experience with new element like character dice blocks, a party system, and new boards to explore
* Toad's Rec Room: A dynamic new play style that pairs up two Nintendo Switch systems for Table top mode
* Go head-to-head in 80 new minigames with many ways to play: Fast and fun skill-based mini-games that use the Joy-Con controllers in all sorts of different ways

…

Expand
Developer:

Nintendo, Nd Cube

Genre(s):

Miscellaneous

,

Party / Minigame

# of players:

Online Multiplayer

Cheats:

On GameFAQs

Rating:

E
Please enter your birth date to watch this video:
You are not allowed to view this material at this time.
New River Survival Co-op Mode - Super Mario Party Gameplay | PAX West 2018
Super Mario Party is a perfect collection of fun and addictive mini-games.

Super Mario Party is a game that ensures fun with the huge number of available modes. The variety of minigames and characters and its good graphics and sounds make it a highly recommended game, especially to play with friends on the couch.

This isn't a cash-grab with Mario's face on the front; this is a well-constructed and beautifully realised Mario Party game which takes the series right back to its roots, but without being a straightforward rehash. There are a few interesting ideas that feel a little bit underdeveloped, but on the whole Super Mario Party is a true return to form.

Super Mario Party is still a game about backstabbing your friends and rubbing it in when you get a star right in front of their noses.

If you've been eager to get more parties pumping with your Nintendo Switch, then Super Mario Party might be the game to make that happen. Though it could also make your friends throttle one another. Either way, good times are had, and memories are formed and shared. Poetry in motion.

Super Mario Party is a party game, as the name suggests. So you can be bored very quickly when you play alone. In the multi-player part and some mini-games are very fun when you play the first time. Once you've experienced that, they become a little pointless.

It still suffers from the same problems that have plagued the series for years, and the online mode is disappointing, to put it mildly.
Nice game, so many modes, and so much fun minigames. I want to see more stages to play in the party mode.

game.good.family. like. game. family. fight. because. game. family. game. bad.

It's not perfect, but I've owned and played all the console Mario Partys - and this is the best one. It really is the most accessible, and the

It's not perfect, but I've owned and played all the console Mario Partys - and this is the best one. It really is the most accessible, and the graphics are gorgeous. Mini Games are mostly great, some stellar ones, some that are a little meh, but always lots of laughs in the room for each.

By the way, my 9 score is as a 4-player game. As a solo 1 player game, it's probably a 6 or 7.

…

Expand

Was looking forward to this entry to be released and though its still a bit of fun, I can see myself going back to the N64 entries soon

Was looking forward to this entry to be released and though its still a bit of fun, I can see myself going back to the N64 entries soon enough. In this day in age we should be seeing more the 4 tiny boards which is disappointing. The ability to setup the game play before a match wouldn't go astray and the bonus stars at the end are pretty random. Amount of allies, most unlucky tiles landed on etc. I wont say its a horrible game but I also wouldn't say its worth the price tag it currently wears either. At least not until more boards have been added at the very least.

…

Expand

While the 8-10 scores are typically reserved for more ambitious titles, Super Mario Party (in it's more reserved state) does everything it

While the 8-10 scores are typically reserved for more ambitious titles, Super Mario Party (in it's more reserved state) does everything it intends to do perfectly. The multitude of modes is refreshing, the minigames are good, and the Mario Party gameplay is the same, classic gameplay. While more maps would be nice, the board size proved to be for the better, as it allowed for closer, more intense games. Sometimes the boards can be unfair, but that's true for any party game. The lack of boards (only 4) is disappointing, but ultimately prevents redundancy. This is the best Mario Party of the decade, and hopefully updates will keep it in that position for years to come.

…

Expand

Super Mario Party is a throw back to the classic style it once was. It's good to see this but despite the fact the game is far from the best

Super Mario Party is a throw back to the classic style it once was. It's good to see this but despite the fact the game is far from the best in the series.

One problem is the maps are small and so few in number. The fact stars only cost 10 coins makes it too easy to get them and the random placement of the star location on small maps make this game 100% luck based. This results in a game where no matter how far ahead you are though playing well in mini games or how lucky you've been, the game can going to anyone at anytime for no reason other than complete chance. This has always been the case but not this extreme and unfortunately it makes the main Party mode unenjoyable after a few games.

On the positive side the game looks fantastic and is very well polished. The mini games themselves are super fun and some may even been the best in the series. There's actually a number of other game modes people don't know about aside from the main Party Mode. River survival is a path based game where you work as a team and play mini games to gain more time. This was a surprisingly fun and I would recommend it. Another fun mode is Sound stage which involves rhythm base joy con controls. Each of these 2 extra modes have their own pool of mini games which is a fantastic idea.

Over all I'd say this is defiantly a worth while title as a family game or a good drinking game to play with friends on a night in, but would say to save your money if you're buying it to play single player or at least wait until its down to around £35. Hope to see DLC in the future.

…

Expand

Maps are way too small and the star system is jank. definitely needs to have bigger maps