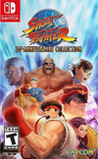 Summary:

Celebrate the 30th Anniversary of the iconic Street Fighter franchise with the ultimate tribute to its arcade legacy in the Street Fighter 30th Anniversary Collection. This content-rich all-in-one package highlights the series' past in an anthology of 12 classic titles with arcade-perfect

Celebrate the 30th Anniversary of the iconic Street Fighter franchise with the ultimate tribute to its arcade legacy in the Street Fighter 30th Anniversary Collection. This content-rich all-in-one package highlights the series' past in an anthology of 12 classic titles with arcade-perfect balancing including the original Street Fighter, Street Fighter II, Street Fighter II: Champion Edition, Street Fighter II: Hyper Fighting, Super Street Fighter II, Super Street Fighter II: Turbo, Street Fighter Alpha, Street Fighter Alpha 2, Street Fighter Alpha 3, Street Fighter III, Street Fighter III: 2nd Impact and Street Fighter III: Third Strike.

The collection also offers a definitive online experience across four of the included titles; Street Fighter II: Hyper Fighting, Super Street Fighter II: Turbo, Street Fighter Alpha 3 and Street Fighter III: Third Strike. Street Fighter players can recreate the classic arcade gaming experience by competing against the CPU whilst waiting for friends in online battles where they can put their fighting skills to the ultimate test. Fans of the series can also enjoy diving into the past 30 years of Street Fighter history with rich character bios, a huge Museum Mode including never before seen art and interactive timeline, and listen to tracks in the Music Player.

GAMEPLAY FEATURES:

* Celebrate 30 years of the most iconic fighting game series The hit series with over 39 million units in global sales returns for its 30th anniversary celebration with a compilation of 12 classic arcade titles in one package.
* Relive the titles that made gaming history Includes the original Street Fighter released in 1987 which introduced two of gaming's most famous heroes, Ryu and Ken. Additionally, the iconic Street Fighter II became the first ever one-on-one video game that gave players a choice of characters, including the debut of the series' strongest female Chun-Li. Street Fighter III continued the core numbered series and was the first game to introduce the parry attack.
* New gameplay options including online play Players can utilize save states as they progress through the game offline. In addition, players can duke it out online in four classic titles (Street Fighter II: Hyper Fighting, Super Street Fighter II: Turbo, Street Fighter Alpha 3 and Street Fighter III: Third Strike). In addition to Ranked and Casual Match options, up to four players can join a lobby where they can play against the CPU while waiting for their match. Each title will have their own Global leaderboard and the "rewind" tech ensures low-latency online battles.
* Hadoken your way down memory lane Revisit historic moments from the series and explore an interactive timeline of events that helped create one of the world's leading fighting game series. View stunning pieces of concept art and uncover little known facts behind each game release.
* Learn more about fan-favorite characters Scroll through character bios and learn new details about series favorites whilst enjoying sprites and key animations to see how the classic fighters have evolved over time.
* Remember the tunes! Sit back and enjoy the most memorable Street Fighter tracks from the collection in the Music Player.

…

Expand
Developer:

Capcom

Genre(s):

Miscellaneous

,

Compilation

# of players:

2

Cheats:

On GameFAQs

Rating:

T
Please enter your birth date to watch this video:
You are not allowed to view this material at this time.
Street Fighter 30th Anniversary Collection - Announcement Trailer
I'd definitely urge you to give Street Fighter 30th Anniversary Collection a go if you're like me and grew up playing these games either at home or in the arcade, and want a little taste of nostalgia to go along with your modern day fighter. Most of the games in this collection still hold up really well today, and Capcom / Digital Eclipse have done a real solid job in putting this port together.

Street Fighter 30th Anniversary Collection changes how we view game collections by making the match making experience streamlined instead of having us go to each game individually. The museum has an incredible amount of care put into it with even the concept art of the first game available to look through. Digital Eclipse has outdone themselves with an incredibly humbling anniversary collection.

Street Fighter 30th Anniversary Collection is the perfect way to celebrate a landmark occasion for the series, the games are as fun as they've always been and the addition of online multiplayer means the collection will keep you coming back for years to come.

I'm torn about this collection. On the one hand, I love III and the Alpha series. They're smooth, gorgeous games with amazing mechanics, cool characters and tons of competitive depth. On the other hand, I've got just, no time for the other six games in this collection. They're slow, clunky and unpleasant. If you've got a heavy cache of childhood memories tied up with any version of Street Fighter II, you might get some more mileage out of those games.

Street Fighter is a cultural phenomenon and even if you're not a fighting game fan you likely know plenty about Ryu, Chun-Li, Guile and the rest of the main cast. The Street Fighter 30th Anniversary Collection puts together the early history of the franchise and allows you to really see how the series began and how it moved towards where it is today.

The most impressive thing about Street Fighter is just how playable it is to this day (at least, from Street Fighter II onwards).

Street Fighter 30th purposes a lot of games, 12, but a very few different game modes to enjoy alone or with friends.
this game is AMAZING, if you want the best value classic street fighter experience on any platform this is it!! 12 games total, 4 online all

this game is AMAZING, if you want the best value classic street fighter experience on any platform this is it!! 12 games total, 4 online all as authentic as possible to the original experience (no stupid looking HD sprite redraws etc...) do not buy it if you intend to play it on a joycon!!! you will not have fun!

some of these reviews are either naive or just ridiculous! no SF or other fast paced fighting game is playable online without a) an arcade stick/good controller with a decent dpad (think wiiu, xbox one, 8bitdo, snes controllers/dpads) & b) a wired high speed, low ping internet connection, you cant blame the game/developers for the lag over wifi or need for low latency online connections, so ideally youre going to want both the above things to play this in its optimal state.. the same as ANY street fighter or fast paced fighter on any platform...

…

Expand

Finally got to spend some time with the game, I can confirm how it is a fantastic way to play the SF Alpha and SF3 games, which is great

Finally got to spend some time with the game, I can confirm how it is a fantastic way to play the SF Alpha and SF3 games, which is great because those are easily my favorite Street Fighter games and the main reason I bought this collection. The various versions they got of SF2 are faithful to the arcade, but they are nowhere near as good to play as Ultra SF2 (which is a separate game released around the time the Switch launched). The problem I have with them is how even on the easiest difficulty the computer seems to be very difficult, especially with Super SF2 Turbo which seems to be on some sort of insanity setting. The original game isn't great but it is nice how they included it. Overall if I want to play SF2 I am going to stick to Ultra, the pre-Alpha games in this collection feel like they are just there for nostalgic purposes.

Luckily SF Alphas and SF3 feel a lot more balanced... well until you face Gill the unbeatable boss in SF3 that is. I think Alpha 3 is probably the best game for trying to beat the arcade mode with. You can adjust the difficulty however you like and turbo speed for the games that support it before you start the games, and after you start a game you have a range of ways to customize the visuals. They did a good job of letting you setup the games how you like.

The SF3 series is definitely my favorite though. The first SF3 has the best backgrounds of any Street Fighter game IMO, they are all beautifully detailed with a lot of animation and they change with every round. SF3 2'nd impact is probably my all time favorite Street Fighter game, it has the best music and sound out of all of them IMO and the backgrounds look really nice and some also change with the rounds, the fact that it has a lot more characters than the first SF3 gives it some more variety and there are notable additions to the gameplay. SF3 3'rd Strike is the favorite of competitive players, and probably the best game to play online. It has even more characters and even more improvements to the gameplay. I just didn't like the music nearly as much as the first two SF3 games is all, and it feels like it has the worst backgrounds out of all the SF3 games. Still a beautifully made game, just not quite as pleasing to listen to and look at as the earlier games in the series.

Overall you can't go wrong with this collection if you have any interest in Street Fighter.

…

Expand

Bare bones arcade ports with input lag issues and poorly implemented practice mode.

9.9/10 online matches are unplayable because of lag. That's not an exaggeration either.

Online is unplayable because of the worst lag I have ever experienced in a game. It wouldn't be too bad if the offline was fun but it isn't.

Online is unplayable because of the worst lag I have ever experienced in a game. It wouldn't be too bad if the offline was fun but it isn't. The games are straight arcade ports and using the joycons just isn't playable, basic kicks and punches work but special moves are really difficult to pull off because the joycons just aren't made for this type of game meaning you can get to the third or fourth match but progressing further is not going to happen because the level of control is just not there. So annoyed I wasted my money, hopefully I can recoup most of it trading it in whilst it is still new.

…

Expand