Publisher:

Nintendo

Release Date:

Nov 16, 2018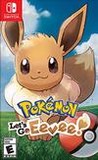 Summary:

Catch Pokémon Like Never Before. The Poké Ball Plus is a Poké Ball-shaped device that can be used to play Pokémon: Let's Go, Pikachu! and Pokémon: Let's Go, Eevee! in place of your Joy-Con. You'll be able to throw Poké Balls in-game with a flick of your wrist! In addition to motion controls,

Catch Pokémon Like Never Before. The Poké Ball Plus is a Poké Ball-shaped device that can be used to play Pokémon: Let's Go, Pikachu! and Pokémon: Let's Go, Eevee! in place of your Joy-Con. You'll be able to throw Poké Balls in-game with a flick of your wrist! In addition to motion controls, the device lights up with a variety of colors, vibrates, and plays sounds. With the Poké Ball Plus, you can also take one of your favorite Pokémon from these games for a stroll as you go about your daily life in the real world. The Poké Ball Plus even works as a Pokémon GO Plus when playing Pokémon GO.

Pikachu or Eevee:
Which Will You Choose?

Pokémon: Let's Go, Pikachu! and Pokémon: Let's Go, Eevee! bring the experience of a classic Pokémon RPG to Nintendo Switch with gameplay that is easily approachable for newcomers to the series, but is also deep enough to keep veteran Trainers on their toes.

The games also have two-player simultaneous play, so you can take the journey with a friend! And there's a deep connection between Pokémon: Let's Go, Pikachu! and Pokémon: Let's Go, Eevee! and Pokémon GO, so fans of the hit mobile game will find even more to enjoy.

…

Expand
Developer:

Game Freak

Genre(s):

Action RPG

,

Role-Playing

,

Trainer

# of players:

Online Multiplayer

Cheats:

On GameFAQs

Rating:

E
Please enter your birth date to watch this video:
You are not allowed to view this material at this time.
Pokemon Let's Go, Pikachu! And Let's Go, Eevee! - Gym Leaders, Elite Four And Familiar Faces Official Trailer
Whether it's your Pokémon entry point or you're returning to Kanto yet again, Pokémon Let's Go is for everyone. The lame motion controls aside, this is adventure perfection, not once feeling jaded after dozens of hours' play.

Nintendo and Game Freak have managed something quite special with Pokémon: Let's Go. It's a game that is so clean and streamlined that it is a near-perfect entry-level Pokémon experience for people new to the series. At the same time, it so perfectly taps into nostalgia that the oldest of old fans - people who really should have moved on, but can't because Pokémon is so damn charming - can find new ways to appreciate their hobby all over again.

Gamefreak managed to enhance the nostalgia of past games with creative improvements. Regardless if you are a veteran or a beginner, there are loads of incentives to catch em all.

Pokemon: Let's Go, Eevee! is a simple game with a deep combat system which everyone can enjoy.

Pokémon: Let's Go is definitely something fans of Pokémon will have fun with and will also be familiar to newer players who have enjoyed Pokémon GO. However, don't be fooled by the sweet looking presentation, as there is a solid challenge to be had here.

Pokémon: Let's Go, Pikachu! and Let's Go, Eevee! does introduce several good new features, but it fails to address some long-running issues. Though it's nice to see Kanto brought to life again in this fashion, especially with some really nice new arrangements for the classic soundtrack, the game relies too heavily on nostalgia. It succeeds in making Pokémon more accessible than ever, but aside from the shift away from random encounters, it doesn't take enough risks. This is a good entry point for newcomers to the series, but it ultimately leaves veterans yearning for more.

While it's nearly impossible to hate a Pokémon game, Let's Go Eevee doesn't rank with the greats. Rather than forging a new path in the current generation, this quasi-remake relies too heavily on the weak gameplay of the mobile hit and lacks both the strategy and motivation to succeed. Eevee is cute and innocent, but this particular entry has not reached its fully-evolved form.
The game is amazing and wonderful. I bought both versions. To see the whole ecosystem in votla of the jgoador, to experience the incredible

The game is amazing and wonderful. I bought both versions. To see the whole ecosystem in votla of the jgoador, to experience the incredible graphs, to fly with my pokémons by the map, to experience kanto on this new graph. And catching pokémons with pokéballs is fun. I hated to have to use Repel straight to pass in caves, for example, avoiding hordes of zubat and battling wild pokémons gave almost nothing of experience, besides being annoying and when it needed to complete the pokédex, the Pokémon gave a critic, precisely in a rare pokémon, after several hours in a same map, turning, supporting the hundreds of times of that same pokémon jumping in front of him. I bought the two versions and the pokéball plus. I just loved it.

…

Expand

Beautiful, marvellous and nostalgic. I´m very happy and proudly with Game Freak and The Pokemon Company. All days I go out my home and catch

Beautiful, marvellous and nostalgic. I´m very happy and proudly with Game Freak and The Pokemon Company. All days I go out my home and catch pokemon on GO and then ,in my home,transfer my new pokemon to switch. Its so perfect.And the new level up mechanic catching is more logic (not to kill every wild pokemon).I love shiny hunting and the chain to find good ivs.

Lovers of Pokehex cry :3

…

Expand

A faithful retelling of Yellow, with plenty of extra content. The lack of random encounters and battling wild pokémon is jarring for some,

A faithful retelling of Yellow, with plenty of extra content. The lack of random encounters and battling wild pokémon is jarring for some, but for myself others it is a nice change. No endless Zubats in Mt. Moon, plenty of trainers to battle for experience (as well as getting experience for catching pokémon), and accurate sizes for all pokémon in and out of battle. As a long time fan of the games, I do not see the reason for hate. Next year we will get Generation VIII games, and hopefully that will silence some of the naysayers.

…

Expand

It is a good game, it looks very nice and original, while the 2019 game will be easier to wait. Every new trailer and gameplay give me more

It is a good game, it looks very nice and original, while the 2019 game will be easier to wait. Every new trailer and gameplay give me more desire to have it

…

Expand

Obnoxiously easy. Not really meant for the nostalgic audience. This game was made for toddlers and loses all the challenge and excitement from

Obnoxiously easy. Not really meant for the nostalgic audience. This game was made for toddlers and loses all the challenge and excitement from the original games. I just want to battle Pokemon, not feed them berries. I beat the first gym using 1 Pokemon (Butterfree...Butterfree really????). I do not care about online Nintendo and I will not pay to play. How do you go from Breath of the Wild and Mario Odyssey to this?

…

Expand

Nice graphics and music is all good one can say about this game. Everything else is just a big let down. The worst is the menue system where

Nice graphics and music is all good one can say about this game. Everything else is just a big let down. The worst is the menue system where you have to click up to 16 times to reach specific functions. Next comes the difficulty that is not existant except for a few unfair battles where I even encountered a trainer that had a Pokemon that was not legitimate (a level 26 Diglett that knows the move Fissure)! Why is there still no options to setup the difficulty as I like it? They could for example have listened to the Pokemon fanbase and build in options for Nuzlock runs where one even could configure the details of it. Instead we get a boiled down version that is even more basic than the original Pokemon Yellow. This was a waste of money.

…

Expand

Ok, first off does anybody even new to the series actually think abilities and items are overwhelming for new players? A simple concept of

Ok, first off does anybody even new to the series actually think abilities and items are overwhelming for new players? A simple concept of innate passives and equippable items present in most rpgs, something as basilar as that is somehow hard for people to grasp? When it worked just fine for over 20 years without seeing kids gouging their eyes out at how difficult the mechanics of baby's first jrpg are? Gamefreak apparently thinks they do. Terribly out of touch and having a track record for not listening to players and removing the features they like this time they're insulting the intelligence of kids and go players alike. Masuda is a delirious hack and should resign, I'm a passionate competitive player and I fear and I quote ''let's go will become the pillar of the franchise for the next 20 years''. that would ruin the competitive scene completely, please sends a message to gamefreak to remind them not only this is unneeded but there's a noticeable competitive fanbase that loves the game as it is.

…

Expand