Publisher:

Nintendo

Release Date:

Jan 11, 2019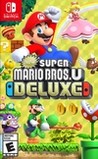 Summary:

Join Mario, Luigi, and pals for single-player or multiplayer fun anytime, anywhere. Take on two family-friendly, side-scrolling adventures with up to three friends* as you try to save the Mushroom Kingdom. Includes the New Super Mario Bros. U and harder, faster New Super Luigi U games—both

Join Mario, Luigi, and pals for single-player or multiplayer fun anytime, anywhere. Take on two family-friendly, side-scrolling adventures with up to three friends* as you try to save the Mushroom Kingdom. Includes the New Super Mario Bros. U and harder, faster New Super Luigi U games—both of which include Nabbit and Toadette as playable characters. Two games in one. Simple, straightforward controls, new playable characters optimized for younger and less-experienced players, and a wealth of bonus content—like a Hints gallery and helpful reference videos**—make this a perfect choice for anyone looking to introduce their family to the wonderful world of Mario. All a player needs is one Joy-Con controller, so two people can team up right out of the box! Tackle 164 platforming courses in the two main game modes and enjoy extra replayability with three additional game modes in which you can also play as a Mii character: Challenges, Boost Rush, and Coin Battle.

…

Expand
Developer:

Nintendo

Genre(s):

Action

,

Platformer

,

2D

# of players:

No Online Multiplayer

Cheats:

On GameFAQs

Rating:

E
Please enter your birth date to watch this video:
You are not allowed to view this material at this time.
New Super Mario Bros. U Deluxe - Official Announcement Trailer | Nintendo Switch
New Super Mario Bros. U Deluxe is a perfect addition to the Switch's ever-=growing library of excellent games. A huge amount of content, coupled with perfectly executed tight controls makes this entry a must play for any and all fans of the genre.

One of the best Wii U games gets a wonderful Switch remaster that brings to life its multiplayer mayhem better than ever before.

If you've played the game on the Wii U to completion, then I'd recommend passing on this one as there is little new here outside of a stable framerate, Toadette, and the highly overrated HD rumble. But if you skipped the Wii U and loved Super Mario Bros. 3, then this is a must play. It's challenging (there's even a challenge mode for the True Gamers(tm)), it controls great, and it pays homage while still managing to expand on the series gameplay with a few clever new gimmicks, like baby Yoshi abilities.

The package is totally fine, and outside of Peachette leading to one of the most disturbing memes in recent Nintendo memory, the new character's addition is welcome. Aside from that, the only benefits of this release is that it can be truly played portably and it's on a console a lot more people own.

If you missed out on the duo of New Super Mario Bros. U or it's Luigi-focused expansion then this Switch package is a great way to catch up on the plumbers' 2D exploits. Much like the Switch versions of Donkey Kong Country: Tropical Freeze and Captain Toad: Treasure Tracker before it though, its lack of exciting fresh content is disappointing.

A broadly approachable and feature-rich platforming game. Toadette is a welcome addition to the roster for those after a more forgiving way to tackle some of the more challenging levels, and the inclusion of the New Super Luigi U mode extends its lifespan substantially. While there are a number of other Nintendo Switch games within the genre that outdo New Super Mario Bros. U Deluxe in various different ways, it nonetheless remains a highly enjoyable platforming package as a whole.

The further you delve into New Super Mario Bros U, the more rewarding it becomes. Its final worlds hold some of its best levels, and there are plenty of fun secrets to enliven the second or third attempt at a level. But it's hard to summon the motivation to devote that much time to it. It's typically well-made and enjoyable, but next to the best of the Mario series, it's unmemorable.
Un port Precioso, si NO te lo pillaste para la wii u esta vercion switch tienes que tenerla, si lo jugaste en wii u la misma switch te ofrece

Un port Precioso, si NO te lo pillaste para la wii u esta vercion switch tienes que tenerla, si lo jugaste en wii u la misma switch te ofrece la opción portable que le agrega mucho esta vercion.

…

Expand

Ignore the "bad ratings". People are just complaining to complain.

The game is perfectly fine, great side scroller and amazingly fun withIgnore the "bad ratings". People are just complaining to complain.

The game is perfectly fine, great side scroller and amazingly fun with Couch Co-Op up to 4 people.

…

Expand

It's a wonderful option if you didn't play this game before. Great platformer, lots of secrets, different environments, great for multiplayer

It's a wonderful option if you didn't play this game before. Great platformer, lots of secrets, different environments, great for multiplayer because it's really fun.

…

Expand

New Super Mario Bros. U Deluxe is a quite decent game with a good amount of levels (more than 160) that have good designs, and a lot of

New Super Mario Bros. U Deluxe is a quite decent game with a good amount of levels (more than 160) that have good designs, and a lot of secrets to be found. However, it's a port of a game that didn't innovate much when it was released in Wii U a few years ago, and it doesn't include enough changes to deserve the name "Deluxe". The best thing about the game is that it includes the levels from New Super Luigi U, which is an amazing game, quite challenging and with very fast-paced and well-made levels. But again, you could already get the Wii U version with it, and at a much lower price.

Still, it's a good platform experience in a portable console; and quite recommended for those that didn't own a Wii U.

…

Expand

NSMB U Deluxe is a soulless rehash of an already underwhelming game. Also, what happened to Boost Rush mode? Also, why is the air spin the

NSMB U Deluxe is a soulless rehash of an already underwhelming game. Also, what happened to Boost Rush mode? Also, why is the air spin the same button as the jump? Also, why can't you port the data from the Wii U version if you already owned it? This means I have to pay $60 for basically the same game. Also, Peachette? Seriously Nintendo?

…

Expand

New Super Mario Bros. U Deluxe ist ein Port über den sich nicht Wii U Besitzer erfreuen werden , anderen die das Original besitzen würde ich

New Super Mario Bros. U Deluxe ist ein Port über den sich nicht Wii U Besitzer erfreuen werden , anderen die das Original besitzen würde ich empfehlen den Port zu vermeiden. Als Port gesehen gibt es nicht viele Neuerung , was ich komisch finde da andere Deluxe-Ports deutlich mehr zu bieten hatten als das Wii U Original. Außer Peachette (Blöder Name) den Neuen Charakter hat der Port nicht viel neues zu bieten , sei es in der Grafik oder des Inhalt. Für 30 Euro würde ich auch Wii U Besitzern diesen Port Empfehlen , für 60 würde ich aber raten sich eines Neues Switch Spiel zukaufen. Fazit: Gutes Game an sich , aber Schlechter Preis für zu wenig Neues.

…

Expand

Another awful Nintendo game! Seems to be a trend for the past 15 years for Nintendone