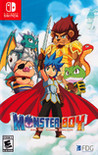 Summary:

A legendary game series returns with an all-new adventure and in HD/ Monster Boy is a colorful side-scrolling action adventure created in cooperation with Ryuichi Nishizawa, the creator of the famous Wonder Boy in Monster World series.

Monster Boy is being created to bring back theA legendary game series returns with an all-new adventure and in HD/ Monster Boy is a colorful side-scrolling action adventure created in cooperation with Ryuichi Nishizawa, the creator of the famous Wonder Boy in Monster World series.

Monster Boy is being created to bring back the enjoyment of the classic games that shine by simplicity. Exciting gameplay, upbeat music and smooth graphics. You'll need to overcome huge bosses, find hidden passages, discover powerful equipment and use all your wits and skills to remove a powerful curse.

Transform into 6 different creatures, each with their own skills and abilities. Take advantage of all the unique powers to open new paths and advance in an epic story.

We put all our passion into Monster Boy to create a truly enjoyable love letter to gaming from the 80's and 90's - will you join us and celebrate together with us?

Features:

* Switch between up to 6 playable characters: Each character feels different and all of them keep the gameplay fresh and exciting.
* Unlock new paths and secrets with special equipment: Look for magic weapons and equipment that gradually open up the world.
* Over 15 hours of epic adventure: Explore the new 'Monster World' in a huge interconnected environment.
* Soundtrack from Japanese superstar composers: Yuzo Koshiro, Motoi Sakuraba, Michiru Yamane, Keiki Kobayashi and Takeshi Yanagawa
* Full HD graphics at 60 frames per second: The game supports 1080p/60fps (docked) and 720p/60fps (portable mode)
* HD Rumble support: Feel the action with high performance HD Rumble support

…

Expand
Developer:

FDG Entertainment

Genre(s):

Action Adventure

,

General

# of players:

No Online Multiplayer

Cheats:

On GameFAQs

Rating:

E10+
Please enter your birth date to watch this video:
You are not allowed to view this material at this time.
Monster Boy and the Cursed Kingdom - Official Trailer | E3 2018
So overall Monster Boy and the Cursed Kingdom is a retro inspired platformer and shows the genre at its finest. Not to mention it feels right at home on the Switch despite being a multiplatform release. If you've never played a Monster Boy game but have been looking for anything to scratch that Metroid or Castlevania itch then this is for you. And if you're a Monster Boy fan wondering if this installment is any good then you should probably already own it. But if you don't then take it from me you won't regret your time with Cursed Kingdom.

Monster Boy and the Cursed Kingdom is more than a simple tribute: it's a full fledged adventure well worth its price.



If you're a fan of platformers, adventure games or Metroidvania style games, then this will be a great title for you. With a lengthy playtime, plenty of variety in its gameplay and has so much about it to enjoy, it is a title that does very little wrong and outdoes the game that it set out to emulate. It wasn't on my radar in the build-up to release, but I love it now. It comes highly recommended.

A great neo-retro game that manages to be fresh and a perfect homage to some old classic like Wonder Boy.

The beautiful platform exploration of Wonder Boy transcends into the present with Wonder Boy adding clever puzzle elements.

Monster Boy and the Cursed Kingdom is a shiny and colorful metroidvania that offers great gameplay with equipment swap and animal transformations that changes the gameplay possibilities.

It's a beautiful throwback adventure that is, overall, quite enjoyable once it picks up steam, but its problems are hard to ignore. Simply put, the janky hit detection from decades-old games is a flaw that breaks up the flow of otherwise smooth controls, forcing the player to spend their first few hours with the least enjoyable transformations, leaving a poor first impression.
A superb Metroidvania style platformer and an absolute blast for fans of Wonderboy. This was a long time coming. The devs knocked this one out

A superb Metroidvania style platformer and an absolute blast for fans of Wonderboy. This was a long time coming. The devs knocked this one out of the park!

…

Expand

A true revival of a platforming legend, Monster Boy does for the Wonder Boy saga what Sonic Mania did for Sonic, but to a much greater and

A true revival of a platforming legend, Monster Boy does for the Wonder Boy saga what Sonic Mania did for Sonic, but to a much greater and deeper extent. Rendered in amazing, 1080p hand-drawn, perfectly animated visuals and with a memorable, if upbeat and perhaps too modern soundtrack, this game does not only get a technical update, but a much deeper gameplay update where gameplay is now less about repeated fighting against the same kinds of enemies in the same situations, but a combination of simpler and more complex puzzles requiring strategy, precision, speed and, most often, careful exploitation of different character traits and perks. On top of this, the game is huge, accounting for about 6 times the size of the MegaDrive games, and has more secrets and collectibles than ever.

Wonder Boy has grown up, and it did so masterfully at the hands of people that very clearly played and loved the original games. You can tell the amount of love this team put into this project, which is clearly an "I want to create the perfect game"-type project, not a "let's sell another hedgehog thing to random kids; add swords, whatever, just get it done, it will sell anyways"-type business. There's no shortage of fan service and references to the previous games too!

…

Expand

The game provides an excellent challenge and while it is fun, it gives to the players some hard times, but never frustrating. It makes the

The game provides an excellent challenge and while it is fun, it gives to the players some hard times, but never frustrating. It makes the game feel more substantial and provides a feeling of accomplishment. The form swapping complaints come from people who do not know that you can toggle settings to become able to change forms on the fly, without having to pause every single time. One thing that I really liked was the innovative and fresh, yet still wonderboy escue level design. I cannot see how the reviewer thinks that the level design is "BAD". The work and devotion to perfection are evident. Being a wonderboy fan I would give a 9.5 out of 10. As an unbiased reviewer, who has never played/heard the old games my scores would be: Graphics: 9.8 out of 10, Music/Sounds: 9.3 out of 10, Controls: 9 out of 10, Level Design: 8.8 out of 10, Pace/Addiction: 9 out of 10, VERDICT: 9 OUT OF 10

…

Expand

Jogo incrível!

Mapa bem grande com uma excelente variedade, inclusive de inimigos! Dificuldade elevada... Não é qualquer "gamer" que iráJogo incrível!

Mapa bem grande com uma excelente variedade, inclusive de inimigos!

Dificuldade elevada... Não é qualquer "gamer" que irá conseguir zerar.

Gráficos 2D bem bonitos!

A cada novo personagem desbloqueado é quase como se um novo jogo estivesse surgindo! Ou seja, você não vai enjoar tão cedo!

Trilha sonora incrível, sem palavras!

Acredito que o único ponto negativo do jogo é que quantidade de horas para zerar passou um pouco do ponto... Perto do final você se sente meio "cansado"... Se o jogo tivesse umas 5h a menos, seria perfeito...

De qualquer forma, é um dos melhores jogos da biblioteca do Switch!

Com certeza vale a pena jogar! A diversão é garantida!

…

Expand

This review contains spoilers

, click expand to view

. I would say its a great platforming game. 100% a must own.

The positives

+ Nice characters design
+Nice environment design.
+ Challenging in some places
+ Lots of puzzles
+ nice map to ensure you can collect most of the collectibles
+ Good length took around 40 hours to complete by going for 100%..
+ good level design.
+ Opening and closing sound track.

Negatives

Races with certain non player character (annoying for people with disabilities cause reaction time it slightly slower reaction times.
Skeleton annoying you at end of trial by stunning you. When collecting relics.
Ice armor is for the most part more useful than gold armor (the best armor in game).
Not enough anime cut scenes (1 at start one at end).
40 minutes of farming gold coins required at castle entrance and hurting penguins.
No fighting mystic cat.

…

Expand

I wanted to love this game more than I did. I still had a good time with it but I can't say it's a must-play. I keep seeing people call this a

I wanted to love this game more than I did. I still had a good time with it but I can't say it's a must-play. I keep seeing people call this a MetroidVania and I don't think that's quite right... The structure is actually much closer to a Zelda game than a MetroidVania. There's a village in the middle of the map and you venture out in different directions to tackle a long list of self-contained dungeons. You constantly acquire new gear and monster-transformations that allow you to traverse new areas and solve more puzzles. There are secrets everywhere and the main quest could take you upwards of 20 hours to finish. That somewhat makes up for the 40 dollar price tag but compared to some indie games, Monster Boy falls short. Blossom Tales is a better Zelda clone, with a grander sense of adventure and Hollow Knight is a far better MetroidVania with better combat and infinitely superior level design and both games are much cheaper than Monster Boy. It delivers some good puzzles and platforming but the linearity and weak combat dragged it down for me.

One major flaw that almost ruined the game for me is the health system. It is just impossible to get your health back. Enemies will drop health occasionally but it's nowhere near enough to compensate for the damage they'll do to you. The platforming and puzzles can also drain your health in a hurry. You can buy and upgrade shields and armor but it never seemed to make much of a difference. By my count, there are 3 ways around the health system. You can go back to a store to purchase a health potion, which is often very out of your way and will waste a lot of time. However, you actually keep all of your progress when you die so you can usually just brute force it until you win (frustrating), or kill yourself after using your potion to get it back (tedious and immersion-breaking). All 3 of these strategies are a pain in the butt and easily could have been remedied by enemies simply dropping more health. I'm all for challenge, I already recommended you play Hollow Knight instead of this game. The important difference is that this game's challenge comes from tedium. Another user review mentioned the Volcano dungeon and this was the exact moment where the game fell apart for me too, almost entirely because of the health system.

I know it seems ridiculous for me to spend half my review talking about health but it really turned the game into a slog in the second half and made me question how good the first half had actually been. It never stops your progress outright but it's always a lingering annoyance. Monster Boy is a Nintendo-style side-scrolling adventure that has a lot going for it but can never quite reach the heights of the big N.

…

Expand

I have fond memories of playing the game on Master System with my brother, and I enjoyed the remake a lot, so I had high hopes for this. And

I have fond memories of playing the game on Master System with my brother, and I enjoyed the remake a lot, so I had high hopes for this. And in regards to animation and artwork, the game delivers - it looks gorgeous. But the game mechanics are so bad, I dropped it after few hours.
Many of its flaws seem like botched features from the original. For example, in the original, enemies sometimes reappeared from outside the screen - here, they just pop up out of thin air, right next to you. Or the "puzzles", where it pretty much tells you which form you need to change to next: In the original, you could instantly change form only towards the end of the game, which allowed you to explore freely. Here, it is a core mechanic of the game, and half of your time is spent switching to the next form in a sequence the game shows you - become snake to enter hole, become frog to leap upwards, become snake again to exit through hole. Since it takes a bit of time to change form (there even is a noticeable lag when you change using the menu), it is just tedious.
Overall it feels like the game does not rely on skill, but on patience. You fail a lot of challenges because you grew impatient at the third or fourth repetition, and the game punishes you by setting you back to zero. It is mind-numbing.
Ultimately, I wonder who this game is for. It is too hard for children, but too linear and simplistic for adults. I wanted to like this, but I thoroughly didn't.

…

Expand