Publisher:

Nintendo

Release Date:

Jun 22, 2018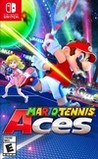 Summary:

A new Mario Tennis game is bringing a new level of skill and competition to Nintendo Switch. Mario steps onto the court in classy tennis garb for intense rallies against a variety of characters in full-blown tennis battles. New wrinkles in tennis gameplay will challenge your ability to read

A new Mario Tennis game is bringing a new level of skill and competition to Nintendo Switch. Mario steps onto the court in classy tennis garb for intense rallies against a variety of characters in full-blown tennis battles. New wrinkles in tennis gameplay will challenge your ability to read an opponent's position and stroke to determine which shot will give you the advantage. And this time the game adds the first story mode since the Mario Tennis game on Game Boy Advance, offering a new flavor of tennis gameplay, with a variety of missions, boss battles and more.

…

Expand
Developer:

Camelot Software Planning

Genre(s):

Sports

,

Individual

,

Tennis

# of players:

Up to 4

Cheats:

On GameFAQs

Rating:

E
Please enter your birth date to watch this video:
You are not allowed to view this material at this time.
Mario Tennis Aces Story Mode Gameplay Features Unique Challenges
Without any doubt, this is one of the best installments if the Mario Tennis series. Not only for the number of game modes it offers, but because of its addictive gameplay. Mario Tennis Aces is a must-buy for Nintendo Switch owners.

A great return for one of the most beloved sports franchises. Mario Tennis Aces has a great single player mode and a functional online multiplayer mode.

Mario Tennis Aces gives the arcade tennis series a massive injection of depth, turning this family friendly sports title into a tactical, fast-paced chess game that is a thrill to play against other people. Its depth is well explained in a limited story mode that has some interesting ideas, but it's a tougher sell if you're not looking to lose yourself in hours and hours of online play.

Having the ability to change from a split screen to a shared screen in single-console multiplayer would have been nice too. Other than that, Mario Tennis Aces looks and sounds great, and is something any Mario Tennis fan will enjoy.

As long as the online keeps running well, Mario Tennis Aces will be worth revisiting. I still have my concerns of the new mechanics being a little too focused on the ability to block, but Mario's grand sports return has more than enough good in it to make up for smaller miscues like that. This is an encouraging return to form for Camelot.

It speaks volumes that even the multiplayer limitations don't entirely dampen my enthusiasm for Aces. The Tetris Effect is in full swing here; days after the credits rolled, I still crave the satisfying thwack from a Power Shot, mentally replay matches and imagine how I might do things differently given a bit more focus and know-how. Mario Tennis Aces does what this series has done best, and for the most part, improves what it's rarely gotten right prior.

Showing little appreciation for what makes tennis a fascinating sport, Mario Tennis Aces is like a server who can't stop committing double faults.
Mario tennis ACES is one of the best Sports game and party game in NS
Today I get this game and play all the time
Maybe single mode is poor,Mario tennis ACES is one of the best Sports game and party game in NS
Today I get this game and play all the time
Maybe single mode is poor, but online mode and local mode with other people is perfect.
If you can play with your friend or play online competition
Mario tennis ACES very funny and Challenging
My 2 friends buy it after play with me for a while
just like Mario Kart 8,Mario tennis ACES do not need single mode

…

Expand

I think the game isn't getting enough credit. People are making it seem wayyy worse than it actually is, let's not forget COD is coming out

I think the game isn't getting enough credit. People are making it seem wayyy worse than it actually is, let's not forget COD is coming out without a story mode. People who played previous Mario tennis games seem a lil over entitled. The gameplay is amazing, I mean Nintendo's addition of trick shots and zone shots and zone speeed.... ingenuity at its finest, what sick rallies I've been having online, so what there's a lack of story, and no depiction of a power stone... omg how could they!! /s and the lack of customization, it probably helps load times a lot, which there are basically none of. You can still play the game you want with friends albeit the court chosen is pseudo random.

My complaint is that the lob shot is a little busted. Sometimes it won't charge at all prior to a shot, and sometimes it will charge after the ball has already flown by me. Also the MM thing people are talking about. Ranked MM is always better, yes you have to beat the best to be the best and blah blah, but you should have to go up in the rankings to even get to that point. I thought that was MM 101 at this point but then again it is Nintendo.

My rant is that a 76 on metacritic is not what this game deserves and the lack of good reviews will equate to a lack of sales which will equate to a lack of response from the devs.

The game is amazing!!! Best sports game on switch. Smooth gameplay and insane rallies.

…

Expand

Nintendo has finally acknowledged the many reasons why Mario Tennis: Ultra Smash ended up disappointing to many people alike with Mario Tennis

Nintendo has finally acknowledged the many reasons why Mario Tennis: Ultra Smash ended up disappointing to many people alike with Mario Tennis Aces, a major upgrade from said installment. Mario Tennis Aces actually fixes what is supposed to be more than just Mario and tennis together with all of the features the game includes that are either new or just absent from Mario Tennis: Ultra Smash. I do recommend getting if you're into fun and sports with Mario (specifically tennis and golf to name at least the most occurring sports).

…

Expand

The second to second gameplay of Mario Tennis Aces is terrific - though that doesn't give the game a pass for being not user friendly and at

The second to second gameplay of Mario Tennis Aces is terrific - though that doesn't give the game a pass for being not user friendly and at times convoluted. The shot color system (along with Special, Trick and Zone shots) gives Aces a chess-like strategic edge you'd expect from a fighting game. The campaign is passable and does have the colorful surface polish you'd expect from a game staring Nintendo's mascot, but at times it did feel samey and was a bit short. Needless to say Aces is most enjoyable in Tournament mode.

I'd advise starting the game in Adventure mode to a get a grip on the mechanics. The campaign does an excellent job on teaching the player the ropes. Aces has 5 types of basic shots: Topspin (a fast shot with a high arc), Slice (a slower shot that curves), Flat (a straight, fast shot), Lob (a very high arc, deep-court shot) and Drop shot (a shot that falls near the front of the net). Topspin, Slice, and Flat are color coded red, blue, and purple respectively; the Lob and Drop shot are yellow. Each shot is mapped to a different button and if the button is pressed early, the shot can be charged, which causes the ball to travel much faster (and potentially knock back your opponent). To prevent knock back from a fully charged Topspin, the player can counter with a Slice (and vice versa). The color coding of each shot allows simplicity in determining how to counter. The player could also counter any basic shot with a Trick shot ( a flashy movement maneuver that quickly transports the player to the ball), but beware, if not timed properly Trick shots eat up your energy gauge (essentially a magic meter, replenished by performing basic shots). Charging shots and perfectly timed Trick shots replenish your energy gauge quicker than basic shots. Energy is utilized through Zone and Special shots, as well as the defensive maneuver Zone Speed.

If you thought the shot counter system made things a bit strategic, Zone and Special shots really mix the gameplay up. When an uncharged shot is heading to your side of the court, a star will sometimes appear showing where the shot will land. The player has the option to stand in the star and fire back with a quick Star shot (faster, enhanced version of a shot that doesn't require charging) or perform a Zone shot. When performing a Zone shot, time is slowed and the player has the ability to aim (with gyro controls, if preferred) a powerful shot where ever they choose on their opponent's side of the court. To block these shots, the player must utilize Zone Speed (an ability that slows time and drains your energy). While time is slowed during Zone Speed, the player must get to the ball and perfectly time their button press to block the shot. If not timed properly, the defenders racket takes damage. Special shots are essentially the same as Zone shots but they come with a neat startup animation unique to each character, don't require the star, and when they are not blocked properly they will shatter a racket. Utilizing energy is where the game really starts to become strategic and satisfying,
Proper energy management (while simultaneously gimping your opponents energy by forcing them into Zone Speed and Trick shots) is the key to consistent wins. This entire gameplay system is innovative and bold, i applaud Camelot for taking Mario Tennis to this level.

I know the mechanics all sound a bit complicated, but the campaign does act as an excellent pair of training wheels. As for story, its basic and silly but that's understandable considering this is a game where dragon turtle kings and tie-wearing apes duke it out on the tennis court. The campaign quickly got boring after i realized there was around 3 basic challenges the player had to repeat, each time with a new coat of paint. Some of the courts and bosses mix it up very slightly, but not enough to hold the attention of someone looking for an evolving, fresh gameplay experience. That being said each new coat of paint was a bit of a delight to look at. One thing i did find frustrating in Adventure mode was the inability to reset challenges from the pause menu, which often led to me just putting the controller down after an early botch.

The cast is fun and diverse and comes in 6 flavors (All-around, Powerful, Defensive, Technical, Tricky, and Speedy). At first you may wonder why anyone would choose an All-Around character (like Luigi or Daisy) when rather they could gimmick and cheese it up as the Defensive Bowser Jr. You will realize though that character choice doesn't matter as much as the players skill; I've seen characters from each class tear it up in tournament mode.

The most frustrating issues in Aces is the complication and unfriendliness of the Versus mode's menu and options. For example, stages cannot be directly chosen; rather they are cycled and can be toggled on or off.

While a bit bare-bones, Mario Tennis: Ace's mechanics is the saving grace of this experience.

…

Expand

Typical Metacritic, people giving this game 10's and 0's, none of which are even close to being accurate. Here is a short to the point review

Typical Metacritic, people giving this game 10's and 0's, none of which are even close to being accurate. Here is a short to the point review from someone who actually bought the game: This is another release by Nintendo that leaves much to be desired. Has Nintendo completely lost their magic lately? This game is the very basics of Tennis, almost only including what they needed to squeak by. The lack of customization and repetitive game play leave much to be desired on the court. If Nintendo had priced this at 50% of what they are currently asking, it may of been a decision to make, but as it stands, I wish I never purchased this game. Is it the worst game i've played - no, not even close. However it is far from good. From the outside looking in, it would appear that Nintendo is now pushing games out too fast just to say they have a title on the Switch. Shame.

…

Expand

A tennis game with solid gameplay underpinnings, but woefully in need of some QA.

Essentially Mario Tennis Aces can deliver on a fast andA tennis game with solid gameplay underpinnings, but woefully in need of some QA.

Essentially Mario Tennis Aces can deliver on a fast and fun tennis experience, but the lack of QA and time spent on development really shows. There aren't many options for online play, and variety is sorely lacking. Additionally, some characters are incredibly underpowered, and others are extremely overpowered in their capabilities, to the point where you can almost never win against them.

Additionally, the story mode has almost no difficulty curve -- it's either super easy, or stupid kinds of hard, with very little in between. And what little there is of a "story" couldn't be a bigger MacGuffin quest if you tried.

In the online competitive formats, there are several glaring issues on top of how powerful the characters are. The "physics" (if you can even come close to calling it that) don't make a whole lot of sense -- A "lob" shot can fly higher and land sooner than a flat, depending on how the ball is hit. Additionally, some of the mechanics are very easy to abuse, with many players electing to use levitating characters and constantly using max-charge lob shots that are very difficult to stop. The matchmaking system is pretty bad, and doesn't afford you the option to exclude certain characters that are overpowered.

The free play mode offers a wide variety of maps and playstyles, but unfortunately also suffers in the QA department. Simply put, the menus are annoying and difficult to navigate and use, and sometimes your options are severely lacking. The online freeplay serves almost no purpose, as it was not integrated into the other online format. Finding a match is completely random, and skill levels will be completely random.

That said, the gameplay can be fun and get your heart racing, especially when a rally can get quite intense. Sometimes it feels like the controllers have a mind of their own, but overall the core gameplay is good.

…

Expand

Definitely not worth the money, extremely disappointed. Adventure mode sucks. The AI is not well balanced at all. Expert is way too easy, Pro

Definitely not worth the money, extremely disappointed. Adventure mode sucks. The AI is not well balanced at all. Expert is way too easy, Pro mode is way too hard. The settings for free play are very limited. If it had cost less money I would let it slide, but for 60 dollars? You're getting ripped off.

…

Expand