Publisher:

Nintendo

Release Date:

Mar 16, 2018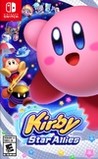 Summary:

The pink puff is backin HDand he's not alone. Kirby is backand he's finally on the Nintendo Switch console in HD. But this time, he's not alone. Recruit enemies by hitting them with hearts and gather helpers for a party of up to four characters. On top of that, you can join with up to three

The pink puff is backin HDand he's not alone. Kirby is backand he's finally on the Nintendo Switch console in HD. But this time, he's not alone. Recruit enemies by hitting them with hearts and gather helpers for a party of up to four characters. On top of that, you can join with up to three friends for a different kind of team-up action. Recruit up to three enemies as helpers by hitting them with hearts. Returning copy abilities include, Sword, Fire, Water, Bomb, Broom and many more. Imbue copy abilities with different elements, such as wind, water, fire and electricity, by borrowing or giving them to helpers to add more attack power, unleash powerful attacks, or solve puzzles. Up to 4 players can join in with the horizontal Joy-Con controller configuration, or 8 Joy-Con with 4 Joy-Con Grips.

…

Expand
Developer:

HAL Labs

Genre(s):

Action

,

Platformer

,

2D

# of players:

No Online Multiplayer

Cheats:

On GameFAQs

Rating:

E10+
Please enter your birth date to watch this video:
You are not allowed to view this material at this time.
Kirby Star Allies - Nintendo Direct Trailer
Kirby: Star Allies is an all-together pleasant game. Which is especially needed, both in the Nintendo Switch library and in the current climate of 2018. We need something simple and enjoyable that brings a smile to our faces. We need a game we can play with anyone we know, without worrying about possible barriers. It is a delight, and Switch owners will definitely appreciate adventuring with their buddy again.

Kirby Star Allies provides what was promised: the co-op mode is the main attraction, but it is still a fun game playing on your own. A beautiful game that features very entertaining gameplay and lives up to expectations.

Colorful visuals, a catchy soundtrack, drop-in-drop-out co-op; Kirby Star Allies checks all the boxes, making it a must-have for your next lazy Sunday gaming session.

Games Master UK

Apr 19, 2018

A rare kids' game that lets younger players feel badass, but the post-sugar rush crash is steep. [May 2018, p.70]

Kirby Star Allies is a fun, but short romp that doesn't do much to push the franchise forward.

Kirby's debut on the Switch is a vibrant and fun game that's best played with friends. It's cheerful, colourful and its blend of new and old mechanics works, but it's missing the inventive spark that separates good Kirby games from great ones.

Kirby's games never seem fair on the enemies but this tiresome and poorly balanced co-op platformer offers little chance of fun for them or you.
One of the best Kirby experiences out there and a must have for any Nintendo Fan.

This game is a 10/10, so much fun to play with anybody. Whoever is giving this game these abysmal scores is missing the entire point

Any true Kirby fan would find fun in this game. It has a lot of fan service and Memorable characters. People seem to forget the Kirby series

Any true Kirby fan would find fun in this game. It has a lot of fan service and Memorable characters. People seem to forget the Kirby series was designed for someone not experienced with games to be able and pick up and play, not hardcore gamers. The friends are cool because you can use them to get access to secret areas and different areas of the stage. I will say the dream friends feel a little useless and you'd only have them because you like that particular character rather than for their abilities. Also bringing back combined abilities from Kirby 64 was a nice touch. Graphically the game is pretty but there's no excuse for the game not to be 60 frames per second. I'm not subtracting my score because it doesn't have too much of an effect on game play and you don't really notice it after a while. I feel more work went into designing the new characters in this game than in other Kirby games. the generals are all unique with different personalities. I can totally get why someone wouldn't like Kirby, It's not for everyone. I will say most of the negative reviews aren't really talking about the game in particular most just say "It's not fun" or "the game is boring and stale". You have the right to your opinion but that's not very informative. Hal lab. is one of the few companies that do care about their fans and show that they do hence all the fan service in star allies. I would like to see a change in the formula too but the current one isn't bad and if they do change it more people would just complain. If it ain't broke don't fix it. I personally love the game and am glad i got it release day. If you are a fan of Kirby and know how to have fun you will enjoy this game.

…

Expand

"Kirby" is one of those Nintendo series' that I really enjoy, but I try not to get extremely hyped up when they announce a new game, because

"Kirby" is one of those Nintendo series' that I really enjoy, but I try not to get extremely hyped up when they announce a new game, because the Kirby games are never meant to be Game of the Year contenders. Just some decent, fun little platformers that you can get through quickly between some of the beefier games you may be putting more time into. "Kirby Star Allies," however, was a game I was heavily anticipating: after being burned by the less-than-stellar "Kirby and the Rainbow Curse" on the Wii U, it was nice to see a "Kirby" game that brought things back to the traditional platformer roots. And sure enough, "Kirby Star Allies" does all that and more.
From the jump, "Kirby Star Allies" is an absolutely gorgeous game. It's just brimming with color, and the game itself is just so filled with eye-candy that even someone that's cynical to stuff like this can't help but appreciate it. The game also feels incredibly faithful to some of Kirby's best adventures, and there's so much fanservice thrown in that the game as a whole just feels like a love-letter to the best games in the franchise. There's also plenty of stuff that keeps the gameplay fresh and exciting, and the 4-player co-op mechanic adds a nice touch of strategy to the game (while, again, feeling like a callback to "Kirby 64" with the combination of abilities).
Of course, the game is not immaculate: it's extremely short, and even longtime "Kirby" fans like myself will yearn for something with a bit more depth to it. On top of that, the game itself is extremely easy, and once again, even longtime "Kirby" fans like myself might yearn for a game that challenges them just a little bit more.
Overall, though, "Kirby Star Allies" is quite possibly one of Kirby's best adventures yet, and it's definitely a worthwhile addition to what's becoming an ever-growing collection of really great Nintendo Switch titles.
Final rating: 8 out of 10 "Great"

…

Expand

It's quite a fun kirby experience and is good for inexperienced people and offers some interesting things to do with the abilities, although

It's quite a fun kirby experience and is good for inexperienced people and offers some interesting things to do with the abilities, although they have been dumbed down since Kirby 64 The Crystal Shards. The gameplay is really easy, but rather enjoyable if you just want to sit down and chill out. Although it is easier than a lot of kirby games, it's still a good amount of fun

…

Expand

Kirby: Star Allies is a cute, well crafted game. It can be played and enjoyed by people of all ages. The graphics are great, and the gameplay

Kirby: Star Allies is a cute, well crafted game. It can be played and enjoyed by people of all ages. The graphics are great, and the gameplay is what you would expect from a Kirby game, and is fun when playing with a friend(s). However, the difficulty is a bit too simplistic. There should be a harder difficulty for people who desire a challenge and replay value. And Nintendo, reduce the price of this game! It should not be 60$ USD. If this game was a little less expensive, I would gladly bump up my score.

…

Expand

The Kirby formula has been tired for years. It's always been far too easy and too short, which can be nice for some but I'd love an option for

The Kirby formula has been tired for years. It's always been far too easy and too short, which can be nice for some but I'd love an option for a higher difficulty. It is also hell expensive. Unless you are 7 years old rich kid, you shouldn't spend $AU 79.95 for this game.

…

Expand