Publisher:

Nintendo

Release Date:

May 18, 2018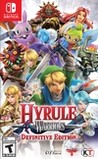 Summary:

A new, ultimate version of the exhilarating action game set in the Zelda universe will include every map and mission, plus all 29 playable characters from both the Wii U and Nintendo 3DS versions of the game, along with all of the previous paid downloadable content. Play as Link, Zelda,

A new, ultimate version of the exhilarating action game set in the Zelda universe will include every map and mission, plus all 29 playable characters from both the Wii U and Nintendo 3DS versions of the game, along with all of the previous paid downloadable content. Play as Link, Zelda, Midna, Skull Kid and dozens more in action-packed battles at home or on the go. Additionally, the game includes new outfits for Link and Zelda based on the Legend of Zelda: Breath of the Wild game.

…

Expand
Developer:

Koei Tecmo Games

Genre(s):

Action

,

Beat-'Em-Up

,

3D

# of players:

No Online Multiplayer

Cheats:

On GameFAQs

Rating:

T
Please enter your birth date to watch this video:
You are not allowed to view this material at this time.
Hyrule Warriors Definitive Edition - Character Trailer (Japanese)
Hyrule Warriors: Definitive Edition is just that, the very best edition of the title that has been released. It offers the most content, and a wonderful quality of life changes that make it easily accessible for new or returning players.

Hyrule Warriors Definitive Edition offers up a lot of content and does a great job of compelling players to unlock more of it. As long as everyone knows what they're getting into though I would definitely recommend this game to fans of the Dynasty Warriors franchise regardless of their familiarity with Zelda. I'd also give a thumbs up to fans of the Zelda games that are into arcade-style action every now and again.

A superb portable Warriors experience with a shocking amount of quality content packed in.

The Definitive Edition is the best way to play Hyrule Warriors. The collaboration with Nintendo has certainly contributed to the birth of one of the best exponents of the mosou genre, but the advice to buy must always be accompanied by the necessary warnings.

Those returning to the fray will likely be a little disappointed as there just isn't enough new content to rouse fresh excitement. For newcomers, though, Hyrule warriors is a delightful, bizarre outing that opens up the Zelda series, taking us places we've been before, just with thousands of monsters and awesome, screen-clearing magical attacks.

Hyrule Warriors: Definitive Edition is a good-quality port of the Wii U game, but outside of much more stable performance and better local co-op it doesn't add enough new content to make replaying the story mode interesting again if you've already tried it. Luckily, the Adventure Mode maps and 16 of the 31 unlockable characters are available from the start.

Zelda may have inspired one of the best Dynasty Warriors games to date but the end result is still well below average by any other standard.
Hyrule Warriors is truly the definitive edition of a game that has been released not once but twice over the span of 4 years. It contains all

Hyrule Warriors is truly the definitive edition of a game that has been released not once but twice over the span of 4 years. It contains all of the content from the Wii U and 3DS versions, as well as all the dlc from both versions as well. However the only new content are outfits celebrating Breath of the Wild and a 3d version of my fairy. But this isn't a bad thing as this game is already full of content, providing a prediction of 200+ hours to the games story and adventure modes. Speaking of, the story is a tribute to every Zelda game released up until Skyward Sword and provides massive fan service to those who have played Ocarina, Twilight, Wind Waker and Skyward Sword, but this is the easiest part of the game simply displaying nostalgia eye candy instead of an actual challenge. The real challenge comes fron adventure mode. This is were you will spend most of your time if your aiming to 100% your game. Hundreds of challenges await you, with the maps being created and inspired by the 8 bit orginal Zelda, there are tones of secrets, battles and out the box challenges to complete. This is also where you would unlock most of the characters, outfits and weapons outside the story mode, and boy does it make you work for it. Performance has been massively improved as well, with a resolution of 1080 docked and 720 portable as well as 60fps all round, unlike the previous. Also the Co-op experience is massively improved as well, allwoing for brilliant two player split screen, altough it may be a bit small on the smaller Switch screen itself. The only down factor of this game is that it may be slightly repetitive, and I worry people will think it is just a button mashing experience, and too be honest, it isn't. Yes, every combo is executed exactly the same way for every character, but every character does something's different. In conclusion this is the best version of the game, and if you have played it before one could argue you should get it again... but really thats up to you. If you never played this game but love Zelda and the idea of a differnct Zelda experience, this game is for you. 9/10

…

Expand

Great game with great content. It's not a new game, but I can't say it looks old or anything. This version of the game includes all the dlc.

Great game with great content. It's not a new game, but I can't say it looks old or anything. This version of the game includes all the dlc. I'm not a huge Zelda fan, but i like this a lot. >:3

9/10

…

Expand

The only way to truly experience Hyrule Warriors in my opinion. Honestly, I wasn't expecting myself to pick this game up, but I ended up doing

The only way to truly experience Hyrule Warriors in my opinion. Honestly, I wasn't expecting myself to pick this game up, but I ended up doing so I can play something other than Odyssey waiting for Mario Tennis Aces to come out.

Pros:
+ Gameplay: I personally love the hack-and-slash gameplay this game does. By far the best I've seen.
+ Soundtrack: I'm going to go back and fix my HW:L review, because after relistening to the soundtrack, I fell in love. Though it still has some bad songs (Kakariko Village).
+ Roster: Thankfully they included the DLC characters into the mix, so there's an even bigger variety now.
+ Story: It's the same as the other two, meaning that it's great.
+ Resolution/Graphics: Definitely a huge leap from Legends' graphics and resolution.

Meh:
= Bosses: Not as bad as I remember them being, but again, a lot of them are just characters from the roster.

Overall, Hyrule Warriors: Definitive Edition is a wonderful game that just barely falls short from being in my top 5 games of all time and warrants a 9.5/10 from me. If you have a Switch but don't have any of the other versions, pick THIS version up. Although, if you already have a version of the game, maybe wait for a sale or rent it.

…

Expand

As usual, just ignore the game journalists who gave this game THE SAME RATING as the Wii U version, despite the fact that it adds every bit of

As usual, just ignore the game journalists who gave this game THE SAME RATING as the Wii U version, despite the fact that it adds every bit of extra content from both the Wii U and the 3DS version, and vastly increases the graphics from 720p/30fps to a full 1080p/60fps. Nothing so far has suggested that the Switch was capable of doubling the frame-rate of a last generation game AND upping the resolution from 720p to 1080p. Usually last generation games are only increased from 720p to 1080p. The Switch may be more powerful than we thought. It's a pity all they did with Breath of the Wild was up it from 720p/30fps to 900p/30fps with slightly enhanced visuals. With massive graphical improvements and ton of content, this easily the best port of a last generation game on the Switch. So the game journalists can buzz off. Whenever they post videos of themselves playing games, we see that they're terrible of them. Would you trust a movie review from somebody who knows jack squat about movies? I'm not claiming I've beaten I Wanna Kill the Kamilla 3 or IVAN, but I have beaten Nethack and I Wanna Be the Guy, which is way more than any game journalist can say.

Anyway, it's good that this was ported to the Switch because it's better than Fire Emblem Warriors. There is more variety in the enemies and the boss battles are more interesting. Also, the characters are more iconic. The only completely new edition to the Switch version is that you can play as Champion Link and thicc Zelda from Breath of the Wild. However, since these are my favorite designs of the two characters, I think it's a nice addition

The gameplay is fun, and if you've played any of the Warriors games you should know what to expect. Lot's of hack and slash action where you swap between characters on the battle field and try to control checkpoints while your armies battle it out with the enemy armies. The story is pretty good too, better than Fire Emblem Warriors. The more powerful enemies and bosses do need quite a bit of skill to beat. I while I wouldn't know for sure yet, I've heard you can get 200 hours of gameplay out of this game. So you get tons of hours of play, 1080p/60fps, and iconic Zelda characters, plenty of reasons to buy it.

Downsides of the game are that even at 1080p/60fps it's still nowhere close to the best looking games on the Switch. Another issue is that most of cutscenes are in 720p/30fps, which is a little jarring. And yes, it's a little repetitive. Still if you buy any Warriors game, this is the one to get. I give it an 8.5 out of 10, which I'll round up to a 9.

…

Expand

This game is difficult to rate for me, mainly because it makes 2 steps forward and 2 steps backward, which is odd considering that all they

This game is difficult to rate for me, mainly because it makes 2 steps forward and 2 steps backward, which is odd considering that all they had to do was to copy another of their "famous" spin-offs: Fire Emblem Warriors.

Let me start by saying this: the game is worth its money it's basically a complete version with all the contents from the Wiiu and the 3ds version so it's quite the amount of content and all in one place.
It still doesn't excuse 60 bucks price tag but considering that tracking down the other two versions is now objectively worse, I'm going to ignore this for once and review it as a new game instead.

With that said, I do have quite a lot of nitpicks about the game:

Movement is incredibly stiff - even more than DW/SW - and I really have a hard time controlling and sprinting with my characters: There's like a bit of delay from when you press it to when your character reacts. It's not game-breaking but it's quite annoying, especially after playing FEW and it's REALLY smooth movement and combat.

Items dropped still won't be automatically picked, despite there's an autopick at the end of the battle: the laziness here is so obvious that I just don't know why they just pick up as soon as it drops.

Also the tool system wasn't fixed either: you still got your usual tools like the hookshot, bombs, boomerang and bow with the inclusion of the Ocarina - which is crap and very slow to use - and the usual potions to heal up. However the main problem is that enemies are weak to certain tools - which is now shown above their head - but since you have to choose manually you'll most likely be unable to do it in time, forcing you to just ignore it or choose it before engaging.
Yes, there are more than 4 tools now, especially with the fairies from the 3ds, but there wasn't any other way to fix this? It's not like LoZ never had any quick access to items and tools via a button press!

The purchase of emblems is also annoying: each time you need to purchase a power up it will always ask you yes or no, for every single emblem you buy, EVERY SINGLE TIME.
You can still sell multiple weapons at once but the prompt will still appear: again, ultra-laziness at its finest when FEW did it just right!

Not much has changed for the skulltullas and the hearts gained in levels...and I wish they did because it's as unintuitive as ever and boils down to check every nook and cranny.
Hearts can usually be gained in two ways: full hearts are usually from a chest under a rock while the 1/4 heart will appear as you claim certain keeps, but it's not shown on the map; instead, you're supposed to check on the menu. Why not show a chest icon on the map instead?
They did, however, allow us to switch characters on the go, which helps us to avoid replaying the level more than twice but unfortunately, not all of them allow you to swap your heroes; be ready to replay levels multiple times!

Skulltullas got no fix as well: they usually appear after clearing 1000 enemies and once you do it will appear randomly on a small area in the map for a very short amount of time: if you happen to be on the other side of the map, say your picture piece goodbye and get ready to restart.
All they had to do was to remove the timer and this would be much more relaxing to do.

Still no voice acting either - not even in Japanese - and while I can partially understand because of being a LoZ game (by this logic Legend of Zelda should have stayed a topdown action-RPG with 2D graphics)), at least be consistent and keep THE ENTIRE GAME MUTED: why you make such great lengths on making the game muted as a way to honor the game and yet have a voiced narrator?!
IT'S CALLED CONSISTENCY NINTENDO, AND YOU SUCK AT IT!
Besides that, the characters are as bad as ever so having some voice acting could've helped to make them stand out a little more.
I mean this is a Legend of Zelda (spin-off) game: you don't exactly play this series for the story, do you?

I was REALLY hyped for this: I loved this game on the Wiiu and I waited for its release with excitement. As a hardcore DW fan who loves mindless beating enemies in the thousands, this game had everything I hoped for and I couldn't see any issues in it.
Instead, this game is just "good", with all the issues I had in the wiiu PARTIALLY fixed while the rest is still there to annoy you.

I still hope they patch some of these but I doubt it: they bothered enough to lazily port a 4-year-old and slapped a 60 price tag on it, that's all they care right now which is milking money with as many ports as they can.

At the very least this one is a decently made and somewhat worth its money and I'm going to continue playing it - especially after DW9 utter disaster - but what can I say about this game?

I think my best reaction would be a big shrug with a solid dose of "Eh..."

…

Expand

I wrote a big review for this game over at https://atomickote.com/2018/05/22/hyrule-warriors-switch-review/

Hyrule Warriors is truly the definitive edition of a poor game. If you are a Zelda fan you will get a few hours of enjoyment before you start

Hyrule Warriors is truly the definitive edition of a poor game. If you are a Zelda fan you will get a few hours of enjoyment before you start wishing for a real zelda game. If you like hack and slash games you will like this.

At least this better than the Wii U version as the second player doesn't have to play on the tiny gamepad screen.

…

Expand