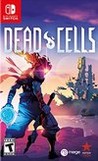 Summary:

Dead Cells is a rogue-lite, metroidvania action-platformer. You'll explore a sprawling, everchanging castle... assuming you're able to fight your way past its keepers in 2D souls-lite combat. No checkpoints. Kill, die, learn, repeat. RogueVania: The progressive exploration of an

Dead Cells is a rogue-lite, metroidvania action-platformer. You'll explore a sprawling, everchanging castle... assuming you're able to fight your way past its keepers in 2D souls-lite combat. No checkpoints. Kill, die, learn, repeat. RogueVania: The progressive exploration of an interconnected world, with the replayability of a rogue-lite and the adrenaline pumping threat of permadeath. 2D Souls-lite Action: Tough but fair combat, more than fifty weapons and spells with unique gameplay, and of course, the emergency panic roll to get you out of trouble. Nonlinear progression: Sewers, Ossuary or Remparts? Once unlocked, special permanent abilities allow you to access new paths to reach your objective. Opt for the path that suits your current build, your play style or just your mood. Exploration: Secret rooms, hidden passages, charming landscapes. Take a moment to stroll the towers and breath in that fresh sea mist infused air...



…

Expand
Developer:

Motion Twin

Genre(s):

Action

,

Platformer

,

2D

# of players:

No Online Multiplayer

Cheats:

On GameFAQs

Rating:

T
Please enter your birth date to watch this video:
You are not allowed to view this material at this time.
Dead Cells - Release Date Announcement Trailer
If you want to play a worthy successor to the long line of Metroidvania classics and are willing to experience rogue-like difficulty to get it, Dead Cells is an experience worth having over and over again.

Dead Cells is one of the best rogue-vania games I've ever played. The visuals are to die for and it runs beautifully (docked and handheld), but the best facet is that the combat is ultra responsive.

Dead Cells is a triumphant union of instinct, forethought, fun, and failure.

If tight, challenging combat, and infinite replayability in a charmingly depressing setting is your cup of tea, Dead Cells is the game for you.

Dead Cells is a game of many influences. As a child of roguelikes, metroidvanias, and souls-like games, it mixture many elements in a surprisingly cohesive and entertaining way. Thanks to one of the most satisfying sidescrolling combats and extensive replayability, it is a game that every Switch owner should play and keep playing.

With movement and combat this good it would be criminal to not see it appear more. If you love sidescrolling platformers with a healthy heaping of combat that will put your skills to the test, your next step should be buying Dead Cells.

Being in development for such a long time, Dead Cells avoids the trap and lives up to its expectations. Nevertheless, only those brave enough to face its strong difficulty will be able to discover a deep and generous adventure. Despite a certain level of repetitiveness, even though the randomly generated levels still are hand-driven, Dead Cells' offers a brilliant artistic direction and a great but discreet soundtrack.
If you want to play a worthy successor to the long line of Metroidvania classics and are willing to experience rogue-like difficulty to get

If you want to play a worthy successor to the long line of Metroidvania classics and are willing to experience rogue-like difficulty to get it, Dead Cells is an experience worth having over and over again.

…

Expand

Woah. Dead Cells is one hell of an excellent bloody game.

Before I say more, I should disclaim that my first time ever playing this game isWoah. Dead Cells is one hell of an excellent bloody game.

Before I say more, I should disclaim that my first time ever playing this game is for the Nintendo Switch, and the Switch version only came out two days ago, so I haven't beaten it yet (I don't even think I've gotten anywhere near a halfway point), but I've already sunk in at least 15 hours because I can't seem to put this down whenever I pick it up. So unless the quality suddenly drops off halfway through, I'm madly in love with this game.

Gameplay/Controls: 10/10
The game doesn't give you a tutorial, it just throws you in and lets you figure everything out. But the odd thing here, is the fact that games that just throw you into them without any training are usually intentionally designed to be overwhelming (like Dark Souls, which is the obvious comparison most of us like to lean on when we try to describe games with no hand-holding) in order to test your stubborn will and perseverance, but Dead Cells is so intuitive that it never feels overwhelming. It's the kind of game that immediately just "clicks." Sure, there are aspects of the game that take some time for the player to hone, like timing dodge rolls and double jumps, but it instantly feels so good to play that even your first death (trust me, there will be a lot of them) still feels like it was entirely your fault, and not for cheap reasons, like there was something you were just unfamiliar with or didn't know about ahead of time.
The gameplay is also so fluid that it never gets boring, no matter how many times you run out the starting gate and face the same zombie types with the same attack patterns. I just can't iterate enough how good it feels to play this came. Every dodge, every sword swing, every arrow shot, literally everything you do in this game, feels amazing, and I don't know how to describe it, but the fluidity just keeps the same actions from feeling repetitive.
In the vein of repetition, the one thing I was most worried about when I first walked into this game, that very quickly became my favorite part of it, was the procedural generation of the levels. Usually, I'm not a fan of procedural generation. To me, it makes an experience feel less "hand crafted," like exploring is less special, since every detail I uncover wasn't put there especially for me to discover, but instead it was spit out my a random number generator. But it doesn't feel like that in Dead Cells. I don't know how to describe this either, but every room I go into, every door I unlock, every item I pick up, every secret I find, feels like it was all put there just for me, even though it was randomly assembled, and I have no idea how the development team behind this game pulled that off, but I absolutely applaud them for it, because no matter how many times the game spits out a new layout of the same level for me to explore, everything just feels like it was intentionally placed right there, for me to find, instead of something that was just randomly assigned to a spot, which is a feeling that never gets old.
And lastly under gameplay, I want to mention how much i freaking love the weapons and the items that they give you to use throughout this game. I may fall in love with a certain weapons combo which makes me desperately not want to die so I don't lose my gear, but no matter what, if I have to start all over again, I just know I'm going to uncover a new combination of weapons that I fall in love with all over again. Every single item and weapon put into this game feels like it's useful for something, and even though I have preference types, I'm happy with whatever the game gives me for that run.
I should probably start talking about other things now, since I've already almost used up my max allotted characters.

Writing/Story: 8/10
The story is passable. I like the concept of a blobular spirit inhabiting an already deceased corpse, and every time you die, you just inhabit a new corpse, which makes the idea of rogue-like game with a continuous plot, and NPCs that you have recurring encounters with, feel more fluid and organic. If there is much of a story, I'm not sure what it is yet. All I know is that you begin in a prison cell on an island somewhere and you're trying to break out. But the writing itself is very often morbidly funny, so I've given it high marks.

Artwork/Graphics: 10/10
Hands down the best pixel artwork I've seen in a game. Personally, I love pixel artwork, but I've never loved it more here.

Music: 9/10
I've had the soundtrack on loop for the past two days on YouTube whenever I'm not playing the game. The music in this game is absolutely gorgeous.

Overall: 10/10
This is one of the most instantly satisfying action games I've ever played. I've said it a dozen times, and I'll say it again, it just feels amazing the minute you start playing it. It is insanely addictive, the artwork is incredible, and so is the music.

…

Expand

Tough, fun and addictive. If you love to put 100% of yourself in a game, here you are! I've played almost all the best switch games and this

Tough, fun and addictive. If you love to put 100% of yourself in a game, here you are! I've played almost all the best switch games and this is by far the best single player one. Just remember to eat while you're playing. It's like a game from the past where the fingers got fired with the present where everything is smooth and still so difficult but rewarding. A must have.

…

Expand

Dead Cells is one of the most satisfying action games I've ever played. It takes the progression system of a Metroidvania and transforms it

Dead Cells is one of the most satisfying action games I've ever played. It takes the progression system of a Metroidvania and transforms it into a procedurally generated action roguelite with a steep but conquerable difficulty curve. Dead Cells delivers on everything from its fast and intensely gratifying, free-flowing combat to its wide variety of interesting weapons and upgrades.

In Dead Cells, you fight your way through an ever-changing labyrinth of levels, all of which are accompanied by tense but rewarding boss fights. Its world starts off somewhat linear, but eventually opens up with multiple branching paths of different areas you can explore, all while you progress towards unlocking new weapons and abilities. You're almost guaranteed to not make it all the way through on every run. You will die. But as your efforts lead you to blueprints for new gear or a permanent ability rune, it makes it all worth your while — even if you're sure that death is waiting just around the corner.

Autoplay setting: On
Fallen enemies drop cells that you can use as a resource to buying those blueprints, giving you a sense of solace as you collect them after emerging from the depths of each stage. The trick with retrieving those dead cells, though, is that they're only useful if you can make it to the hub area at the end of each level, which is where you invest those cells into the blueprints you need for new gear.

When your hero dies, all of your gear disappears along with you. Although you can technically reach the final boss on a single run, there's a good chance that you won't, and a good chance you'll oscillate between the victory of discovering and crafting new items and the draining sense of loss after all your work is lost on dying again and again.

There were plenty of times where I died and lost all my dead cells just steps away from a hub area. But even those narrow calls just inspired me to keep playing and trying for a better run. That continuous leveling up through the acquisition of new blueprints and ability runes makes the RPG-like progression system in Dead Cells so compelling.

Cellular Destruction
The combat seems simple at first blush -- you have two weapon slots and two ability slots, all of which you can customize choosing from your list of what you've unlocked. But it didn't take long before I realized how well thought out this design really is. All of the equipment and ability sets feel like they were built to be complementary to one another, and while certain combinations are more natural fits than others, I found strengths to each of the permutations that the four weapon/ability slots afford you.

Some pairings are genuinely diabolical, like a turret that poisons enemies alongside a sword that conveniently disseminates bonus damage to poisoned enemies. If you find a good match, it can quickly change the course of any run. You can try a technical build with a high-powered bow and a set of deadly traps, or you can brute force your way through with a sword and shield to parry. You're never locked into any specific build -- you can even change up your play-style in the middle of a run.

"
Fights are fast, fluid, responsive, and one of the most gratifying representations of combat I've ever experienced.

Gear like grenades, traps, and even spells can also go into your two ability slots, which may be my favorite design decision in Dead Cells' combat construction. Most games limit your most useful skills with long cooldown timers or a limited mana system, but Dead Cells encourages you to use your deadliest gadgets with a fast recharge timer. It never punishes you for using your best tactics. Fights are fast, fluid, responsive, and hands-down one of the most gratifying representations of video game combat I've ever experienced.

There's also the mutation system, which adds another layer of diversity to how you can play. This is where you can choose from various buffs that enhance and alter your abilities. You have to choose carefully, though, because you can only carry up to three at a time and you can only change mutations between levels. The mutations you pick can ultimately be the determining factor between a victorious run or a one-way ticket back to the beginning.

The Verdict
Dead Cells strikes a perfect and engaging balance between the Metroidvania and roguelite experiences by focusing on your failures and urging you to experiment each time you do fail. There's more than enough variety in the combat to keep me hunting for blueprints that lend themselves to new and dynamic playstyles for weeks to come. Along with this highly addictive and rewarding gameplay, Dead Cells delivers one of the most satisfying and well-designed action roguelite experiences you can currently play.

…

Expand

Dead Cells is one of the most satisfying action games I've ever played. It takes the progression system of a Metroidvania and transforms it

Dead Cells is one of the most satisfying action games I've ever played. It takes the progression system of a Metroidvania and transforms it into a procedurally generated action roguelite with a steep but conquerable difficulty curve. Dead Cells delivers on everything from its fast and intensely gratifying, free-flowing combat to its wide variety of interesting weapons and upgrades.

In Dead Cells, you fight your way through an ever-changing labyrinth of levels, all of which are accompanied by tense but rewarding boss fights. Its world starts off somewhat linear, but eventually opens up with multiple branching paths of different areas you can explore, all while you progress towards unlocking new weapons and abilities. You're almost guaranteed to not make it all the way through on every run. You will die. But as your efforts lead you to blueprints for new gear or a permanent ability rune, it makes it all worth your while — even if you're sure that death is waiting just around the corner.

Autoplay setting: On
Fallen enemies drop cells that you can use as a resource to buying those blueprints, giving you a sense of solace as you collect them after emerging from the depths of each stage. The trick with retrieving those dead cells, though, is that they're only useful if you can make it to the hub area at the end of each level, which is where you invest those cells into the blueprints you need for new gear.

When your hero dies, all of your gear disappears along with you. Although you can technically reach the final boss on a single run, there's a good chance that you won't, and a good chance you'll oscillate between the victory of discovering and crafting new items and the draining sense of loss after all your work is lost on dying again and again.

There were plenty of times where I died and lost all my dead cells just steps away from a hub area. But even those narrow calls just inspired me to keep playing and trying for a better run. That continuous leveling up through the acquisition of new blueprints and ability runes makes the RPG-like progression system in Dead Cells so compelling.

Cellular Destruction
The combat seems simple at first blush -- you have two weapon slots and two ability slots, all of which you can customize choosing from your list of what you've unlocked. But it didn't take long before I realized how well thought out this design really is. All of the equipment and ability sets feel like they were built to be complementary to one another, and while certain combinations are more natural fits than others, I found strengths to each of the permutations that the four weapon/ability slots afford you.

Some pairings are genuinely diabolical, like a turret that poisons enemies alongside a sword that conveniently disseminates bonus damage to poisoned enemies. If you find a good match, it can quickly change the course of any run. You can try a technical build with a high-powered bow and a set of deadly traps, or you can brute force your way through with a sword and shield to parry. You're never locked into any specific build -- you can even change up your play-style in the middle of a run.

"
Fights are fast, fluid, responsive, and one of the most gratifying representations of combat I've ever experienced.

Gear like grenades, traps, and even spells can also go into your two ability slots, which may be my favorite design decision in Dead Cells' combat construction. Most games limit your most useful skills with long cooldown timers or a limited mana system, but Dead Cells encourages you to use your deadliest gadgets with a fast recharge timer. It never punishes you for using your best tactics. Fights are fast, fluid, responsive, and hands-down one of the most gratifying representations of video game combat I've ever experienced.

There's also the mutation system, which adds another layer of diversity to how you can play. This is where you can choose from various buffs that enhance and alter your abilities. You have to choose carefully, though, because you can only carry up to three at a time and you can only change mutations between levels. The mutations you pick can ultimately be the determining factor between a victorious run or a one-way ticket back to the beginning.

The Verdict
Dead Cells strikes a perfect and engaging balance between the Metroidvania and roguelite experiences by focusing on your failures and urging you to experiment each time you do fail. There's more than enough variety in the combat to keep me hunting for blueprints that lend themselves to new and dynamic playstyles for weeks to come. Along with this highly addictive and rewarding gameplay, Dead Cells delivers one of the most satisfying and well-designed action roguelite experiences you can currently play.

[Note: This review is the exact same one that IGN posted previously, verbatim. If they can steal reviews, I sure as hell can steal theirs}

…

Expand

An exquisitely difficult game which rewards you the more you play - permadeath aside, every minute you invest in the game pay dividends by

An exquisitely difficult game which rewards you the more you play - permadeath aside, every minute you invest in the game pay dividends by making available increasingly potent weapons and (some) permament upgrades that makes your progression easier (trust me anything helps) the more you play. Old school sprites makes a thrilling action packed comeback and is a welcome respite from the polygonal gaming world that we are so used to now. Stellar game.

…

Expand